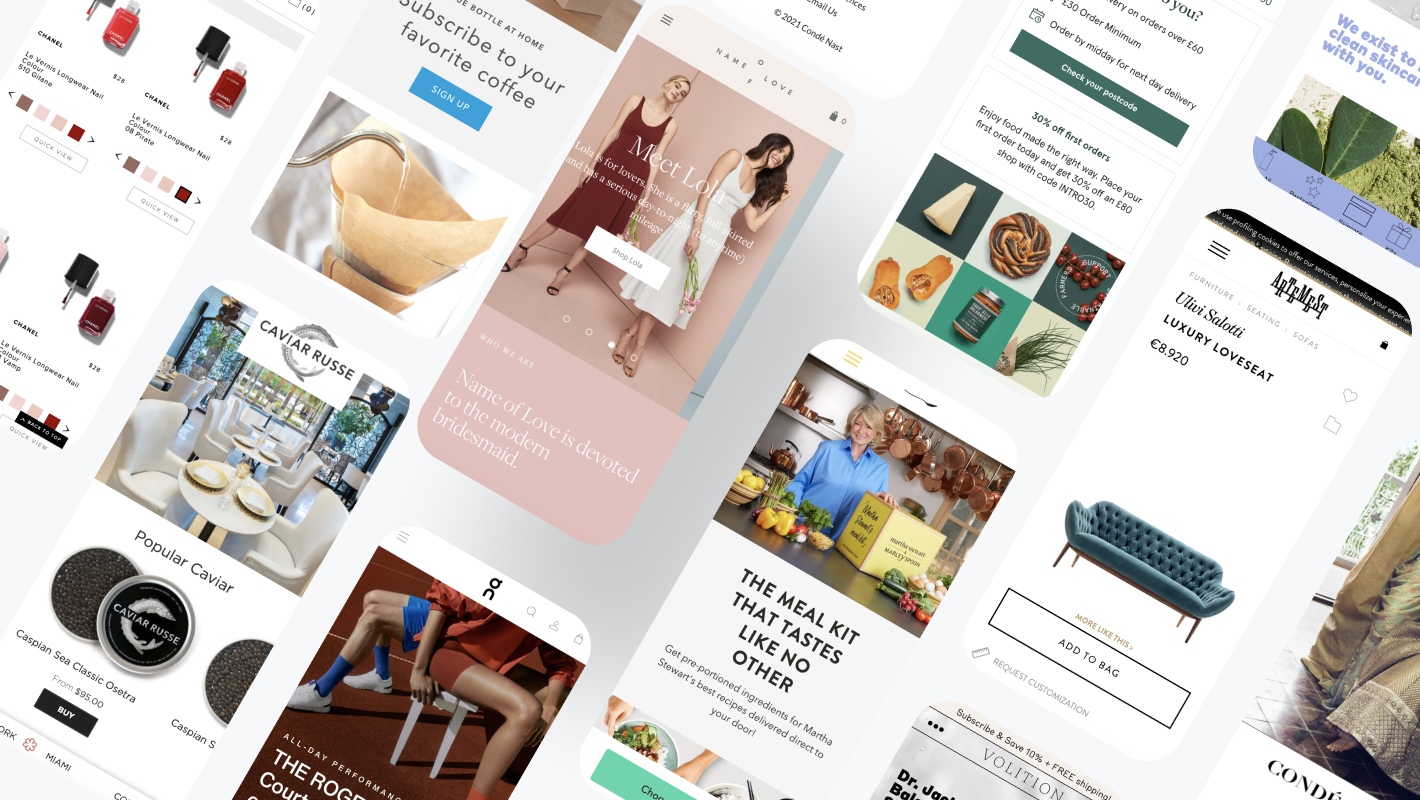 Spree Commerce is an open-source ecommerce platform developed by a community of over 850 contributors from around the world since 2007. To this day, it is constantly being updated and new features are regularly added to improve both performance and functionality. 
There are thousands of online stores and marketplaces using Spree Commerce. They represent various industries and are customized according to their business needs. In this post, you will find a selection of over a hundred ecommerce websites that use Spree Commerce handpicked by our team.
Vendo marketplace builder frees you from the burden of self-hosting and maintenance. Contact us now for a demo and launch an eCommerce platform at a fraction of a typical cost and within weeks instead of months.
Check out the amazing online stores built with Spree in the following categories:
Fashion ecommerce websites using Spree Commerce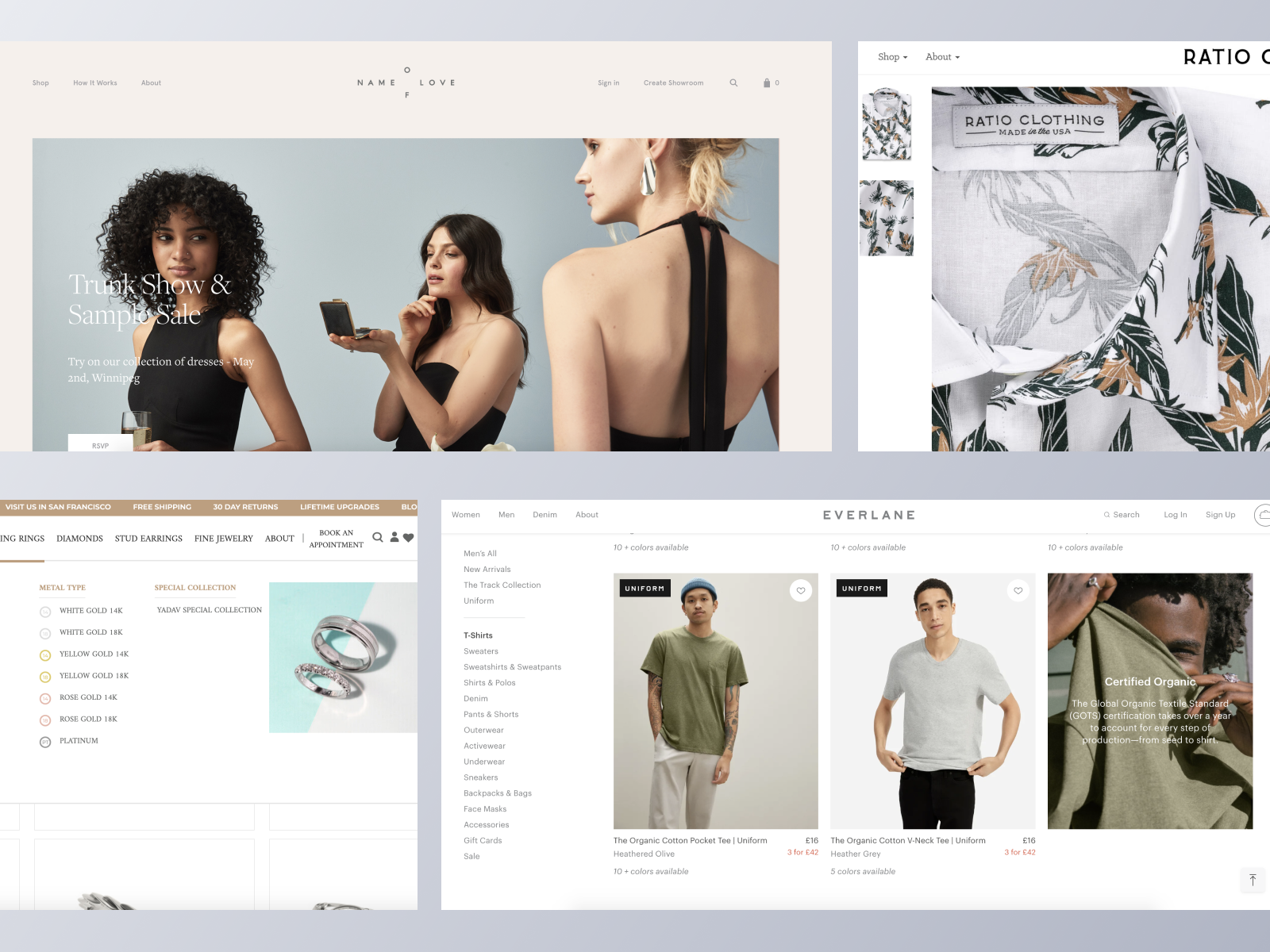 1. Everlane – an ethical and transparent fashion brand, California, U.S.
2. Huckberry – an apparel brand for adventurous men, California, U.S.
Read Huckberry's success story 
3. Name of Love – a beautiful online store for bridesmaids, New York, U.S.
Read Name of Love's success story 
4. Garmentory – a marketplace for contemporary and emerging fashion with 400+ boutiques and designers onboard, Seattle, U.S.
Read Garmentory's success story
5. Underwear Expert – a subscription-based curated underwear club, New York, U.S.
Read Underwear Expert's success story 
6. Ratio Clothing – an online platform with customizable shirts and a machine learning fitting algorithm, Denver, Colorado, U.S.
Read Ratio Clothing's success story 
7. Mitchell Stores – a family-run luxury fashion store with over 60 years of tradition, Connecticut, U.S.
Read Mitchell Stores' success story
8. Stylemyle – an exclusive online fashion marketplace based on "discovery" from a highly selective curation of boutiques and designers from around the world, Singapore
Read Stylemyle's success story 
9. The Fifth Collection –  an intelligent eCommerce platform for selling vintage fashion items, Singapore
Read The Fifth Collection's success story
10. Or du Monde –  an elegant online jewelry store, where customers can create personalized rings, Paris, France
11. Lasting Love Bridal – timeless, modern, and elegant bridal wear, California, U.S.
12. Vogue India Wedding Show, India
13. Nordweg – an online store with leather goods from Brazil
14. Yadav – a diamond and jewelry store, California, U.S.
15. Peach – a fashion brand using social selling with a network of stylists, Massachusetts, U.S.
16. Rick Owens – the official Rick Owens online store with worldwide express shipping
17. BlueCotton – custom t-shirts, Kentucky, U.S.
18. CapBeast – custom hat store shipping to the U.S. and Canada
19. BoldB – unique, handmade resin jewelry designed in Australia
20. Le-Portier – a designer fashion marketplace from Indonesia
21. Hebe – an online lingerie store from Ukraine
Food & Drink ecommerce websites using Spree Commerce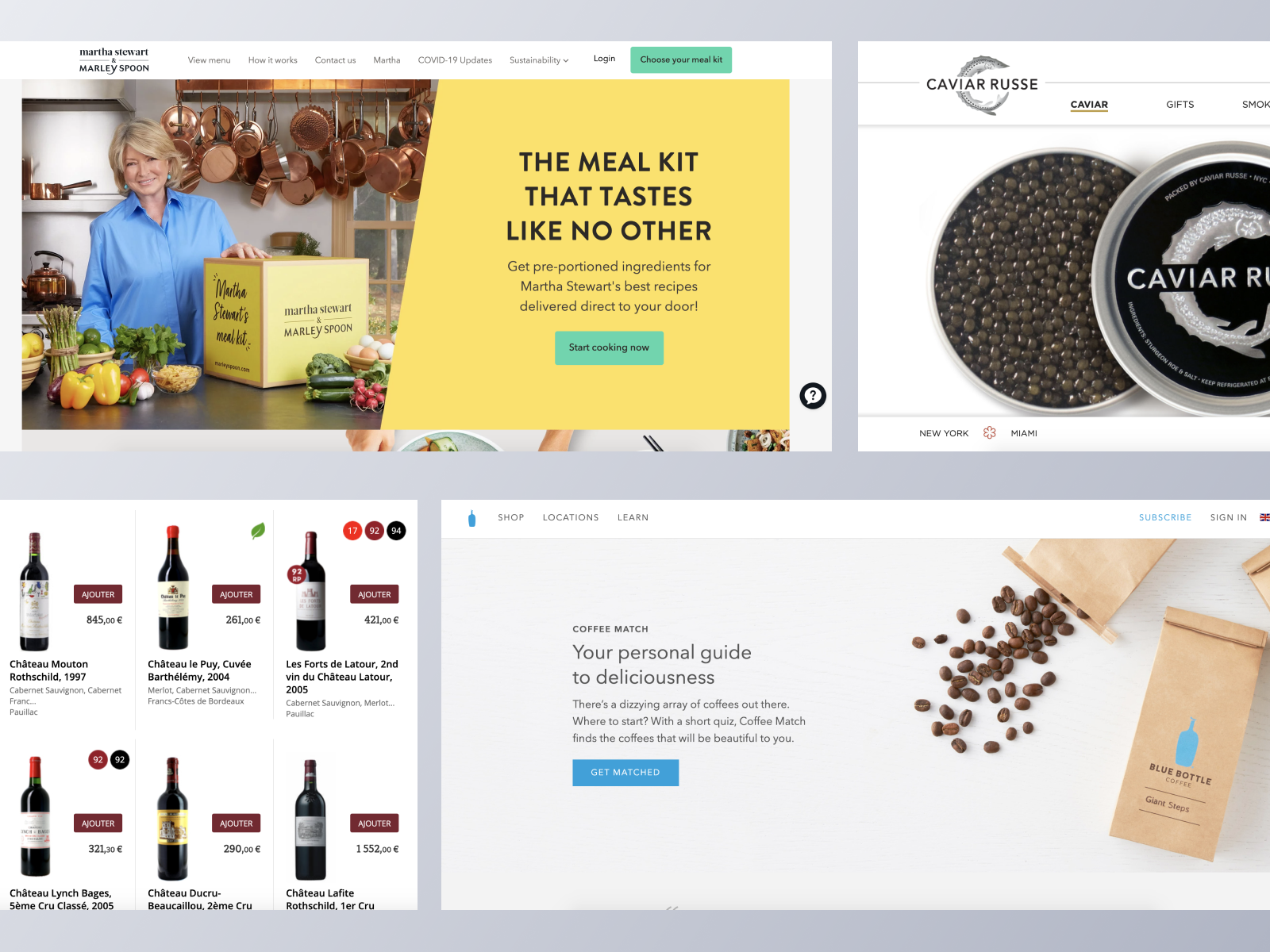 22. Blue Bottle Coffee – a $700 million ecommerce coffee business, California, U.S.
Read Blue Bottle Coffee's success story
23. ChefSteps – a content-rich ecommerce platform dedicated to smart cooking, Seattle, U.S.
24. Southern Kitchen – a content-driven ecommerce website promoting Southern food and culture, Atlanta, Georgia, U.S. 
Read Southern Kitchen's success story
25. Marley Spoon – a cook-at-home meal kit subscription service created in cooperation with Martha Stewart and operating in Europe, the US, and Australia 
Read Marley Spoon's success story 
26. Paneco – a multi-region, online alcohol store from Singapore
27. New Mexico Piñon Coffee – the largest coffee roaster in the state of New Mexico, U.S.
28. Craft Coffee – fresh-roasted coffee subscriptions from Brooklyn, New York, U.S.
29. Stumptown Coffee – freshly roasted coffee subscriptions, California, U.S.
30. Atacado Maximo – an online supermarket from Brazil
31. Konzum – an online supermarket from Croatia
32. Caviar Russe – an online caviar store from the U.S.
33. Lavinia – an online wine store operating in France, Spain, and Switzerland
34. Big Delivery – an online meat store from Brazil
35. Tierras Vivas – an eco food store from Spain
36. AziendaRusso – olive oil and citrus fruits from a farm in Calabria, Italy
37. ReStore – an online supermarket in Salerno, Italy
38. DesiMe – halal food delivery, UK
39. AEmillius – a luxury food (caviar, premium vodka, etc) store from Bulgaria
40. L'Antico Granaio – a pasta store from Italy
Local Delivery Marketplaces using Spree Commerce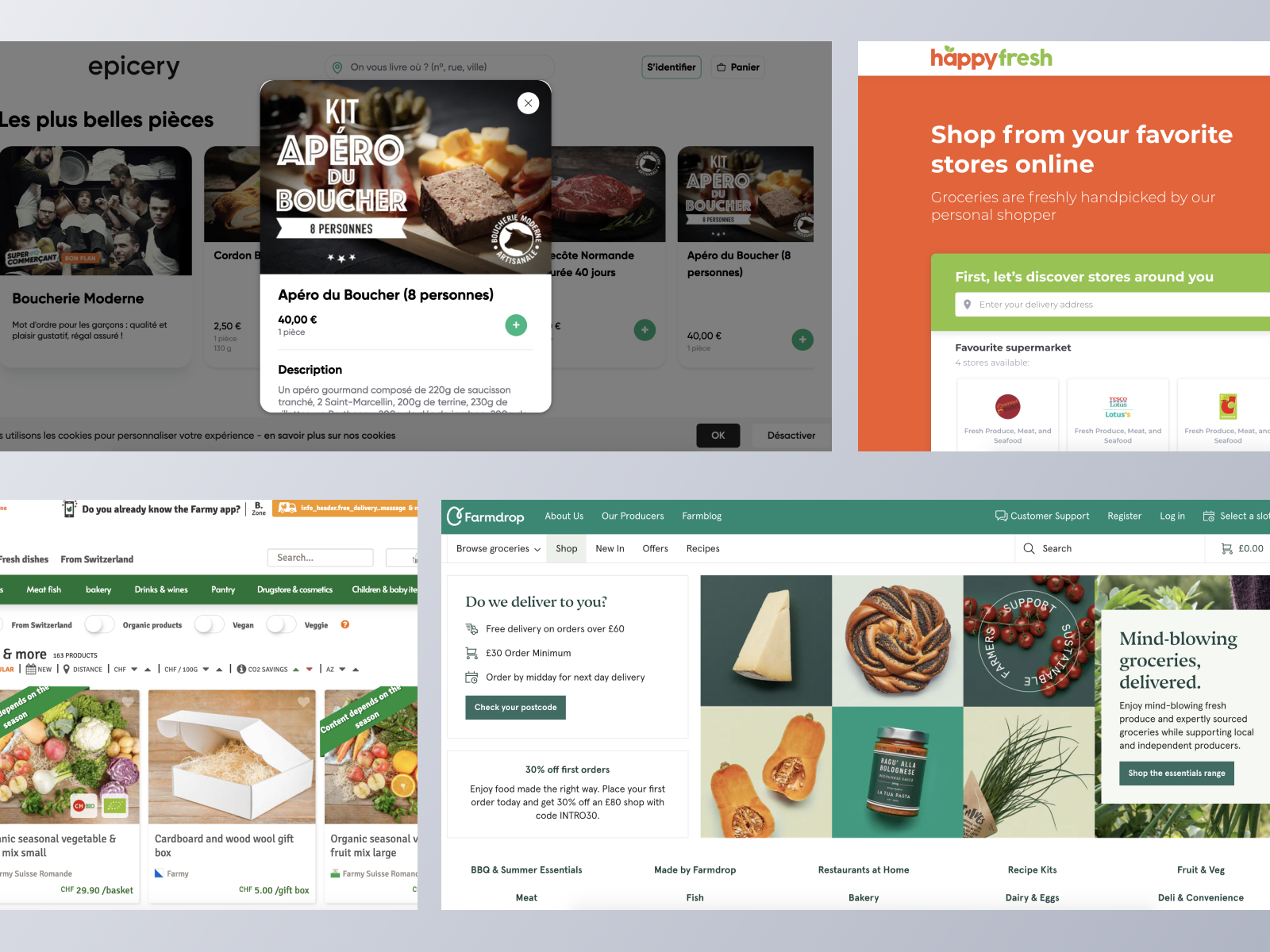 41. Farmdrop – a peer to peer grocery marketplace, London, UK
42. The Food Market – an online marketplace for independent food and drink merchants that sell ethically-made products, London, UK
43. Happy Fresh – a grocery delivery marketplace operating in Thailand and Indonesia
44. Omie – a headless, local grocery delivery marketplace, France
45. Epicery – a local grocery delivery marketplace, France
46. Fresh Picks – fresh & organic grocery delivery from local farms in the Chicago area, U.S.
47. Farmy – a local grocery delivery marketplace, Switzerland
48. Cubi – a local delivery marketplace with its own pick-up lockers, Michigan, U.S.
49. Lomi – a local delivery marketplace from Chile
Home & Garden ecommerce websites using Spree Commerce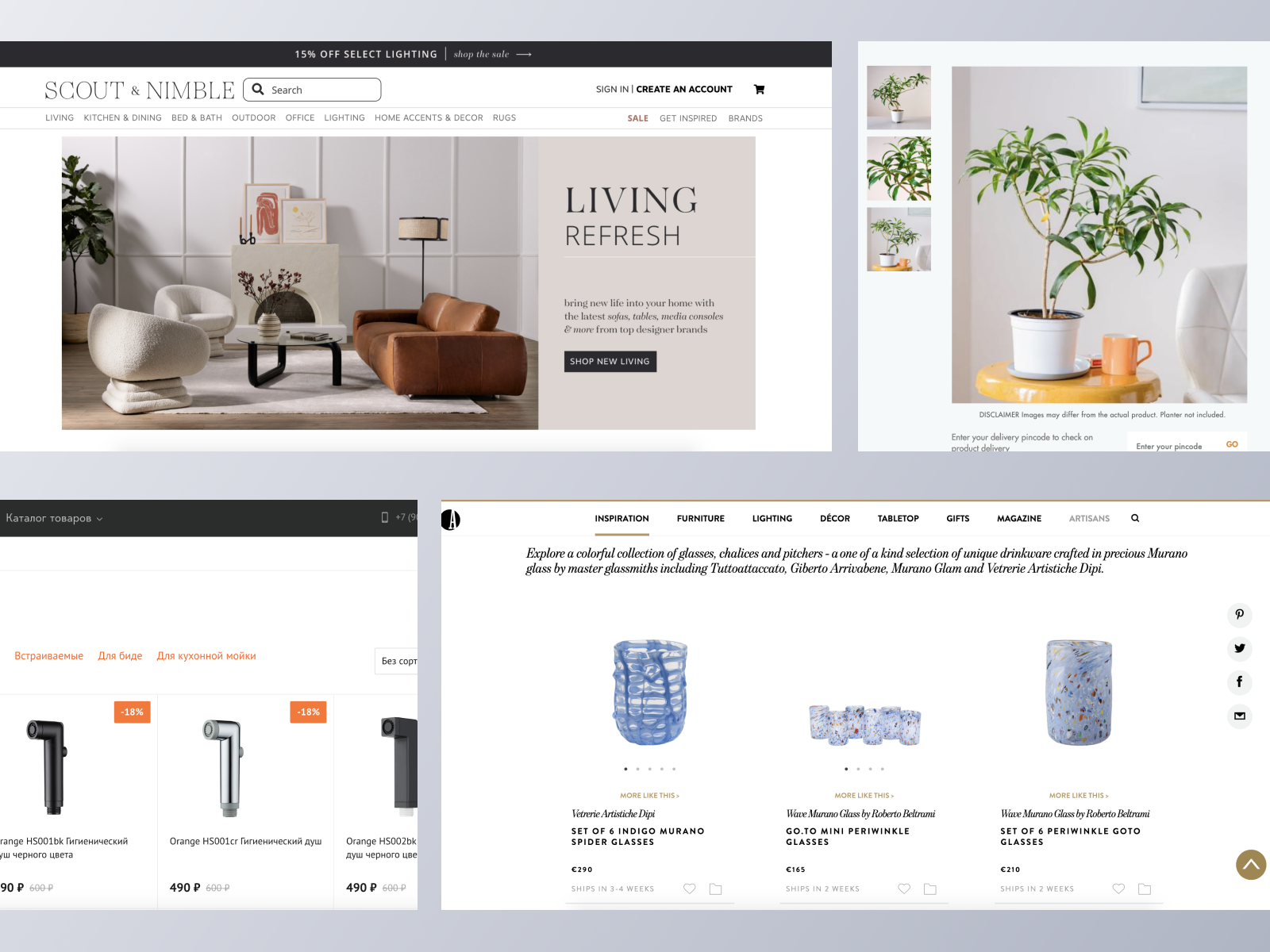 50. Scout & Nimble – a social commerce platform that works with interior designers to curate shoppable rooms utilizing the available software & products, Columbia, Missouri, U.S.
Read Scout & Nimble's success story
51. Urban Ladder – India's leading online furniture startup with over $100M funding
Read Urban Ladder's success story
52. Artemest – an online luxury home decor store with handmade products crafted by Italian artisans
53. Treniq – an international B2B platform for interior designers and architects to source luxury interior products, London, UK
54. Year & Day – elegant table settings, California, U.S.
55. WorkOf – a marketplace that connects best-in-class architects and interior designers with independent furniture and lighting brands, New York, U.S.
56. Brosa – an online furniture and homeware store from Australia
57. Heath Zenith – an online store selling lighting and door chimes, Kentucky, U.S.
58. Horticult – an online garden center from India
59. OrangeMixers – premium bathroom equipment, Russia
Beauty ecommerce websites using Spree Commerce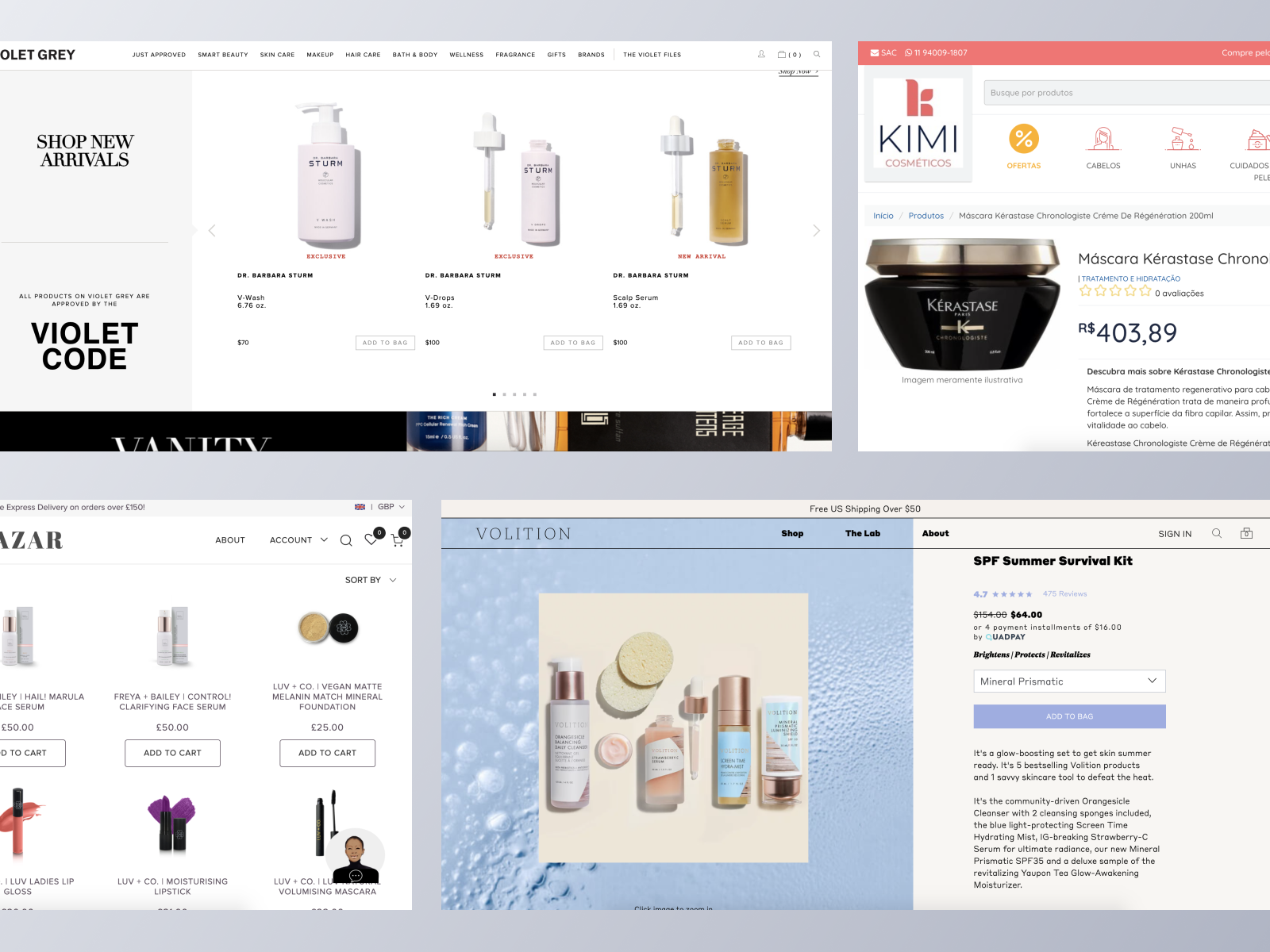 60. Violet Grey – a Hollywood-chic marketplace with a highly curated selection of beauty products, California, U.S.
Read Violet Grey's success story
61. Form – a prestige hair care brand designed for all hair types acquired by Procter & Gamble, California, U.S.
Read Form's success story
62. Volition Beauty – a collaborative beauty brand designed to share ideas about innovative skin and body care products, California, U.S.
63. YutyBazar – a haircare & skincare marketplace with personalized recommendations, London, UK
64. KimiCosmeticos – an online beauty store with delivery or pickup in physical stores, Brazil
Sports & Outdoors ecommerce websites using Spree Commerce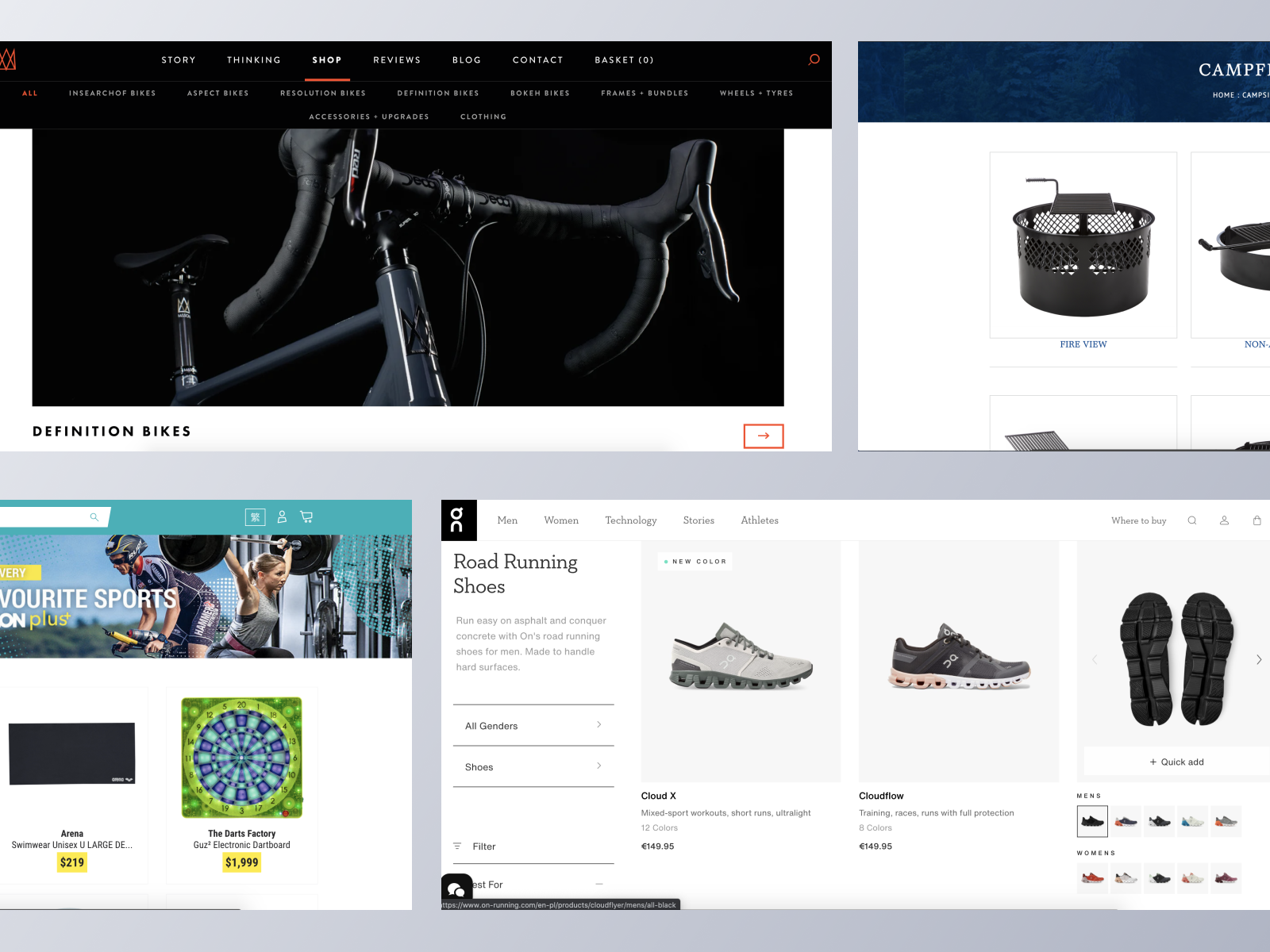 65. Mason Cycles –  a premium bike brand for endurance riders, UK
Read Mason Cycles' success story 
66. ON running – a performance running shoes store that ships to 50 countries, Switzerland 
67. Digital Sportsman – a veteran-owned outdoor apparel brand, North Carolina, U.S.
68. Decathlon Plus – the Hong Kong branch of the well-known global sports equipment store
69. ChampionNet – a sporting goods chain from Russia
70. Jamestown Advanced Products – park, recreational, and campground equipment, New York, U.S.
71. Running Coach – online training subscriptions, Switzerland
B2B ecommerce websites using Spree Commerce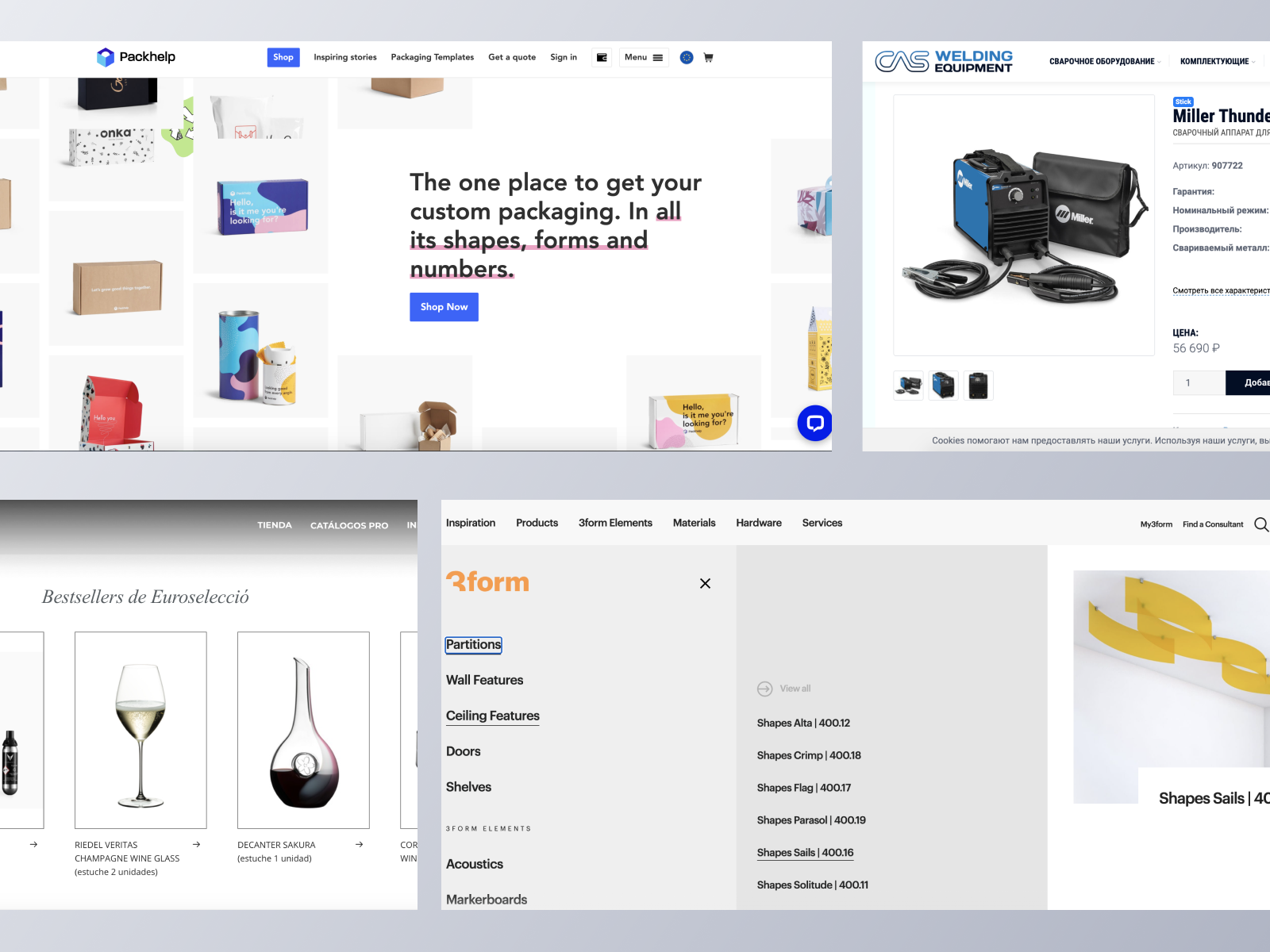 72. Nuherbs – a wholesale ecommerce platform with Chinese herbs, California, U.S.
73. 3form – a manufacturer of sophisticated building materials used by interior designers to create jaw-dropping spaces, Utah, U.S.
74. Packhelp – a web-to-print ecommerce platform for custom packagings, Poland
75. Bulk Books – an online wholesale bookstore, U.S.
76. TCW Equipment – a supplier of equipment for wineries, distilleries & breweries operating since 1966, California, U.S.
77. Southwest Boulder & Stone – a landscape rock and supply superstore servicing commercial and residential customers since 1989, California, U.S.
78. Deutschwein Classics – a B2B wine seller from Germany
79. CAS Welding – welding equipment, Russia
80. EuroSeleccio – professional wine accessories from Barcelona, Spain
Automotive ecommerce websites using Spree Commerce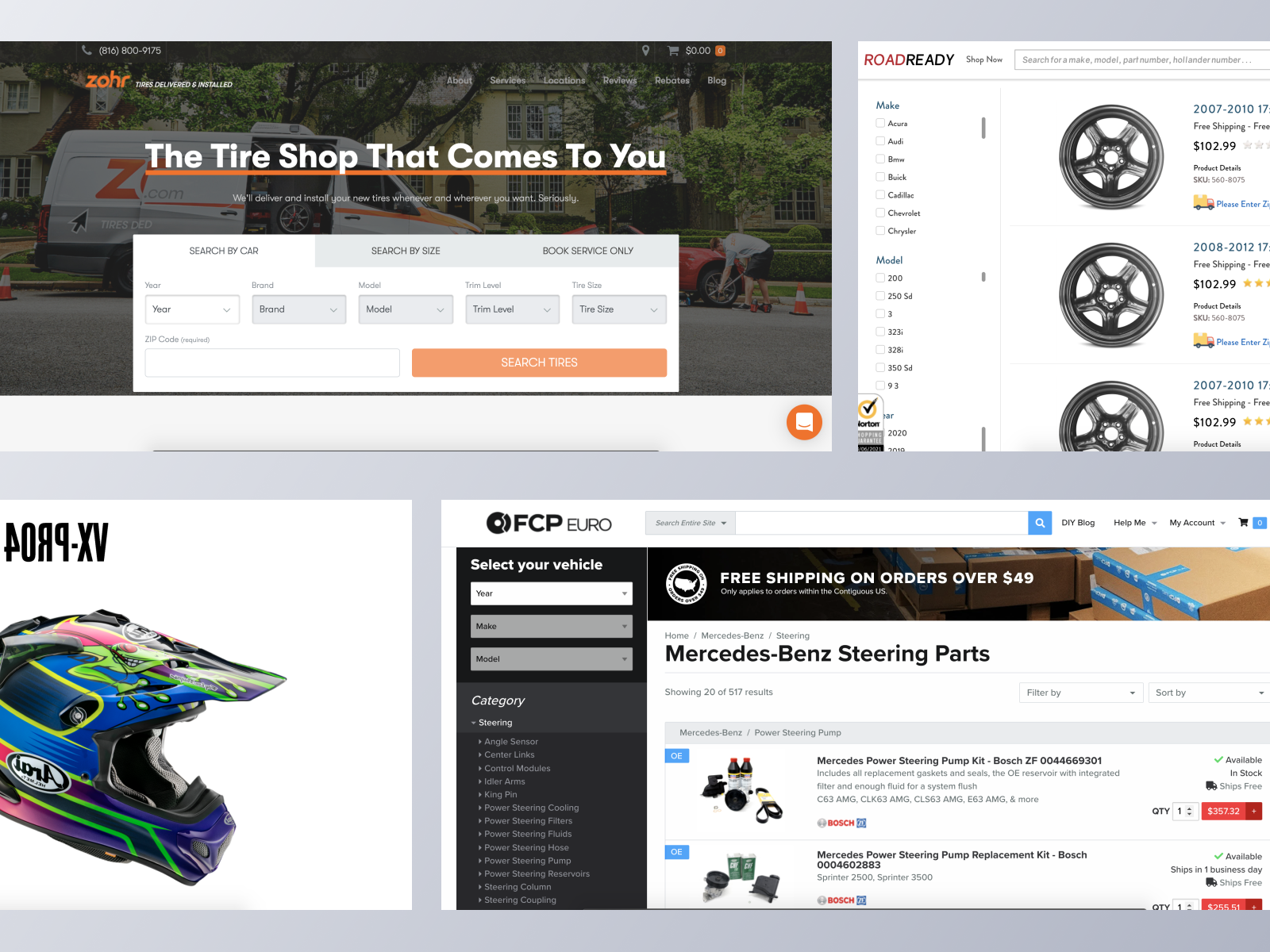 81. FCP EURO – an industry-leading ecommerce provider of parts for European cars, Connecticut, U.S.
82. Zohr – a mobile tire shop operating in Kansas, Texas, and Missouri
83. RoadReady – the fastest-growing Supplier of aftermarket OEM replica steel wheels in the U.S.
84. Nikola Motor Store – an online store with brand merchandise of electric vehicles and components manufacturer, Phoenix, Arizona, U.S.
85. Arai – racing and karting helmets handmade by skilled craftsmen, Pennsylvania, U.S.
Health & Wellbeing ecommerce websites using Spree Commerce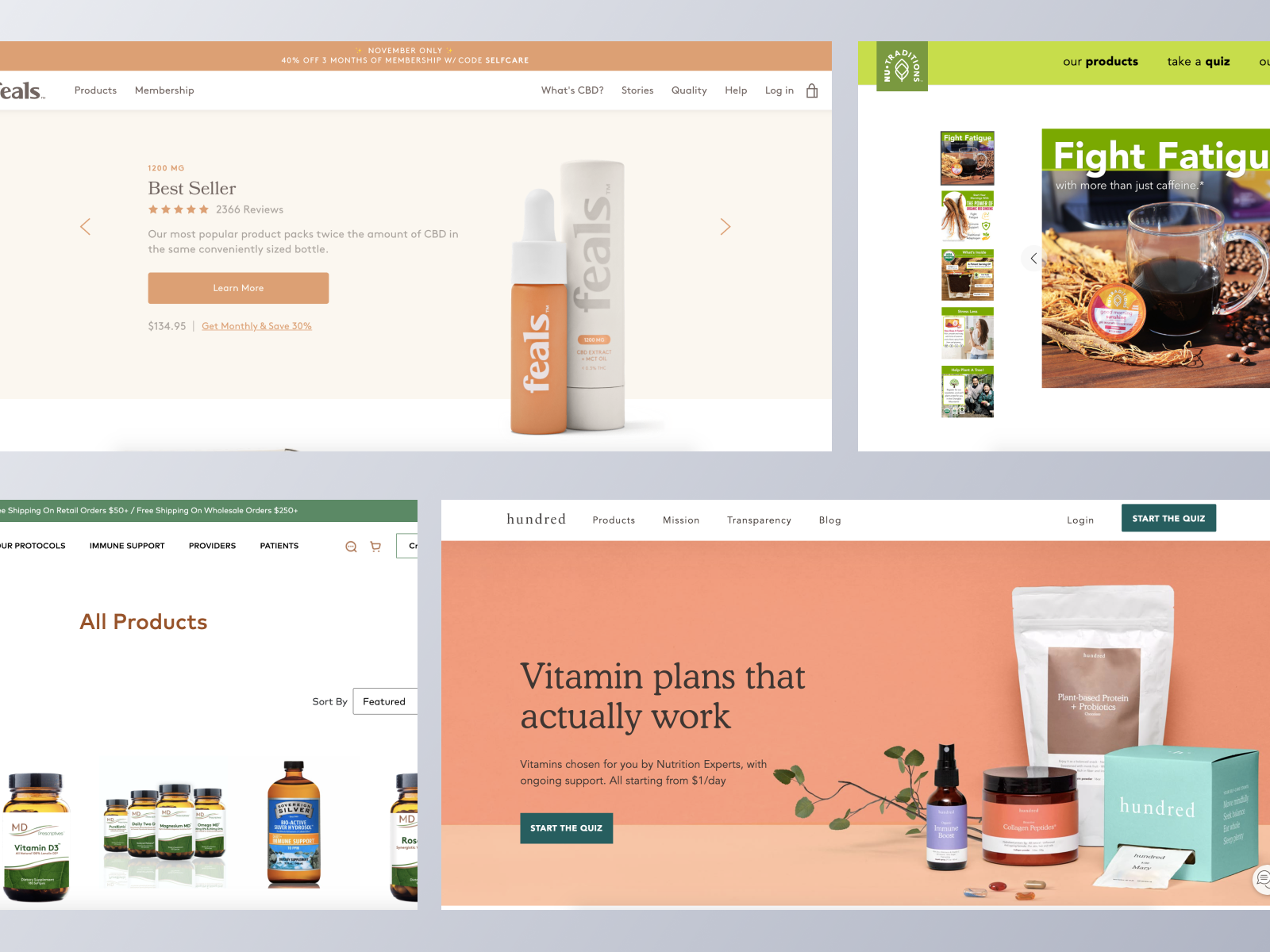 86. Hundred – a subscription service for personalized vitamin plans, Berlin, Germany
87. Nutraditions – a natural supplement brand based in ancient Chinese herbal wisdom, California, U.S. 
Read Nutraditions' success story
88. Feals – a direct-to-consumer online CBD store, Denver, Colorado, U.S.
Read Feals' success story
89. MD Prescriptives – a premium, clinically proven supplements brand, Florida, U.S.
90. HerbDoc – an online store with herbal supplements by Dr. Schulze, California, U.S.
91. Salcobrand – an online pharmacy from Chile
Digital Products ecommerce websites using Spree Commerce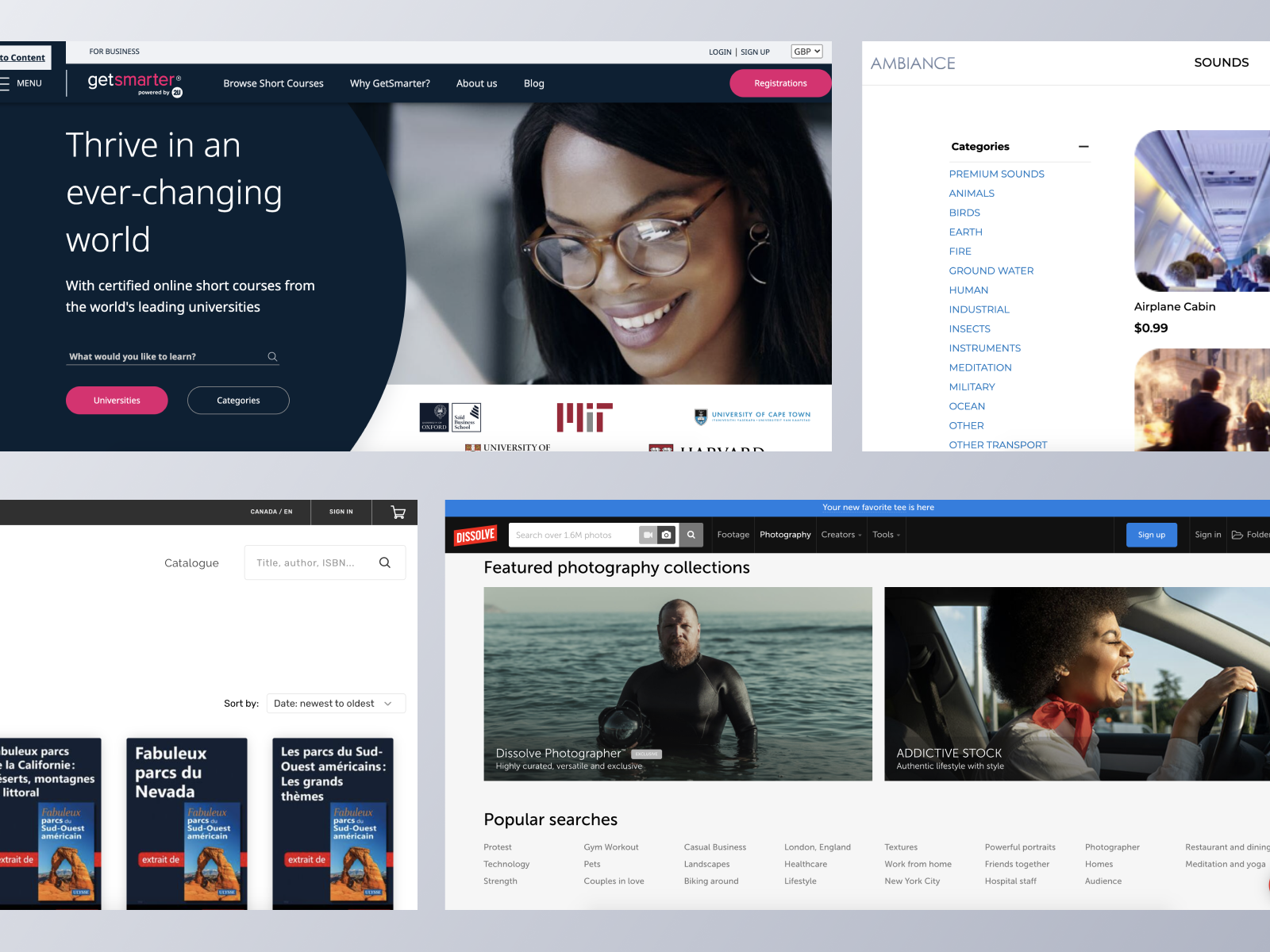 92. Dissolve – exceptional stock footage and photography with over 3.6M stock video clips and photos, Canada
93. GetSmarter – online courses from the world's top universities including Harvard, Oxford and Cambridge
94. Japan Code Supply – an online store dedicated to selling Japanese gift cards at cheap and fair prices
95. Ambiance – an online store selling a variety of ambiant sounds, New York, U.S.
96. Knot9 – a video stock from India
97. Gallimard – an ebooks store from France
98. Cantook Boutique – an ebooks store from Quebec, Canada
99. Il Libraio – an ebooks store from Italy
100. RekorderSonics – an ambisonics library with sounds that are unmistakably connected to Berlin, Germany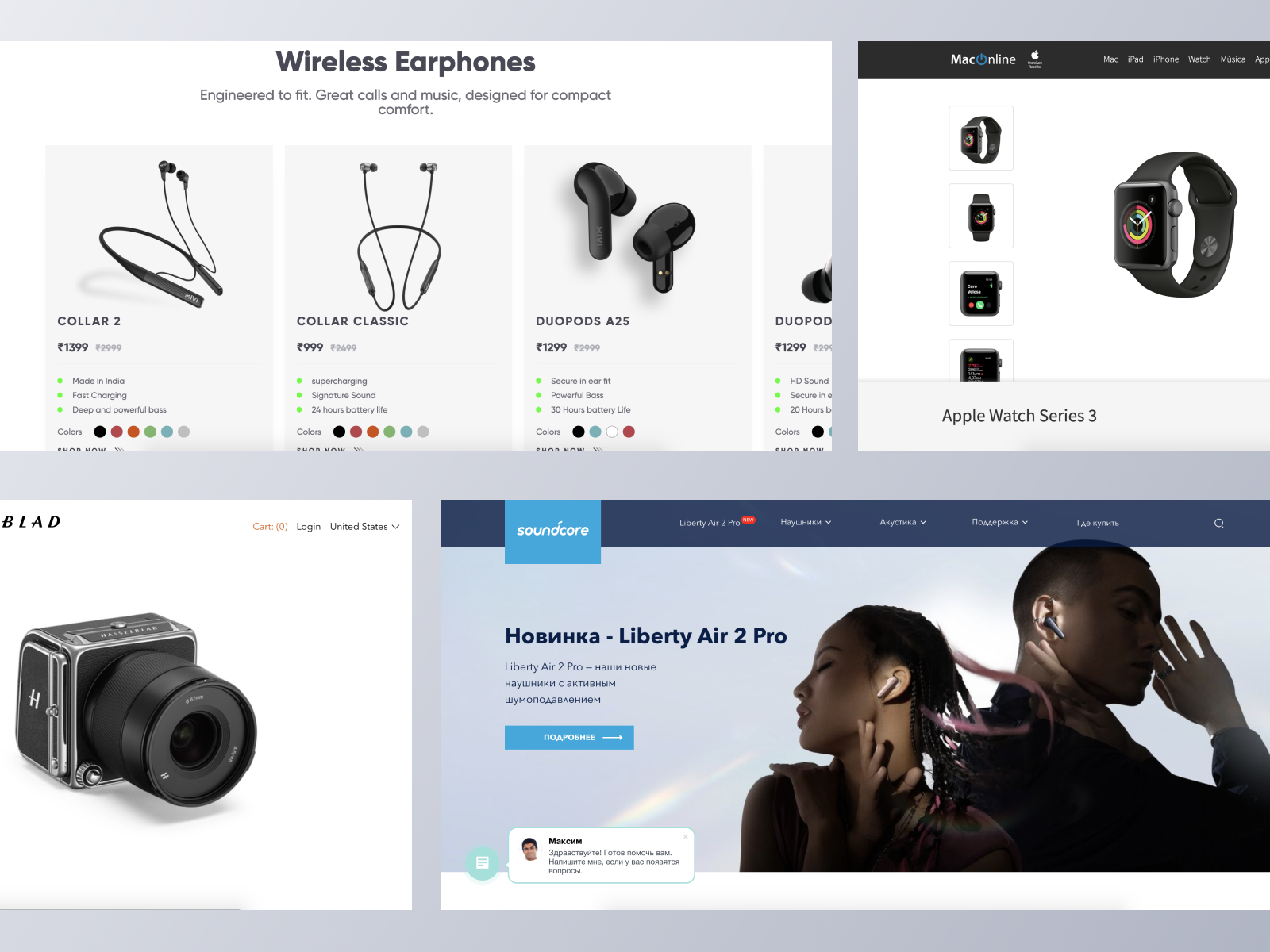 101. Mivi – an online store with headphones and speakers from India
102. MacOnline – an Apple equipment and accessories store from Chile
103. Soundcore – an online store with premium headphones and speakers from Russia
104. Eufy – a household electronics store from Russia
105. Hasselblad – photo equipment of the well known Swedish brand, shipping internationally 
Gifts and Flowers ecommerce websites using Spree Commerce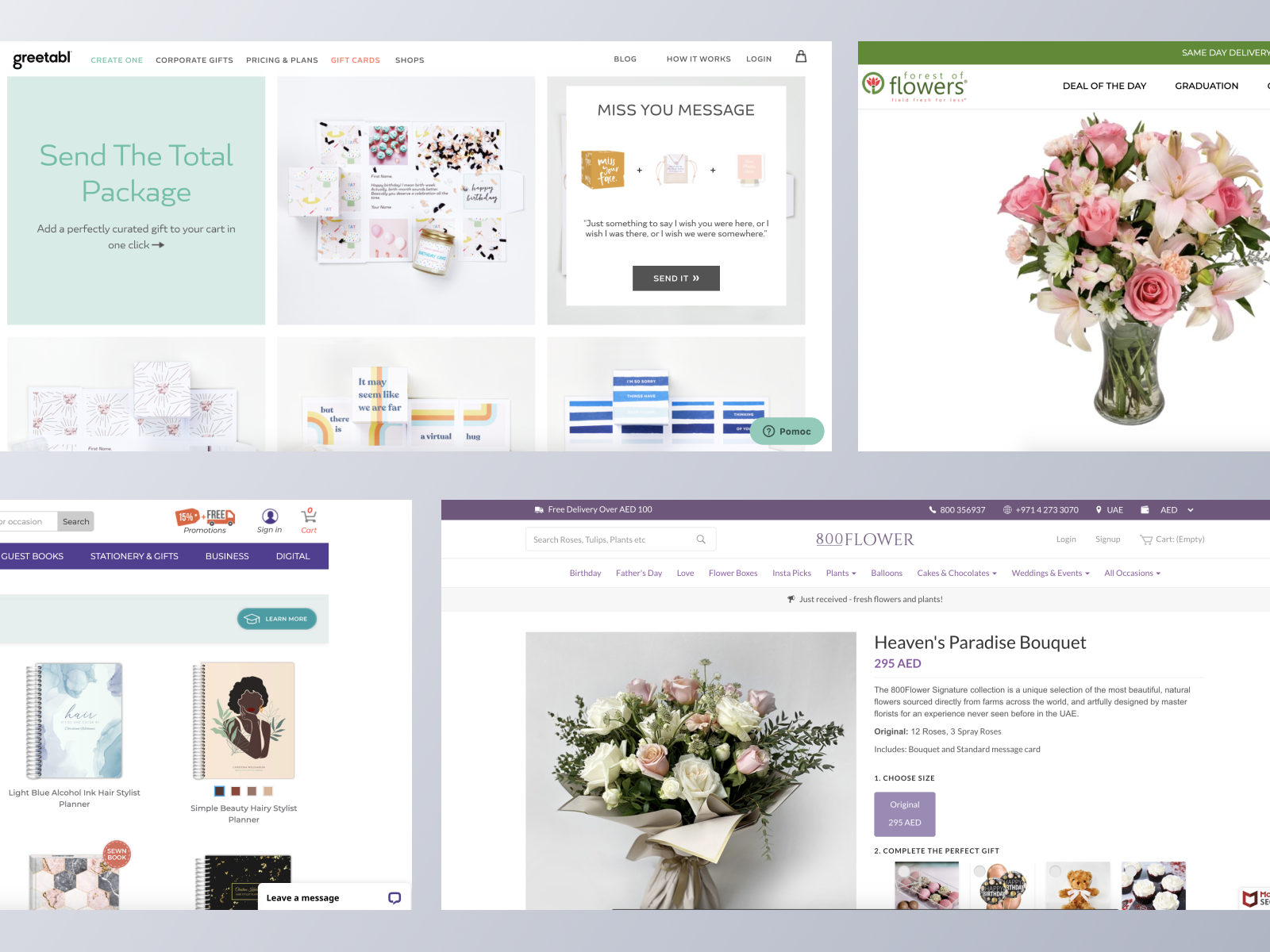 106. Greetabl – an online one-stop-shop for creatively-curated gifts and greetings, St.Louis, U.S.
107. PurpleTrail – a personalized cards and gifts store, the Seattle area, U.S.
108. Forest of flowers – local same-day-delivery flower store from Canada
109. 800flowers – flower delivery in Dubai
Art & DIY ecommerce websites using Spree Commerce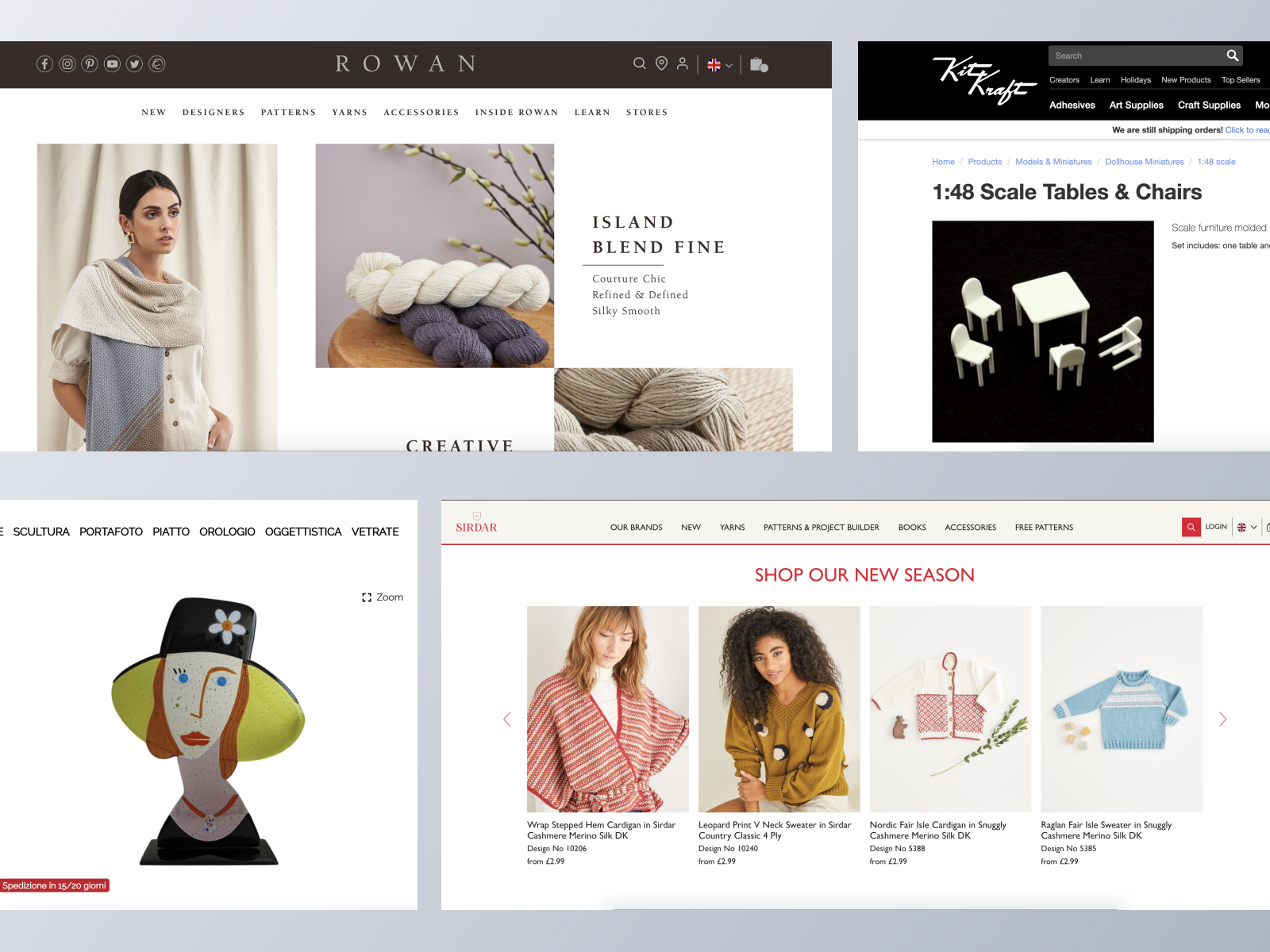 110. Sirdar – a British yarn manufacturer that dates back to 1880 
111. Rowan – an English design led brand, producing premium yarn from natural fibres
112. Diamond Tech Crafts – a craft and art glass supplies store, Florida, U.S.
113. KitKraft – arts and crafts supplies, California, U.S.
114. VitraGlass – an online store with Murano glass creations, Venice, Italy
Pet Products ecommerce websites using Spree Commerce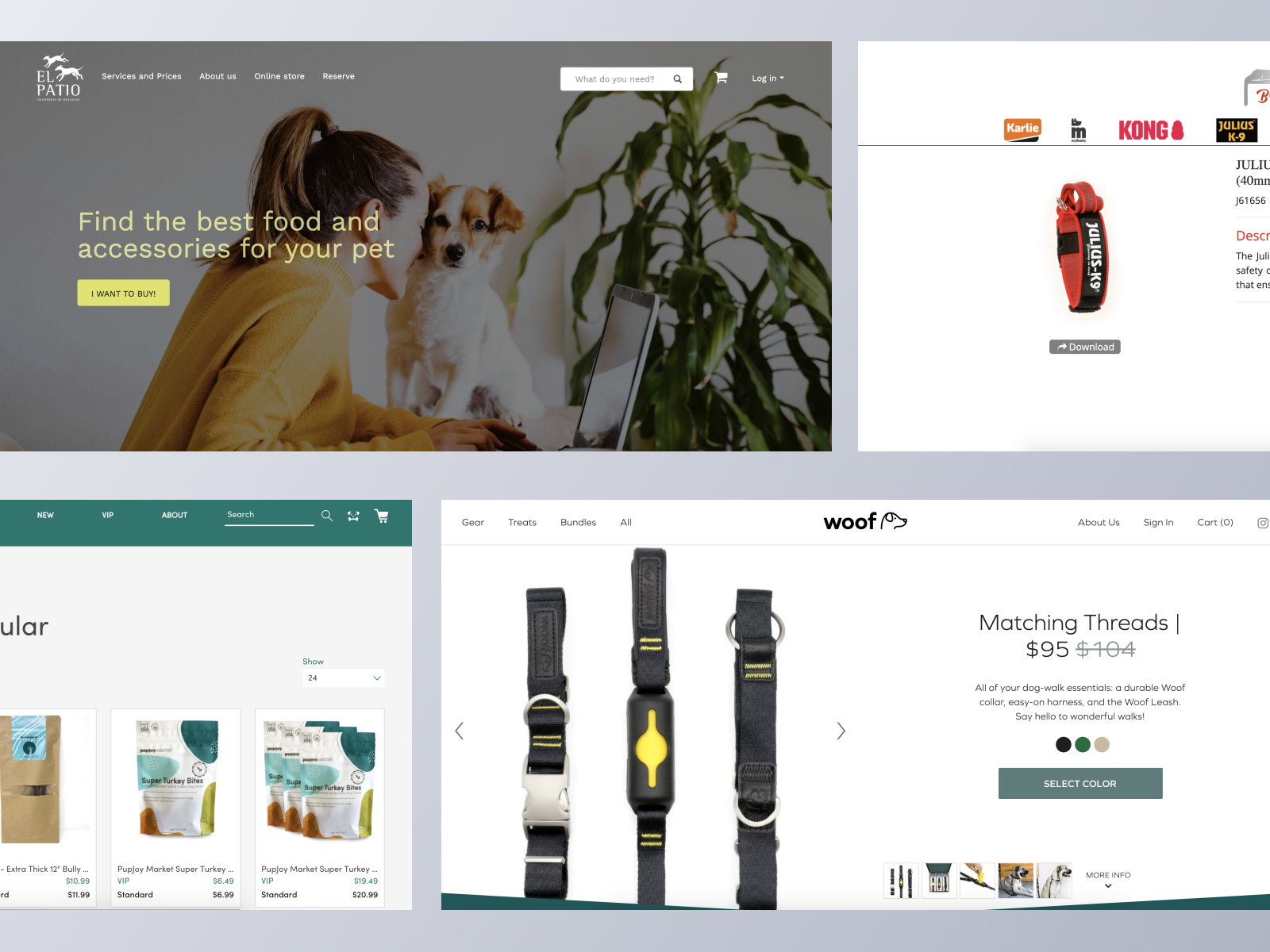 115. Woof – designer dog gear, Colorado, U.S.
116. PupJoy – personalized boxes with dog goodies, Chicago, U.S.
117. El Patio – pet products and services, Chile
118. BryoCan – a pet products store from Spain
More awesome ecommerce websites using Spree Commerce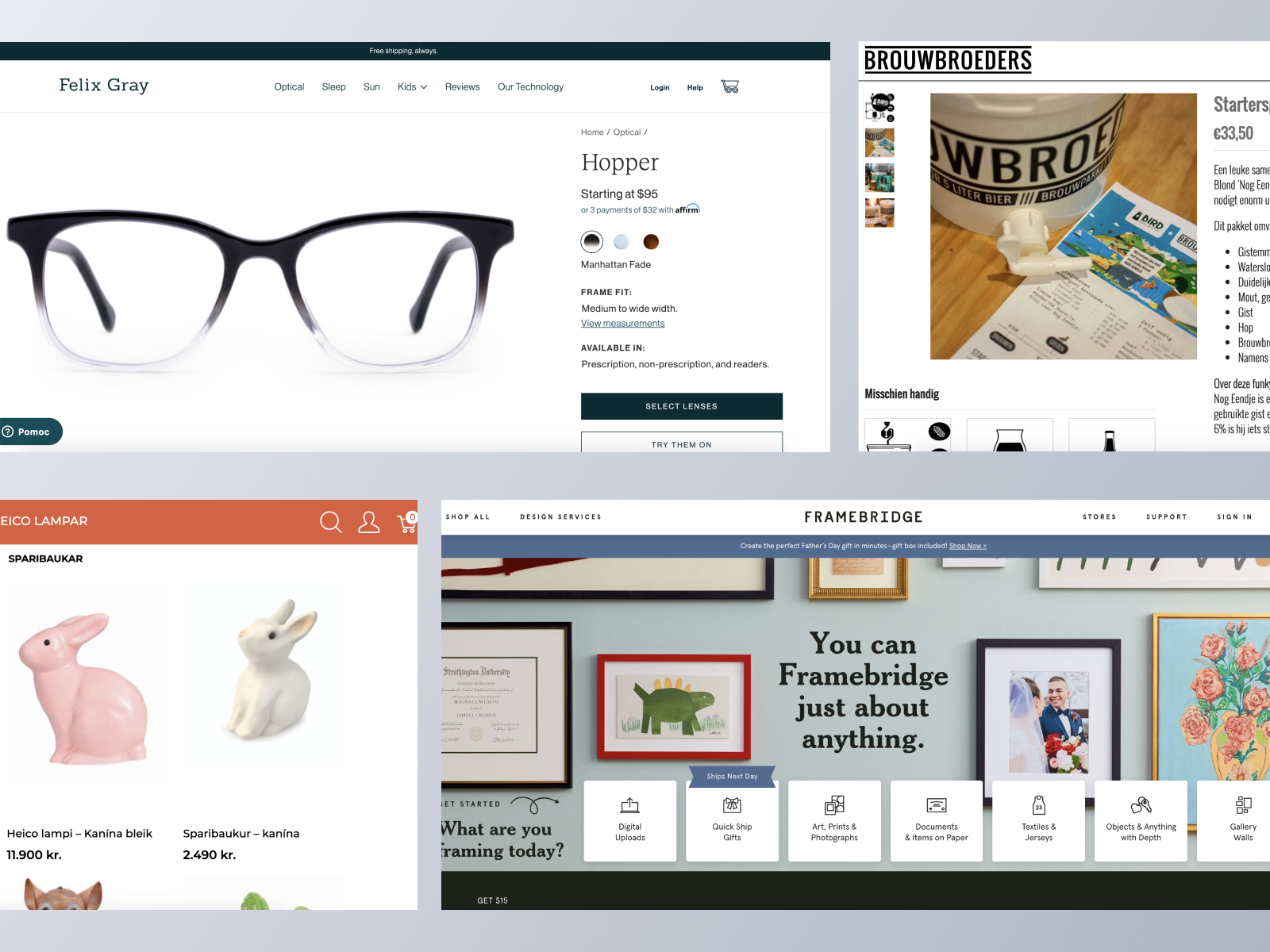 119. Felix Gray – a successful ecommerce eyewear startup, New York, U.S.
Read Felix Gray's success story
120. Framebridge – custom picture framing startup with over $80M funding, Washington, U.S.
121. BrouwBroeders – beer brewing kits from the Netherlands
122. OLX Pakistan and OLX Lebanon
123. Easy Pay Mobility – mobility scooter rental, UK
124. Egmont Toys – an online store with toys From Iceland
125. MightyNest – an ecommerce store with monthly subscriptions that helps families build non-toxic, eco-friendly and stylish homes, Illinois, U.S.
126. Le Menu – a household equipment store from Switzerland
127. Boomkat – an independent online record store from Manchester
128. Bookshop – an online bookstore with a mission to financially support local, independent bookstores. Based in Pennsylvania, it operates in the US, UK and Spain.
129. TerraCycle – a platform that allows you to recycle almost any type of waste by purchasing zero waste boxes that are later collected and its contents recycled, New Jersey, U.S.
130. RoomOrders – a cloud-based menu that brings hospitality into the Low Touch Economy by digitalizing orders and payments, Delaware, U.S.
131. OurTreat – an online store with basic necessities with delivery to prisons, Texas, U.S.
132. Terangas – an online store with basic necessities where relatives living abroad can purchase goods that will be delivered to their families in Gambia
133. Dekoeko – a global marketplace for upcycled products, Poland
134. The Reef – a cannabis online store, Seattle, U.S.
135. Limista – celebrity autographs signed during live sessions and delivered to the buyers, Japan
136. Natty – a curated marketplace for one-of-a-kind products from the best creative entrepreneurs in India
137. Golden Gate – gold bars and coins, Czech Republic
138. Druck Idee – printing services from Switzerland
Subscriptions, custom product builders, sample ordering, and personalized recommendations are only some of the cool features that those stores are using and are easily implemented with Spree Commerce. Get in touch if you want to start an eCommerce project or migrate your store to Spree. 
Spree as a Service comes with the same functionality as the open-source plus all the SaaS advantages, such as free integrations and features, no upgrades or maintenance, and effortless scalability. Try our free trial or request a demo.