Name of Love uses Spree for its website that allows brides and bridesmaids to create and participate in online showrooms
Devoted to the modern bridesmaid
SPREE SUCCESS STORY
Name of Love is an innovative online E-commerce platform that's reinventing the bridesmaid dress market.
Its New York City-based founders Merrill Moskal and Simona Popvassilev set out on a mission to make shopping for a bridesmaid's dress easier-and more stylish. The outcome is a curated collection of bridesmaids' dresses that are chic and affordable with prices starting at $198. But this is not all.
The company is a hybrid between a digital bridesmaid salon service (bridal parties can communicate and pick favorite dresses on the website as a group) and an E-commerce site, where one can buy made-to-order gowns.
A curated showroom experience
Name of Love is taking bridesmaid dress shopping totally digital. The website is inspired by clean lines, last dances and beautiful hues and showcases a collection of 14 bridesmaid dresses. Each dress is customizable in eight colorways ranging from a blush pink to black and three fabrics — with silhouettes ranging from short, bodycon sheaths to flowing, floor-sweeping halter gowns.
Another key differentiator is that Nameoflove.com offers a personalized shopping experience online: The site enables the bride to create a virtual showroom where she can save certain styles and colors she's favoring. Then, she can invite her bridesmaids to shop directly from her selections.
We decided that the ideal platform would be one place where the bride can call the shots, but also make it a collaborative process. We encouraged her to choose a number of styles that she could add to her digital showroom and invite her friends to shop from—then they feel like they are part of the process. All of the transactions happen right there and the bride can keep an eye on everything. It's easy!" – Simona Popvassilev, Name of Love Co-Founder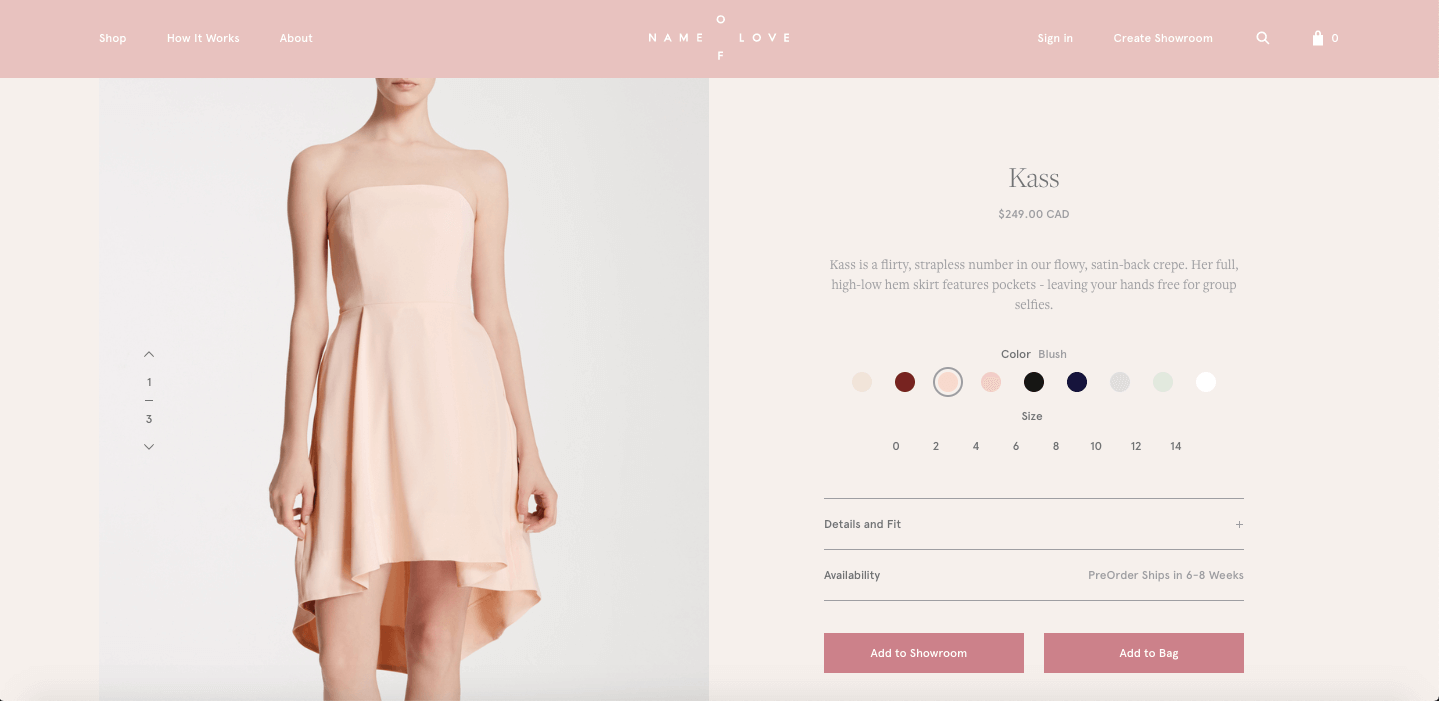 Name of Love and Spree Commerce
"We thought a lot about the website. It took a good year to get the experience to be what we wanted it to be and to get that feeling of shopping with your friends, but while you are sitting at home." – Simona Popvassilev, Name of Love Co-Founder
The outcome is a website that allows its users to immerse in the shopping experience, thanks to fluid page transitions and soft animations. The storefront is based on Spree and is heavily extended to allow for the online showrooms to be implemented. The account and checkout processes were highly customized. An additional CMS component makes updating the visually-rich website a swift and easy process.
Tech Stack:
Spree Commerce
Ruby on Rails
Javascript
Integrations: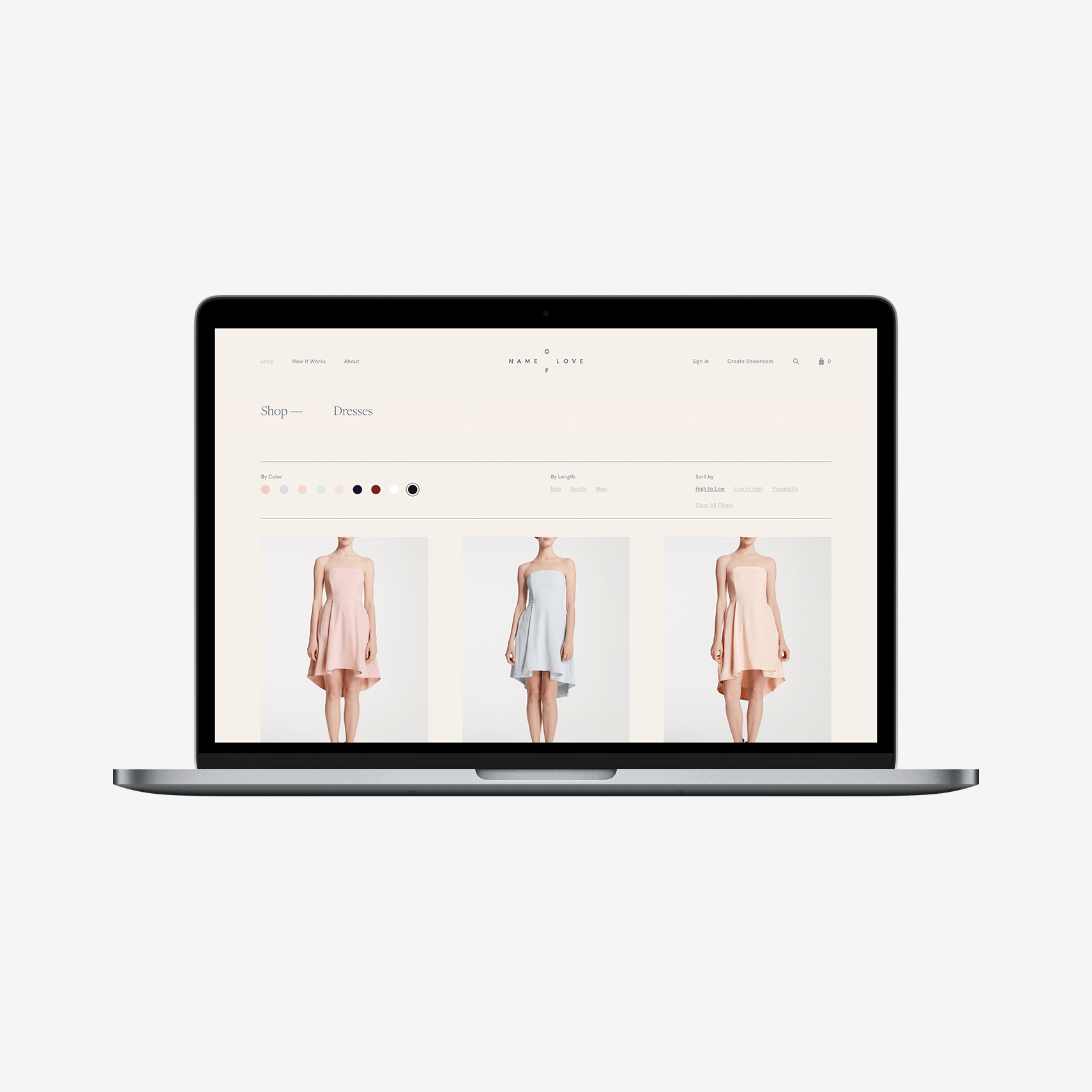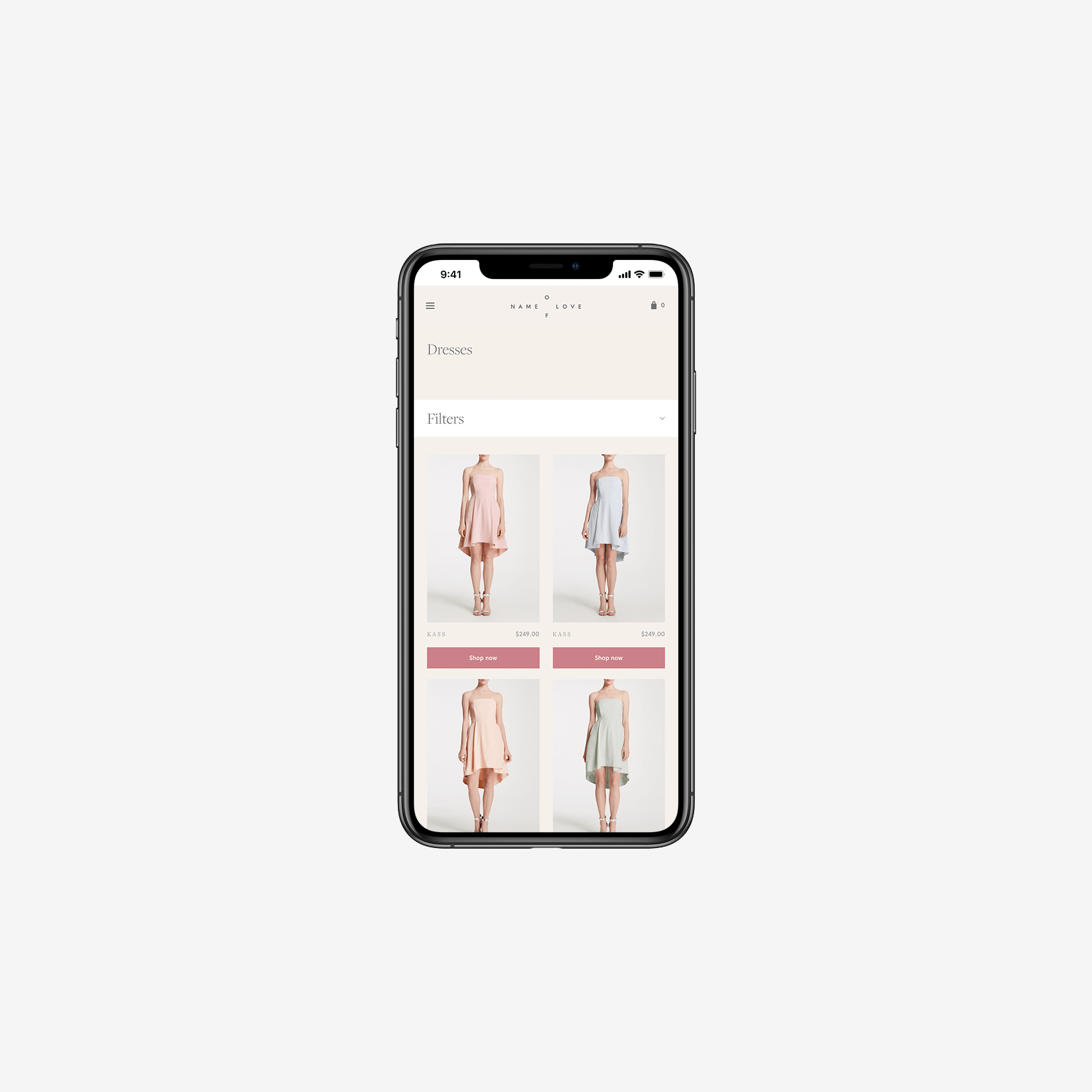 Conclusions:
SPREE SUCCESS STORY
Name of Love is an online retailer specializing in dresses for weddings and special occasions. It aims to create a more curated experience for fashion-forward bridesmaids who don't want to spend a ton. And they do it extremely well with a beautiful website built with Spree Commerce that allows brides and bridesmaids to create and participate in online showrooms.