Ratio Clothing uses Spree Commerce for its online platform with customized shirts and a machine learning fitting algorithm
A full-stack custom apparel company
SPREE SUCCESS STORY
Ratio Clothing is a Denver-based brand that brings custom shirt making into the internet-era. Launched by an ex-Deloitte consultant, Eric Powell back in 2009, the company has quickly gained a reputation for quality shirting, a user-friendly interface and simple returns and alterations.
The site focuses exclusively on shirts – from formal tuxedo shirts to casual plaids and everyday workwear – so you won't be able to get a blazer or a pair of slacks while you're poking around. The idea is, the central focus breeds higher quality.
Ratio Clothing calls itself a Full Stack American-Made Custom Apparel That means:
Making great-fitting custom clothes 

Selling direct to customers in our own retail stores or online 

Designing and curate unique, lifestyle-driven clothing styles 

Making our products in American factories that we tightly integrate into.
Expert tailoring, enhanced by Machine Learning
"60 Seconds to a perfect fit" sizing questionnaire
Shirts need to fit well and provide lasting comfort and Ratio Clothing promises to provide the perfect fit, no matter what your measurements are. 
Ratio brags that its sizing algorithm is the most accurate in the industry, built with advanced machine learning, honed over thousands of fittings, and refined by the judgement of master tailors. However, they still believe in the unmatched value of human experts, which is why every new client has their own dedicated Fit Advisor to provide expert guidance regarding sizing issues, and to provide a detailed review before their first shirt goes to production.
All you have to do is create your first size Blueprint with Ratio Sizing – the brand's proprietary, algorithmic approach to custom shirt sizing. Simply answer a few questions about yourself, and skip the ones you don't know and the algorithm will do the rest. It'll take your responses, crunch the numbers, and create your one of a kind Blueprint – a digital pattern that assures a perfect fit, every time you shop at Ratio's website.
"Our sizing survey, which takes about 60 seconds to complete, has been refined over tens of thousands of fittings. That process alone delivers an excellent result, but we still believe that human experts provide something that technology alone cannot. So, our experts (sometimes me!) review every new customer profile for things that go beyond measurements and statistics to give customers the best of both worlds, which we believe delivers the best results in online custom clothing." – Eric Powell, Founder
Shirt customization process
First, select a shirt fabric.  Ratio Clothing's photos make it easy to envision what the shirt will look like, with big bright close-ups of their shirts.

Next, pick out a collar. Ratio offers an incredible variety of collar options: The interface presents an initial choice of 12 dollar options, but those collars can be customized further once selected. Customers can head to "advanced options" to choose different linings (soft, which tends to be more casual or fused for dress shirts).

Then move on to selecting cuff style, sleeves, pockets and plackets. 

Once you're done with that, the shirt is then ready to go in your cart.
The entire process — including developing your fit profile and ordering a shirt — can easily be accomplished in under 5 minutes, and requires virtually no self-measurements, assuming you are already familiar with your neck and sleeve sizes.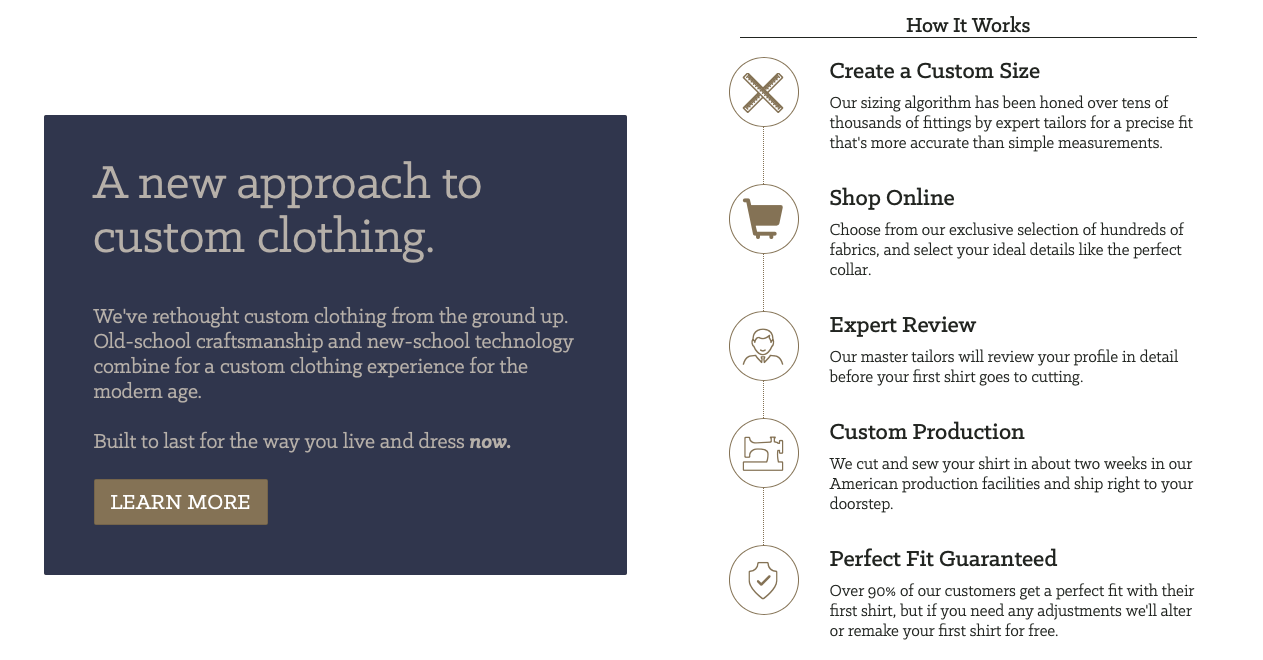 Ratio Clothing and Spree Commerce
The Ratio Clothing brand developed a highly customizable product and an ecommerce platform with tools that make the whole process simple and user friendly.
Customers can get started very quickly by answering just a couple of questions to create a basic custom fit blueprint. Then Ratio digests the answers and feeds them into a proprietary algorithm. The company has leveraged advanced machine learning insights over the years along with live fitting data from their Denver-based showroom. All of that information helps 90% of Ratio's customers achieve a perfect fit with their first shirt.
"Ratio's primary ordering portal is refreshingly simple, and impressively gets a lot right with very little information. In particular, sizing via suit measurements and simple fit questions is ingenious."
Ratio's website is clean and simple to navigate. It is built with Spree Commerce, a flexible and scalable open-source e-commerce software. Spree enables you to build beautiful online stores that are fast loading, user friendly and what's most important – you have total control over them.
On ratioclothing.com  you will find some really cool features like:
an advanced product customization tool
a 60 second survey that helps you get the perfect fit using a machine learning algorithm
customer reviews
personalized gift cards
advanced filters that enable you to filter the products by fabric, color, price range, season, occasion, pattern, etc.
"We love the flexibility that Spree provides. Crucial for our unique custom clothing workflow and manufacturing integrations." – Ratio Clothing
Tech Stack:
Spree Commerce
Ruby on Rails
Bootstrap
Erlang
Integrations: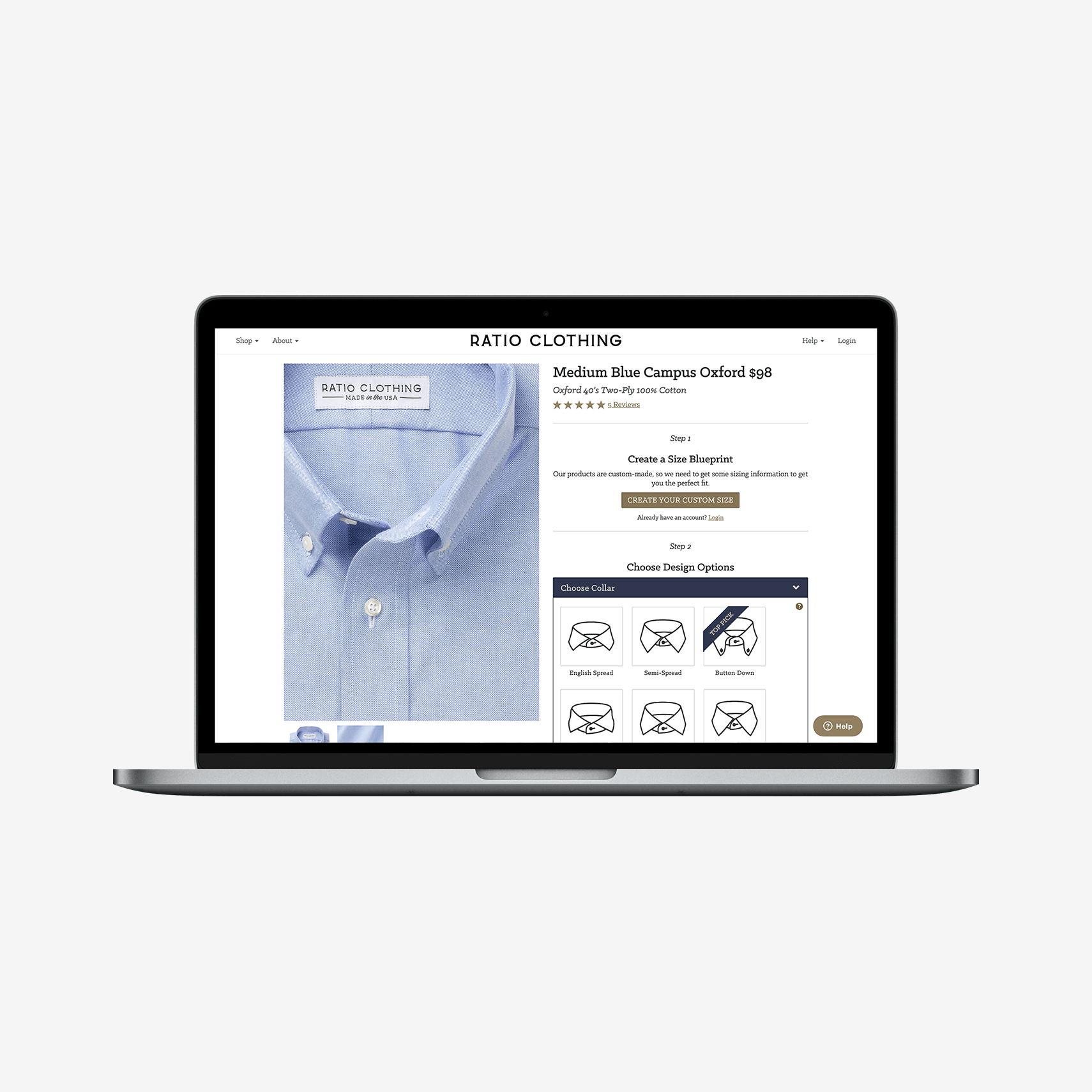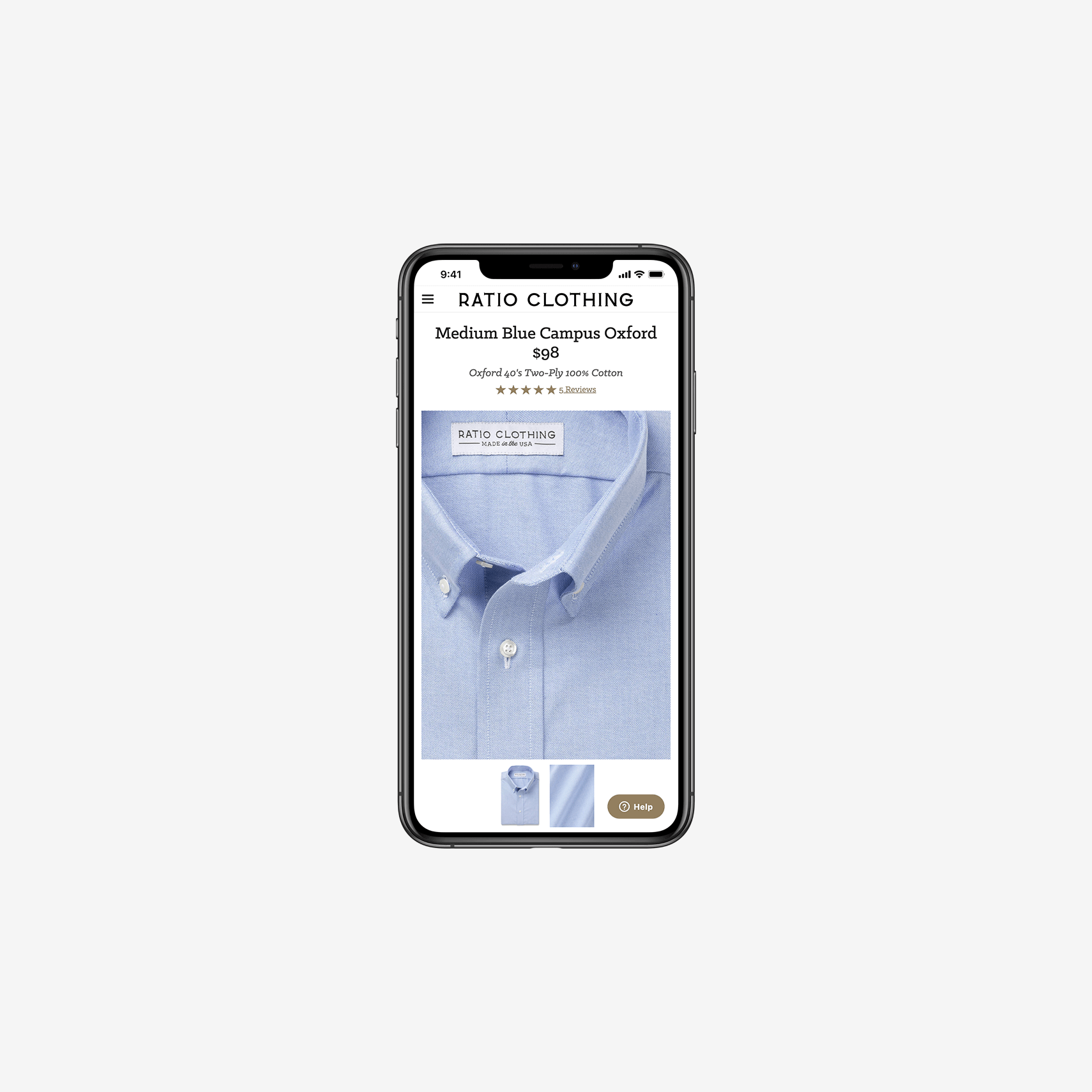 Conclusions:
SPREE SUCCESS STORY
Ratio Clothing makes handcrafted, custom dress shirts featuring their proprietary made-to-measure system called "Ratio Sizing" for a perfect fit. Their shirts are cut and sewn in the USA with top-quality imported fabrics. Ratio's elegant storefront with lots of amazing funcionalities and great user experience at the same time was built with Spree Commerce, a super flexible e-commerce platform that makes even the most complex customizations possible and easy to implement.