Sirdar - British yarn manufacturer that dates back to 1880 chooses Spree for its ecommerce platform
Trusted by generations
SPREE SUCCESS STORY
Sirdar is the UK market leader in hand knitting yarns as well as having a growing presence in export markets, most notably the USA. In the UK Sirdar now also distributes all Sirdar, DMC, and Wool and The Gang products making the company the premier destination for needle crafting.
Hand knitters have passed their love of Sirdar yarns, along with their knitting and crochet tips, from generation to generation. Manufacturer established in West Yorkshire in 1880, Sirdar is at the heart of the British knitting community, with a growing reputation around the world for yarn innovation and design.
Changes in ownership have enabled Sirdar to continue evolving over the years, most recently Sirdar was purchased by Blue Gem Capital Partners private equity firm and now forms part of The DMC Group, alongside DMC and Wool and The Gang.
Patterns & Project Builder
Sirdar offers everything you need to begin your adventure with handknitting. Besides the yarns, you will also find a wide variety of patterns and necessary accessories like needles, crochet hooks, and buttons. 
Pattern Library
Patterns can be purchased both in print or as a digital file. In both cases, the patterns (either delivered to your door or downloadable at checkout) appear in the user's Pattern Library that is accessible after logging in. This way all your patterns are stored in one place and there is an additional incentive for the user to enter Sirdar's website (and maybe buy something new as well).
Project Builder
A knitting project requires a pattern, yarn, and some additional accessories. All these can be matched and purchased using Sirdar's Project Builder. First, you choose a pattern (e.g. a cardigan), then the size and yarn color. If needed, you can add accessories such as needles or buttons suggested in the "You may also need" section. Once done, you can add all the necessary items to the cart with just one click. This not only makes the customer experience great but also gives many upselling and cross-selling opportunities to the retailer. Well done Sirdar!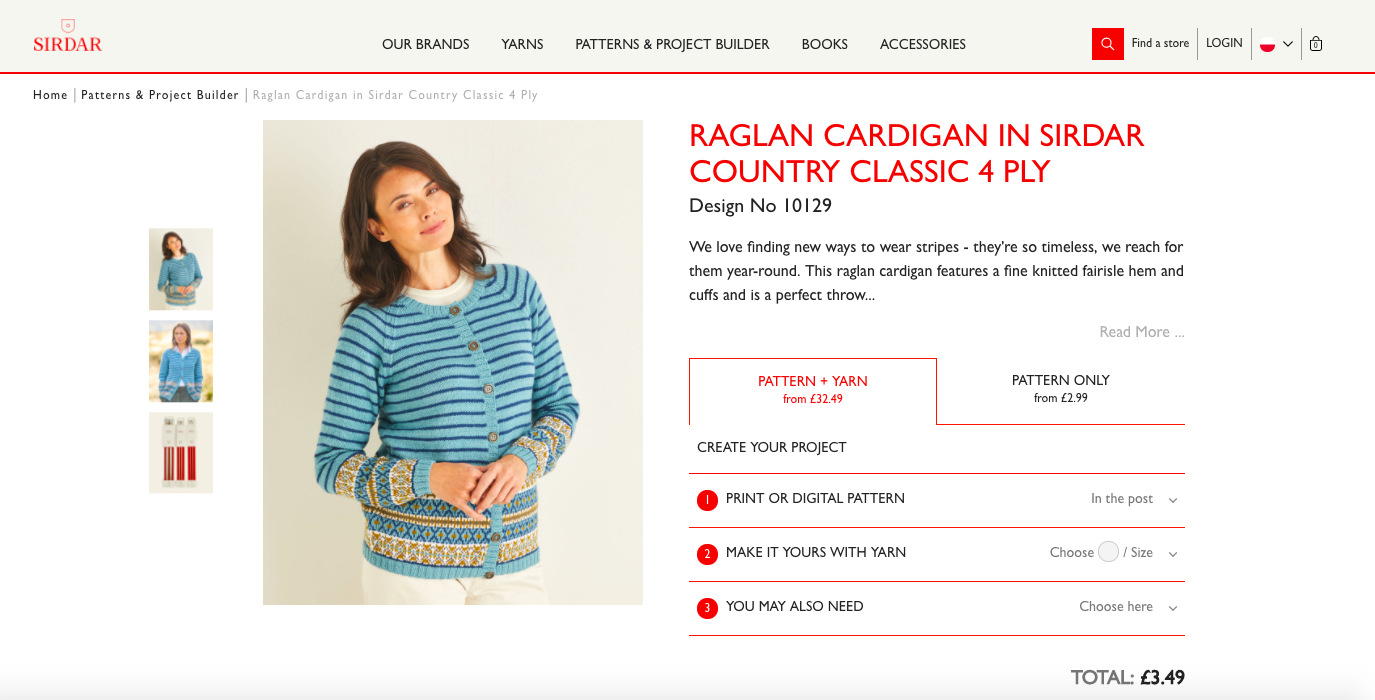 Sirdar and Spree Commerce
Sirdar's yarns for hand knitting are sold in an extensive network of independent retailers, specialist knitting and craft shops, and department stores throughout the UK and abroad. Last but not least, the company's products can also be bought via its ecommerce platform with multi-language support and shipping to most countries. 
In Sirdar's sleek and user-friendly online store, you can find a wide selection of yarns, patterns, knitting accessories as well as books on handknitting techniques. 
Apart from the above mentioned Pattern Library and Project Builder, on Sirdar.com you can find some other really cool features:
Selectable color swatches displayed in Product Card

"Find a Store" consisting of:

A map with a postcode field entry box that enables the user to find the nearest retailer using Google Geo API

Browsable directory of retailers

Great cart and checkout experience – users can

increase and decrease products quantities in the cart

Shoppable Instagram widget displaying pictures from the brand's Instagram account and the ability to add the featured items to cart with just one click
Tech Stack:
Spree Commerce
Ruby on Rails
Bootstrap
jQuery
Integrations: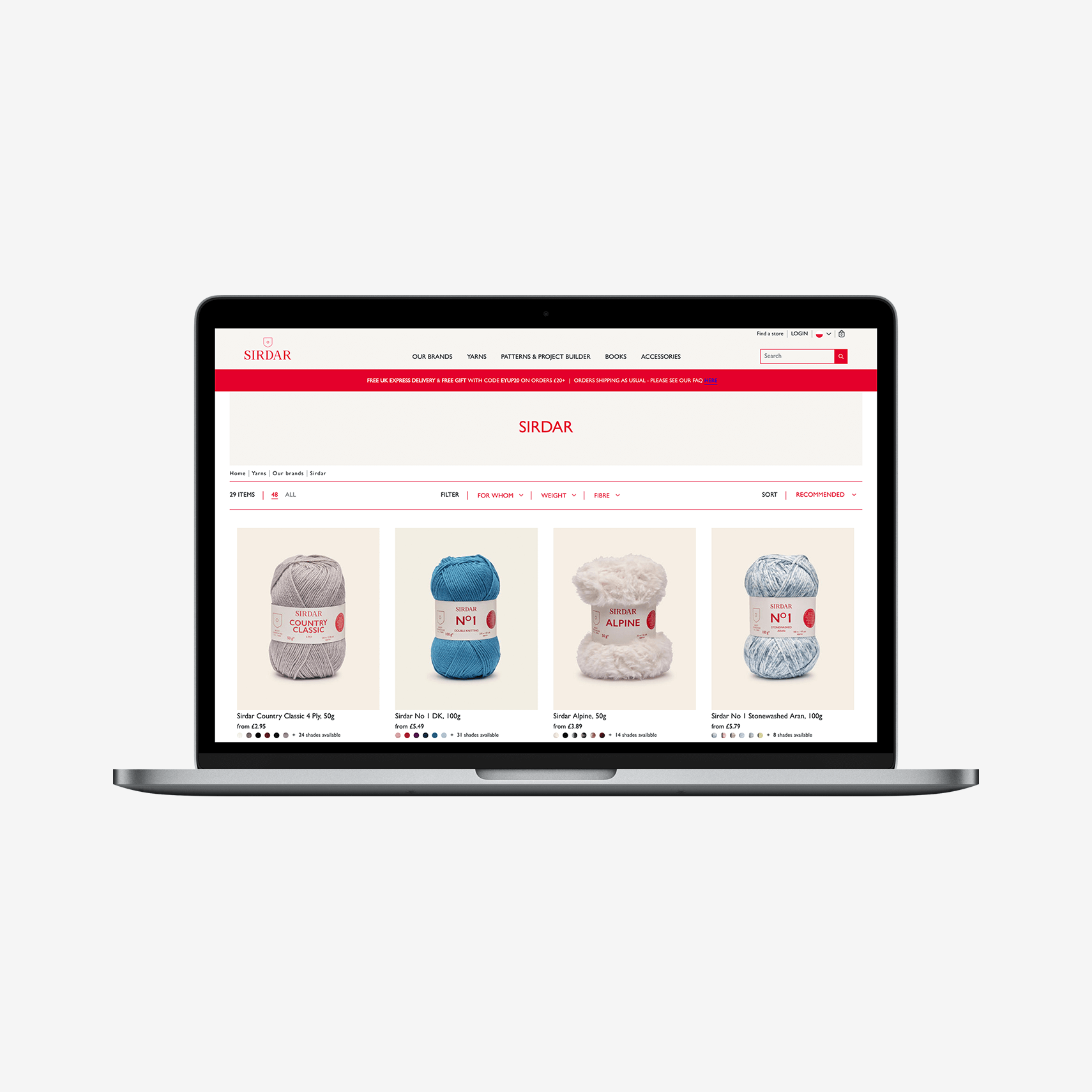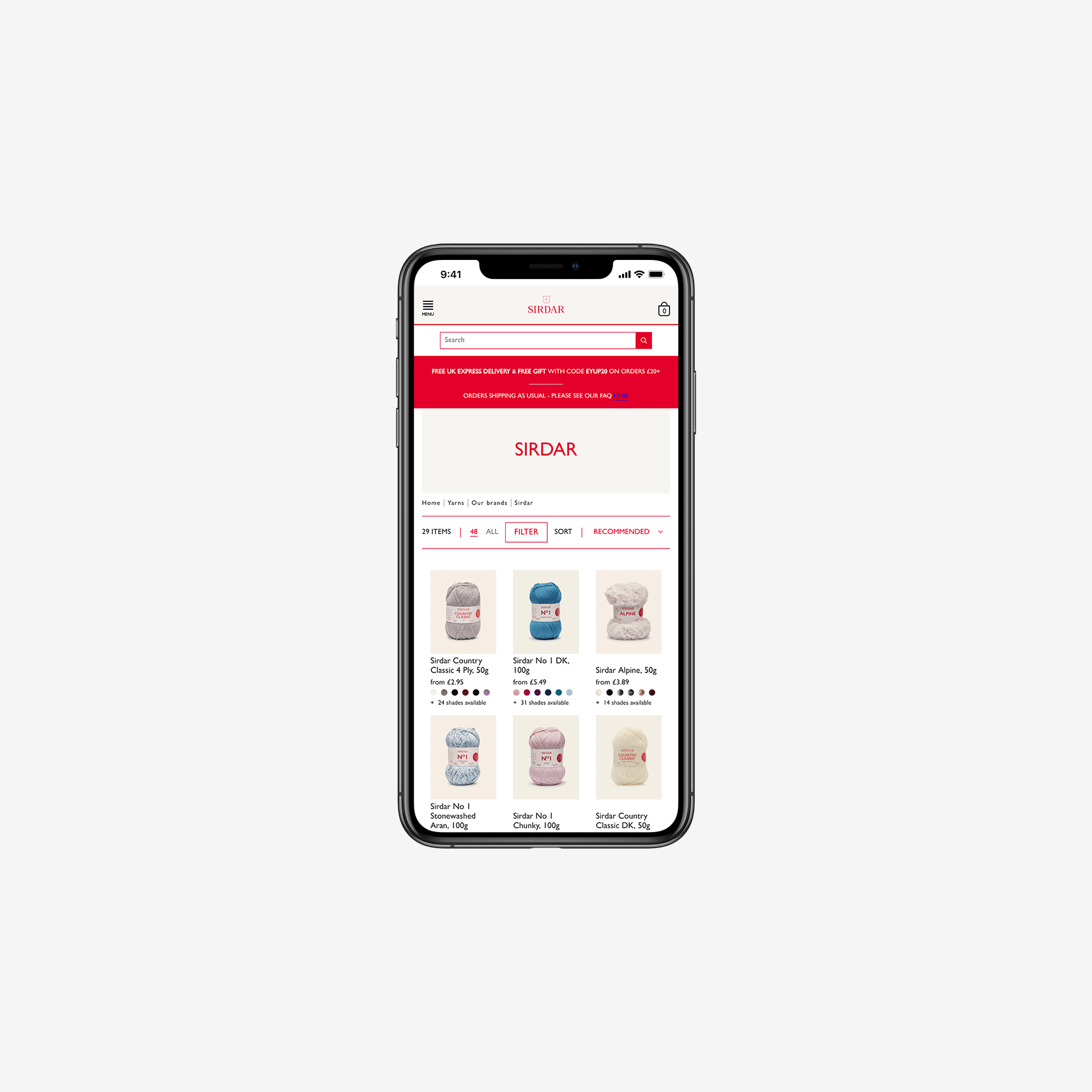 Conclusions:
SPREE SUCCESS STORY
Sirdar offers over 100 yarn qualities and hundreds of new patterns every year created by the in-house design team of more than twenty knitting and crochet experts. All of these are showcased on the company's beautiful website with responsive design and many awesome features making the user experience worthy of its high-quality products. Sirdar's website sells both physical and digital products and was built with Spree Commerce, a flexible and reliable open-source ecommerce solution.