Premium handmade knives manufacturer uses Spree for its stylish online store with product customization
Handmade knives from Salzburg
SPREE SUCCESS STORY
Messermacher Kappeller GmbH is a specialized manufacturer of handmade knives since 2002. 
It was founded by Richard Kappeller, who has had a passion for making knives since he was a child. He turned this passion into his profession. Today, you can find his handmade one-of-a-kind pieces in Messermacher's flagship stores in Salzburg and Vienna: hunting and outdoor knives, kitchen knives, and all-rounders with handles ranging from precious woods to mammoth ivory that are also made to the customers' specification.
Messermacher.at website
Messermacher's website has a somewhat unusual design, different from most of the trends we are used to. The dark background and the color palette give it an elegant décor that certainly appeals to customers who are willing to pay several thousand euros for a knife.
The website is available in two languages – German and English. The first thing you see on the homepage is a randomly selected product, so every time you visit it, you'll see something different here. 
On the Product Listing Page, users can filter items by category, type, and also by blade and handle. The Product Page is very well designed with only the essential information and a possibility to enlarge the pictures to see as many details as possible. There is also a Related Products section with similar items listed. 
Apart from purchasing ready-made products, Messermacher's customers can design their own personalized knives using the Configurator. It is a truly amazing tool with advanced customization options at every one of the five steps where one can personalize everything from blade steel to handle material and sheath. 
Another cool feature is a 360 virtual tour of one of the Messermacher physical stores, either in Salzburg or in Vienna. There is also a blog (called Magazine) full of quality content about knives craftsmanship.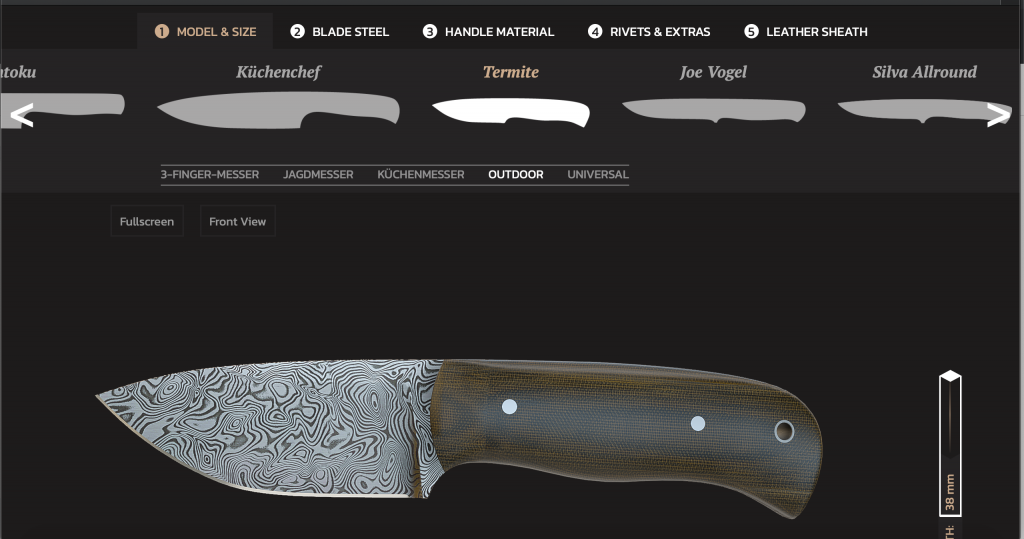 Messermacher and Spree Commerce
Messermacher's elegant online store is powered by Spree Commerce, an open-source eCommerce platform that has a proven record of being a great solution for customization tools. Other examples of websites built with Spree that feature product configurators are: Greetabl, Packhelp, Ratio Clothing, Sirdar, and New England's Patriots. 
Tech stack:
Spree Commerce

Ruby on Rails

jQuery

Nginx
Integrations: