Away uses Spree Commerce for its $1.4B smart luggage brand
Make travel more glamorous
SPREE SUCCESS STORY
Launched in 2016 by co-founders Steph Korey and Jen Rubio, Away is a global lifestyle brand with a mission to transform travel. By selling directly to customers both online and through retail stores, Away is able to eliminate retailer mark up and offer high quality, thoughtfully designed luggage and travel essentials without driving up the price. In just under four years, Away has already been twice named one of Fast Company's "World's Most Innovative Companies," and one of TIME's "50 Most Genius Companies". Away is headquartered in New York City, with offices in London and Sydney.
"We both had worked at Warby Parker, the direct-to-consumer eyeglasses brand, and thought we could take a similar approach with luggage. We used the same materials that are found in bags that cost over $700: sturdy YKK zippers, double-spinner wheels that are really rugged and glide over airport carpets, German polycarbonate shells that are both light and strong." – Jen Rubio, Co-Founder
In its first year, Away exceeded $12 million in sales and to date sold more than 100,000 suitcases. The company has brought in a total of $181M in funding and hit $1.4B valuation, which firmly places Away into the unicorn club.
The most Instagrammable travel luggage
The Away luggage is not only beautifully designed and made from high quality materials, but it can also charge your mobile phone. However, the real key to the brand's popularity is the content and influencer marketing, which has been core to the company since the beginning. A huge part of the Away's success was due to an online sales strategy that included 1,000 influencers pushing the brand on Instagram. And until now, Instagram eCommerce remains the primary social channel for driving sales.
Back in December 2015, Away Co-founders Jen Rubio and Steph Korey saw that their first run of suitcases wouldn't be ready in time for the holidays. But they still wanted to start building their brand with in-the-know travelers. Rubio came up with the idea of creating a hardbound book that featured artists, writers, and photographers on their favorite destinations. The finished product, "The Places We Return To," sold out and put Away on the path to exceed more than $12 million in first-year sales.
Since then, Away continued to fuel its growth with content. Last year, it launched Here, a beautifully designed print and digital travel magazine, and "Airplane Mode," a podcast that "explores the reasons we travel and places we find ourselves." 
Away's content has earned the brand a spot on The NewsCred Top 50: Best Content Marketing Brands of 2018.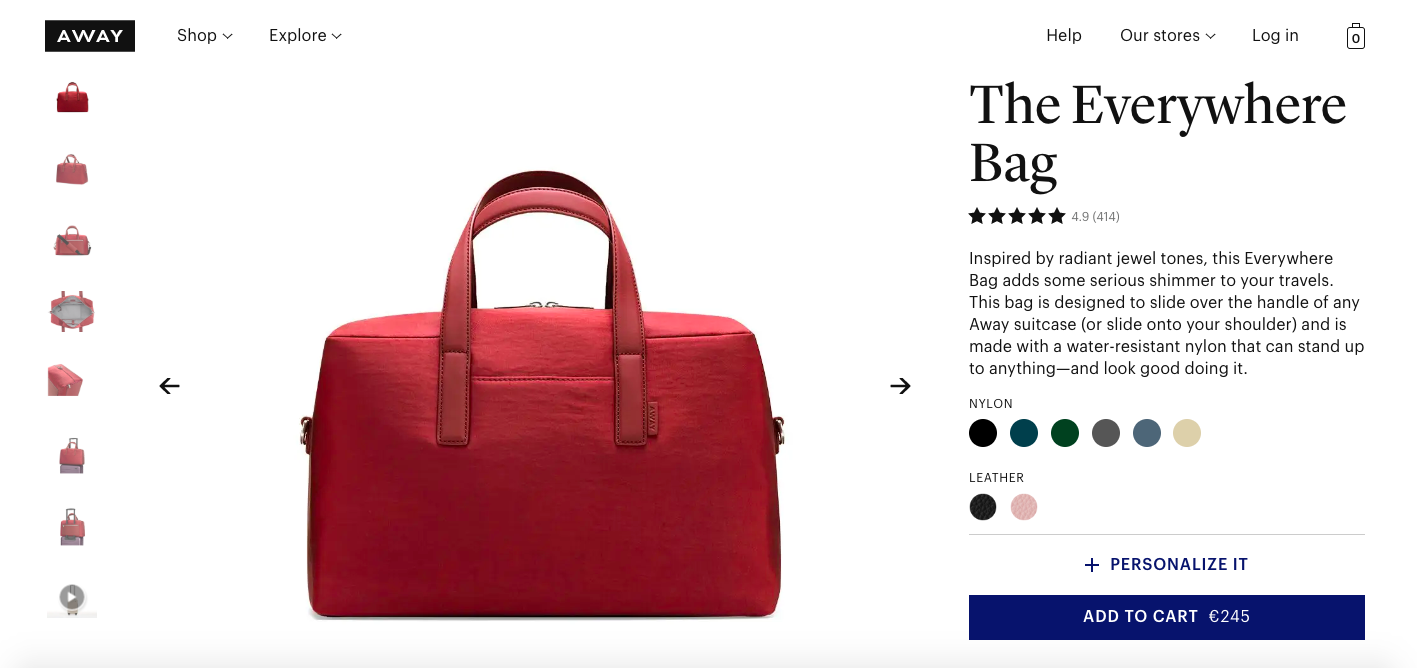 Away and Spree Commerce
Away takes pride in its minimalist, thoughtfully-designed suitcases. But that is not all, people simply love the experience of interacting with the brand both offline and online. Even though Away now owns brick and mortar stores in NYC, Los Angeles, London and Berlin among others, more than 90% of total revenue comes from the website that like its luggage, elevates the overall minimal aesthetic and seamless user experience.
On awaytravel.com you will find some really cool features like size and color filters, luggage tag personalization tool and the social grid with embedded Instagram posts using the #TravelAway hashtag.
Tech Stack:
Spree Commerce
Ruby on Rails
React
Javascript
Next.js
Varnish
Integrations: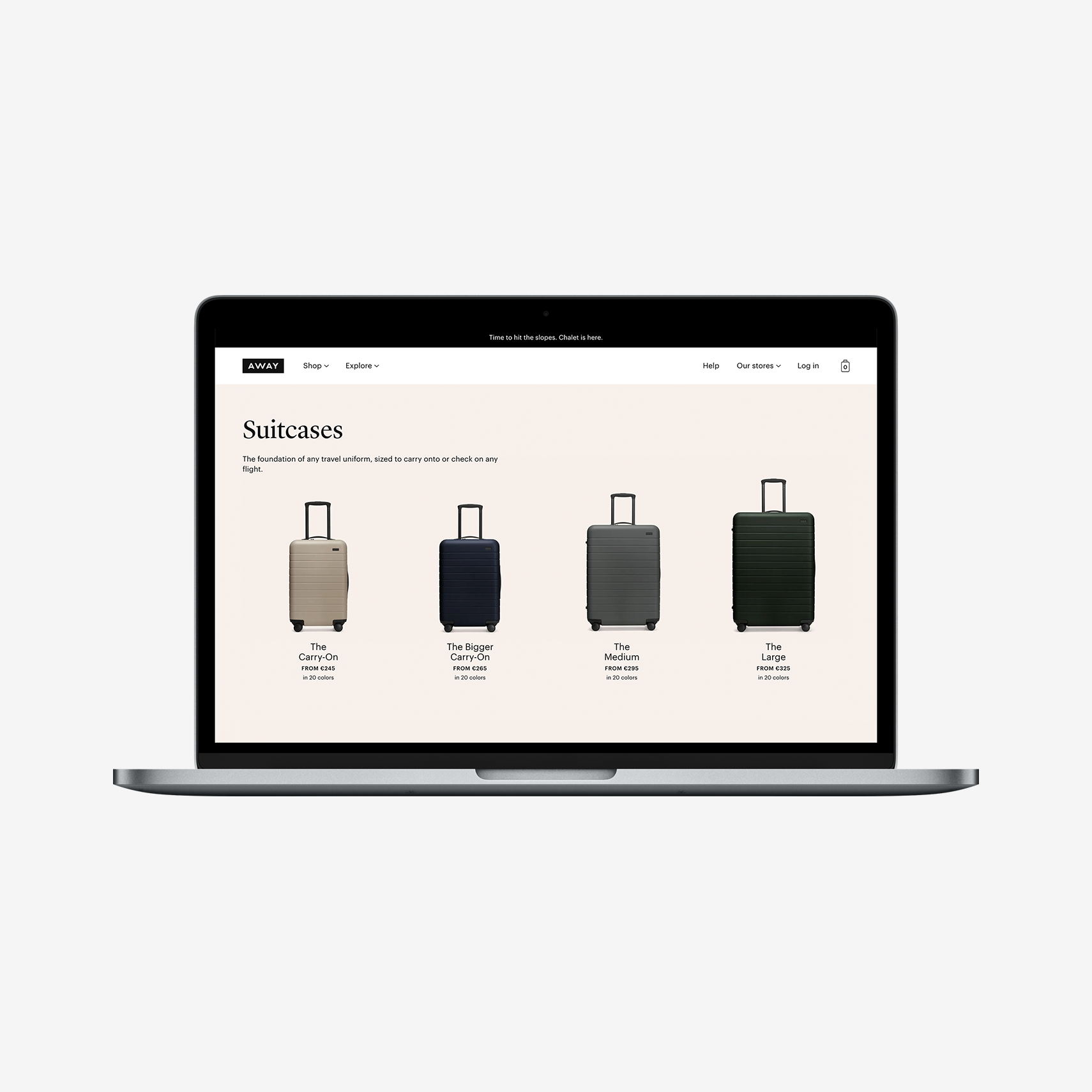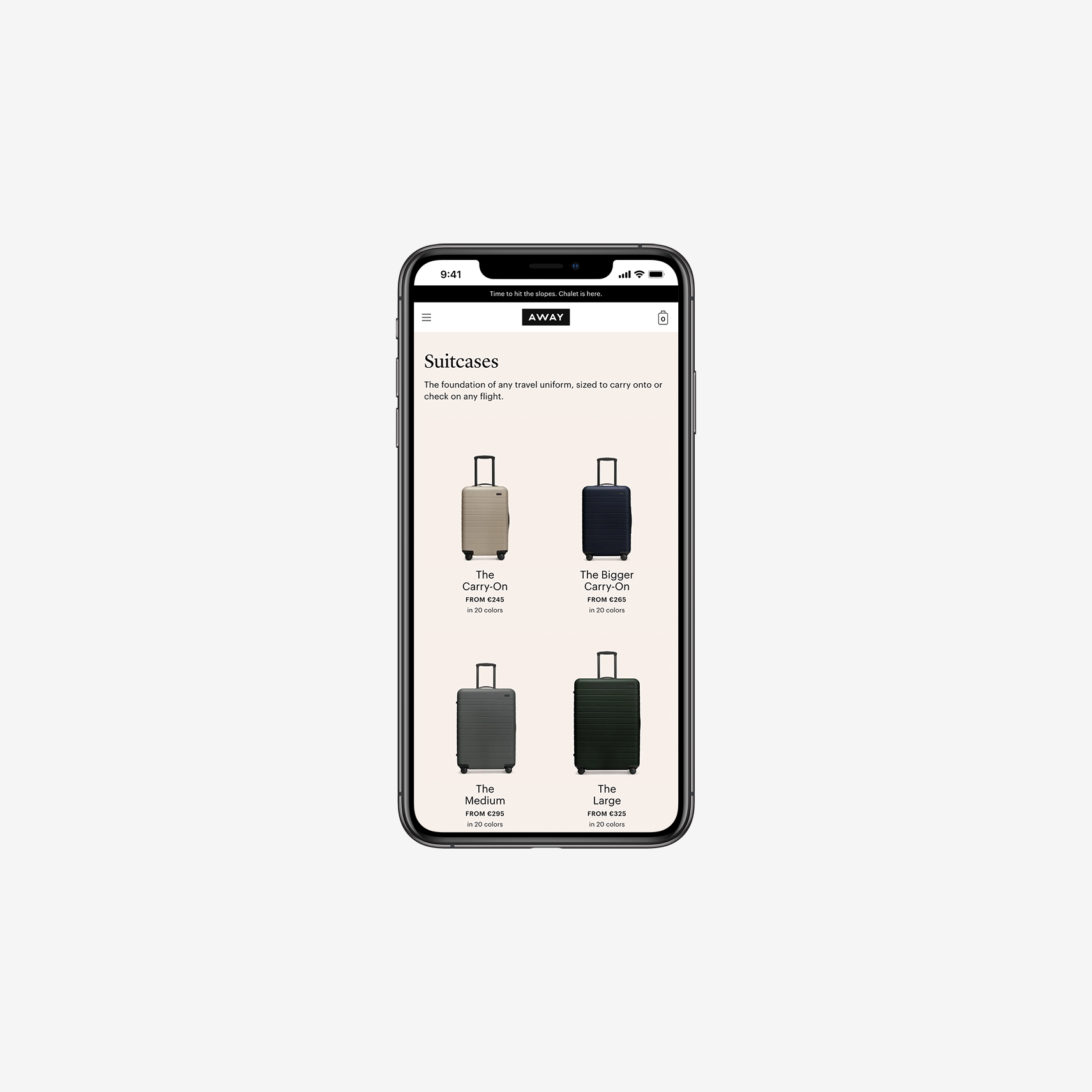 Conclusions:
SPREE SUCCESS STORY
Away is an e-commerce luggage startup founded by two former Warby Parker executives that aims to be the ultimate carry-on for travelers. The premium travel brand introduced its streamlined, tech-infused, carry-on luggage, selling directly to consumers to keep prices down. The vast majority (90%) of its sales takes place on Away's sleek and user friendly website built with Spree Commerce, a flexible and scalable market proven e-commerce solution.