Spree Commerce powers Goby, a direct-to-consumer oral care startup
Premium oral care products, delivered to your door
SPREE SUCCESS STORY
Goby is a new vertical commerce brand disrupting the oral care market by creating the first ever direct-to-consumer rechargeable electric toothbrush combined with unparalleled convenience and unmatched customer experience, all at a fraction of the price of the competition.
Goby's co-founders, Ben Goldberg and Claire Burke, were inspired to make a change, developing an oral care company that would encourage customers to refocus on their oral health. After assembling a world-class team of product experts and spending nearly two years in developing the product, they launched in October 2016 with their first product, the Goby Electric Toothbrush.
The Manhattan-based startup raised a $2 million seed round, with backing from Lerer Hippeau Ventures (which also backed startups such as Casper, Glossier and Warby Parker), Red Sea Ventures, BBG Ventures, Correlation Ventures, Galvanize and Rosecliff Ventures.
The first subscription-based D2C rechargeable electric toothbrush
Beyond bringing unprecedented value and design, Goby is actually building a relationship with its customer and introducing a brand that is relatable and fresh into the stale oral care category.
"We are vertically integrated, digitally native, ecommerce brand.  We launched with our first product, the Goby Electric Toothbrush. We offer the Goby Brush Kit a la carte or with a subscription.  With a Goby subscription, you never have to worry about replacing your worn out brush heads, we send you new ones automatically."
Goby's subscription-based model automatically sends customers new brush heads. The subscription addresses the fact that the average consumer currently waits nine months to change brush heads and enables customers to adhere to the minimum dentist-recommended timeframe of three months between brush heads.
Consumers can purchase Goby online at Goby.co. They have the option to purchase their Goby with our without a brush head subscription.  The vast majority of consumers choose to purchase Goby with a brush head subscription because of the value-added nature of the subscription. Thanks to it the customers are changing their brush heads every 2-3 months, ensuring they're never using worn out, ineffective bristles.  Love for the product has resulted in one-year subscriber retention of 65%. The strong subscriber retention has driven a 10x increase in active subscribers over the last 18 months.
Given the nature of the product, the average customer is buying >1 Goby electric toothbrush at the initial sale.  After the initial sale, Goby customers come back and buy additional Goby electric toothbrushes, driven by further penetration into the household, new product launches, and holiday gifting.  e.g. Search for electric toothbrushes double over the holidays.
Goby and Spree Commerce
With its sleek, simple design Goby aims to revolutionize the dental health industry while building a relatable brand that connects with consumers. The brand provides consumers with unparalleled convenience and great customer experience both offline and online. The company's online store matches its product in design and functionality. On goby.co you will find some really cool features like Brush Head Subscription that delivers a new brush head for $6 every 2 months with free shipping, gift codes and personalized gift cards.
Tech Stack:
Spree Commerce
Ruby on Rails
Erlang
Backbone.js
jQuery
Integrations: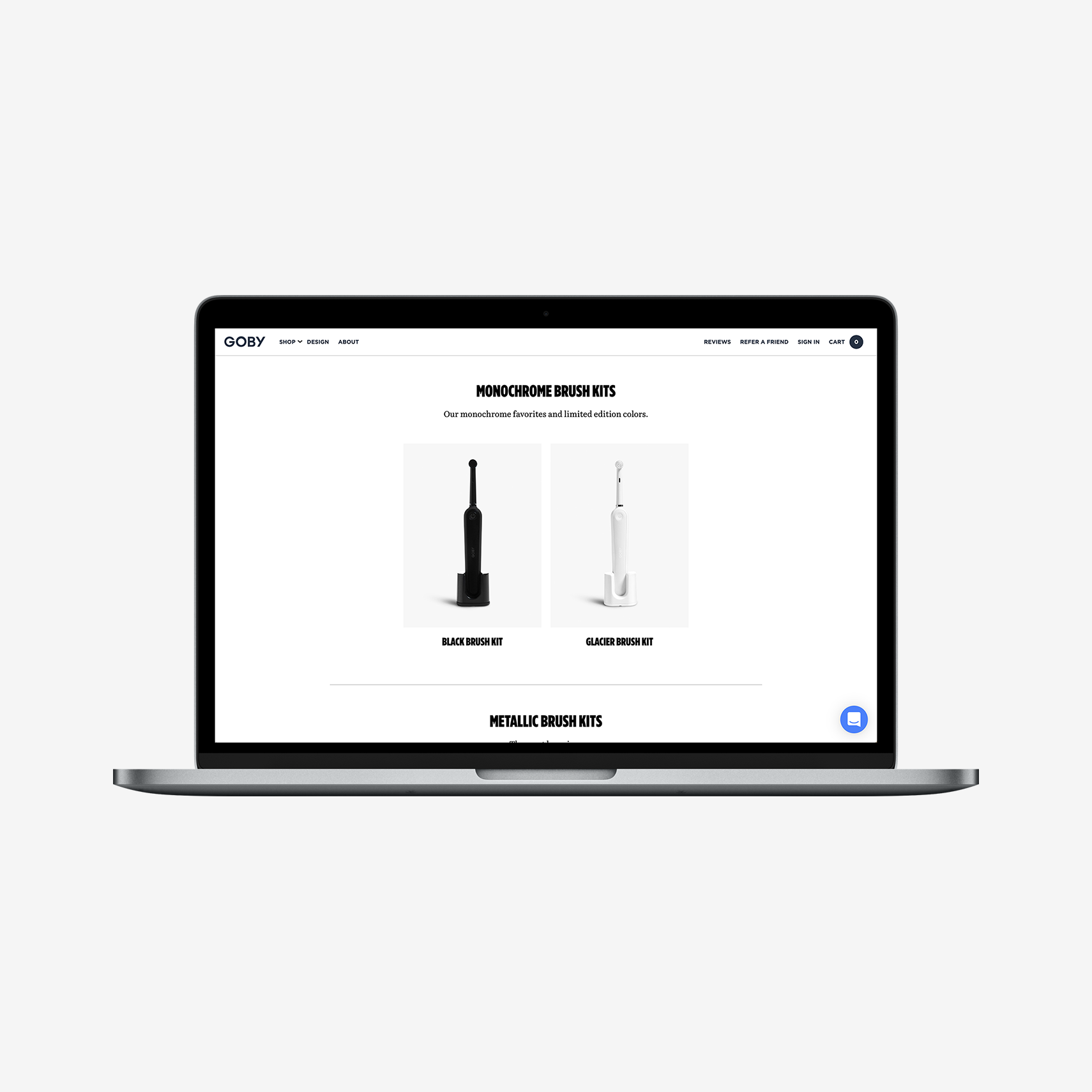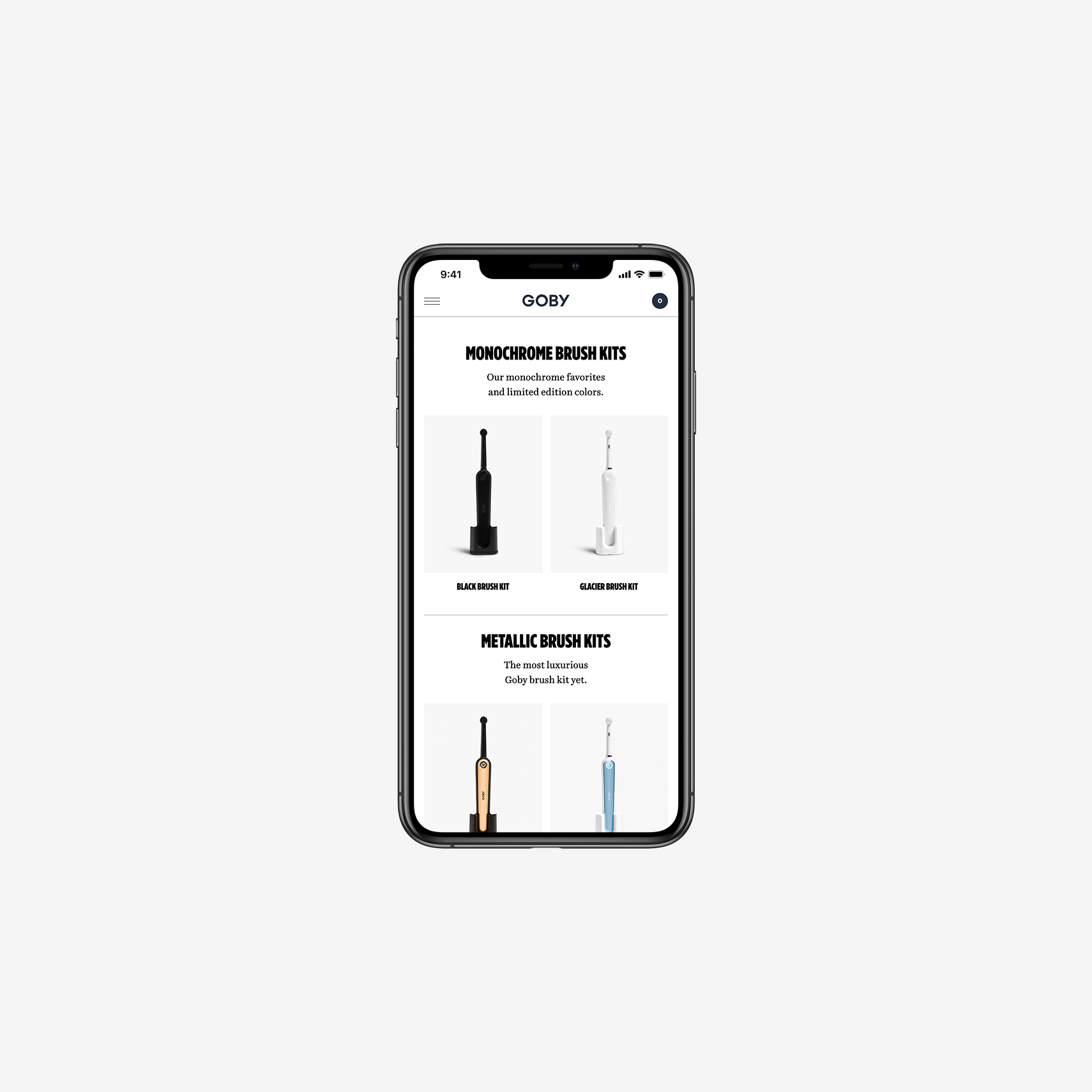 Conclusions:
SPREE SUCCESS STORY
Goby delivers an award-winning electric toothbrush paired with a brush head subscription service. The company built an approachable brand that aims to resonate with consumers, avoiding confusing dental jargon and instead offering bold, modern brush colors and focusing on maximizing the two minutes every day spent brushing. These super convenient and fun to use brushes are sold direct-to-consumer via the company's website, powered with Spree Commerce, a market proven and fully featured e-commerce platform.