Dissolve - a Canadian high-end stock footage provider uses Spree Commerce for its digital products marketplace
Digital products marketplace offering exceptional story-driven videos and photography
SPREE SUCCESS STORY
Headquartered in Calgary, Canada, Dissolve is a digital products marketplace that lists both rights-managed and royalty-free content. Their licensed stock footage and photographs are available worldwide for use in all varieties of advertisements, whether it be on TV or simple Google banners.
For them, content is key, and they have no shortage of images that follow the hottest visual trends. Along with their vast selection of exclusive footage and free bonus services, it's easy to see how their platform offers significant value to their customers.
Dissolve was founded in 2013 and received $5M VC funding the very same year. Now it licenses more than 3 million video clips and photos.
Dissolve.com website
Exhibiting an edgy storefront layout with a homepage that lets you discover the most relevant content and editor's picks, it's clear to see they designed their website with modern content creators' aesthetics in mind.
Functionality-wise, their library is effortlessly searchable thanks to their user-friendly search tool that shows users search refinement suggestions and provides many filtering options. Users that prefer browsing rather than searching can exploit the mindfully organized product catalog by exploring themes, styles, and curated galleries. 
Notable features on Dissolve.com website: 
Account options – Dissolve Team and Dissolve Priority give you more buying solutions. Invite your entire team to the same account, keep track of orders, and have control over your account.

Dissolve folders

with tools to organize your clips and photos, create quotes, share easily, and even upload your own files.

Showreels

– a showcase of different ways in which you can use the available footage

Creator hub

with creator profiles, inspirations, challenges

Apps: 

A Dissolve

merch store

with products like T-shirts, socks, sketchbooks, etc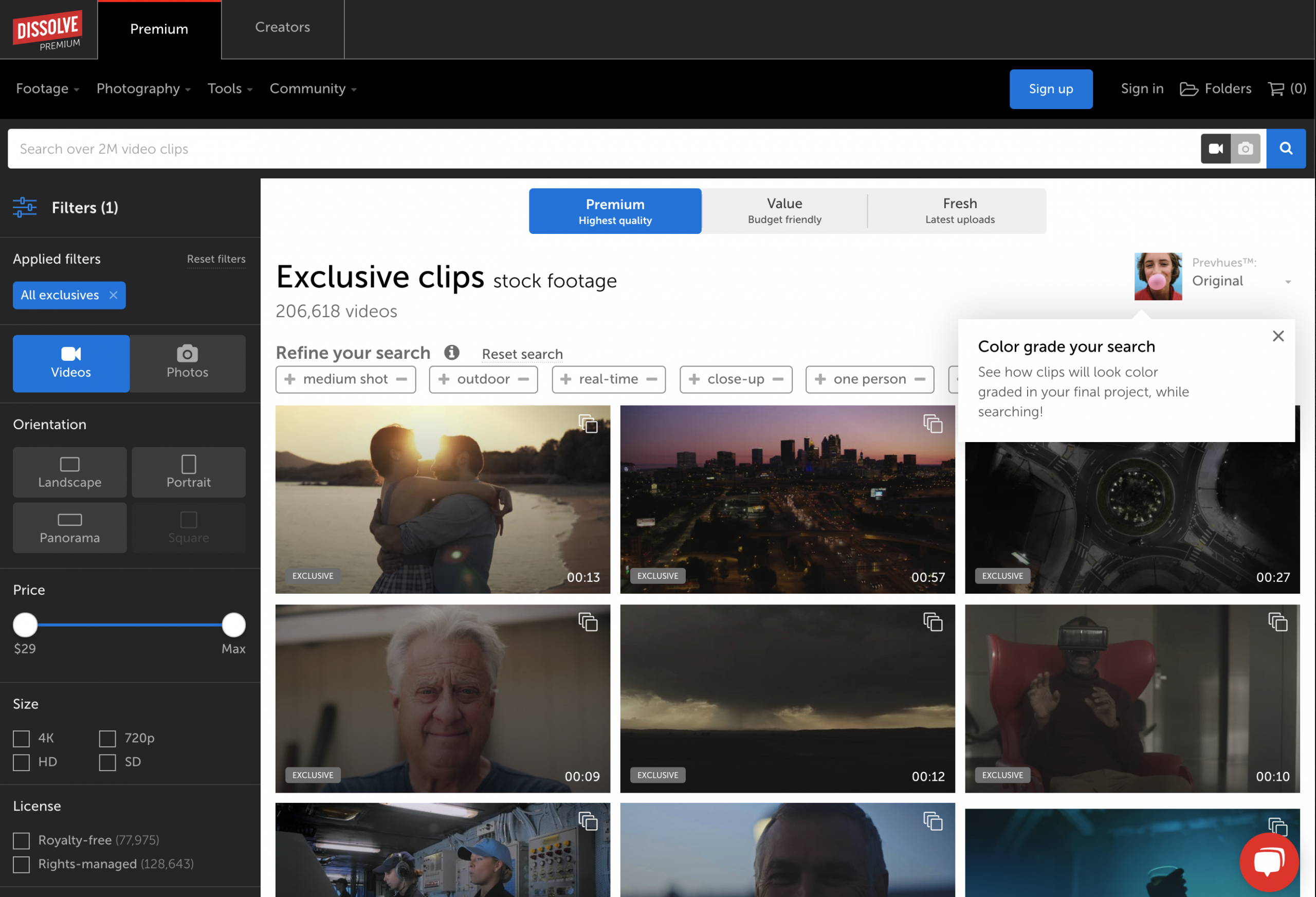 Dissolve and Spree Commerce
Dissolve is a marketplace for professional quality stock footage that uses Spree Commerce to power its sophisticated online platform that sells both digital and physical products (merch). Cinematographers upload their footage, and professional video editors and producers purchase HD videos to enhance their movies, commercials, and presentations. Dissolve licenses both rights-managed and royalty-free footage and photography and provides solutions to creative workflow and collaboration.
Dissolve's online platform offers a wide variety of features to boost their customers' experience: 
Over 1.1 Million stock videos

, covering various concepts and topics

Stock photos

to complement your projects

Over 150,000 of that is exclusive footage

, that can only be found at Dissolve

Different video resolutions:

SD: 720 x 480 px

HD: 1920 x 1080 px

4K: 3840 x 2160 p

A la carte buying with a wide price range, from $29 to $499

depending on resolution and exclusivity

SD: Non-exclusive $49 (there are no exclusive SD clips)

HD: Non-exclusive $29 (yes, much cheaper than SD) – Exclusive $299

4K: Non-exclusive $199 (less than exclusive HD) – Exclusive $499

Discounts

structured around the amount of money spent in one month

Over $1000 spent in a month gets you 10% off

Over $3000 spent in a month gets you 15% off

Over $5000 spent in a month gets you 20% off

Over $10000 spent in a month gets you 25% off

Royalty-Free licenses

: simple and quick licensing with wide usage options

Rights Managed licenses

: specific usage coverage

Exclusivity buy-out

: be the only one using a particular clip

Extended licenses

available for the resale of products

In-house researchers

to find the right clips for you,

for free
Priority service

for your research inquiries, access to unwatermarked previews, and more
Tech Stack:
Spree Commerce

Ruby on Rails

Atlassian Cloud

GSAP

VideoJS

Zurb Foundation
Integrations: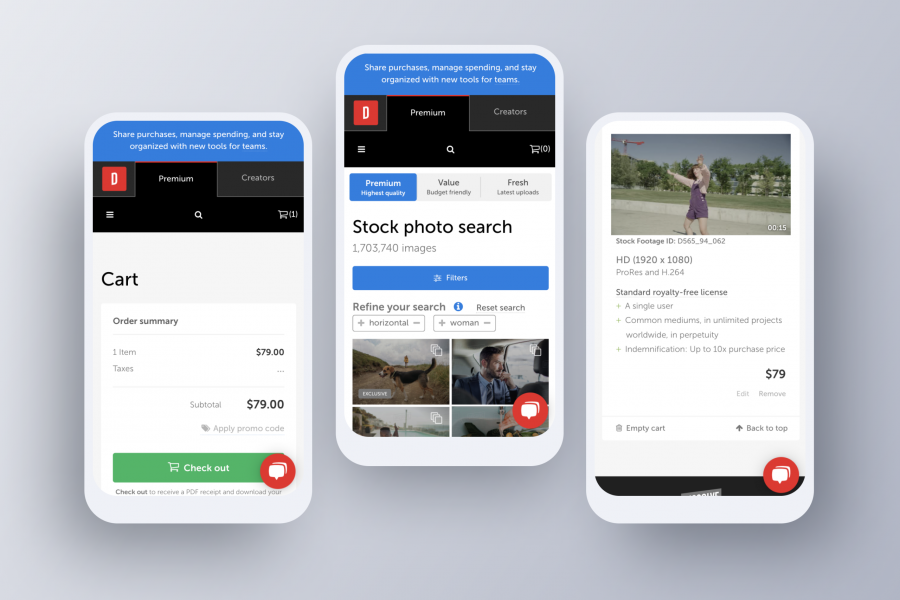 Conclusions:
SPREE SUCCESS STORY
The global stock video market size is expected to grow by $ 204M during 2021-2025. Dissolve's offer definitely stands out from the crowd due to the fact that its footage collections are hand-picked for technical quality, aesthetic style, and cultural relevance. Over 150K of its 1M+ videos is exclusive content, only available on Dissolve's marketplace. The company's online platform that connects creators with customers offers a unique User Experience with all the tools and features designed to support and boost your creativity. It is a perfect example of how Spree Commerce can empower a digital products business.