Californian startup Volition Beauty is using Spree Commerce for its crowdsourcing platform for beauty products
Democratizing Beauty with Consumers as Creators
SPREE SUCCESS STORY
Volition Beauty is a collaborative beauty brand designed to share ideas about innovative skin and body care products. The company empowers its diverse, engaged community to inspire and bring to life beauty breakthroughs.
They source product ideas from users, which are then vetted by their team for feasibility and quality aspects. If the idea is cleared, the product is prepared in collaboration with chemists and formulators. It is then launched as a campaign in their community to be voted by users. Products with successful campaigns become part of their permanent offering. Creators of the product ideas get a commission on sales made. The product description contains information about the ingredients, the idea, and the user behind the idea.
While it takes traditional beauty brands three to six months to bring a new product to market, Volition only takes three to six weeks. In this speedy process that involves a large network of development and manufacturing partners, it adheres to strict formulation guidelines.
This California-based crowd-sourced startup was launched in 2016 and has received a total of $10.6M funding. 
Volitionbeauty.com website
Volition Beauty's website is minimalistic yet elegant, which resonates perfectly with the brand's audience of beauty enthusiasts. By taking in new ideas from its core customer set, the company ensures product development is closely tied to actual customer demand. The whole process of submitting a new product idea is streamlined and very user-friendly. 
Here's how Volition's process of ideation to shoppable product works:
Submit your idea: Volition's team reviews it for feasibility, brand fit, and market potential. 

Develop the prototype: If your idea is accepted, you'll work with the company to further develop the concept, product profile, campaign (where the idea can be voted on by fellow members), and prototype. 

Post the campaign: It's up to the community to decide whether your idea is a product they would actually buy and use. 

See your product idea come to life: If it gets the necessary number of votes in a given time period, it will be made into a product sold on the site's shop.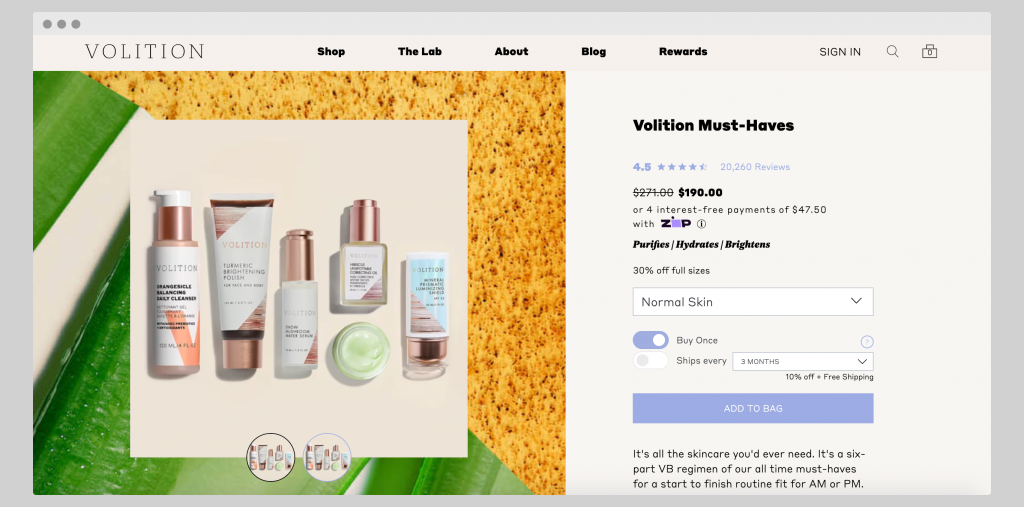 Volition Beauty and Spree Commerce
With the use of Spree Commerce, Volition Beauty developed an online collaboration platform that allows everyday beauty consumers, enthusiasts, and chemists to create their own beauty products through crowdsourcing and community vetting.
Features:
Voting system

Products promotion system

Customer reviews system

Pre-order

Social integration (login with Facebook or Google, commenting on products)
Volition Beauty also sells product bundles such as Volition Must-Haves, Pretty in Pink Kit, or Dewy Skin Kit.
Tech stack:
Spree Commerce

Ruby on Rails

React
Integrations: