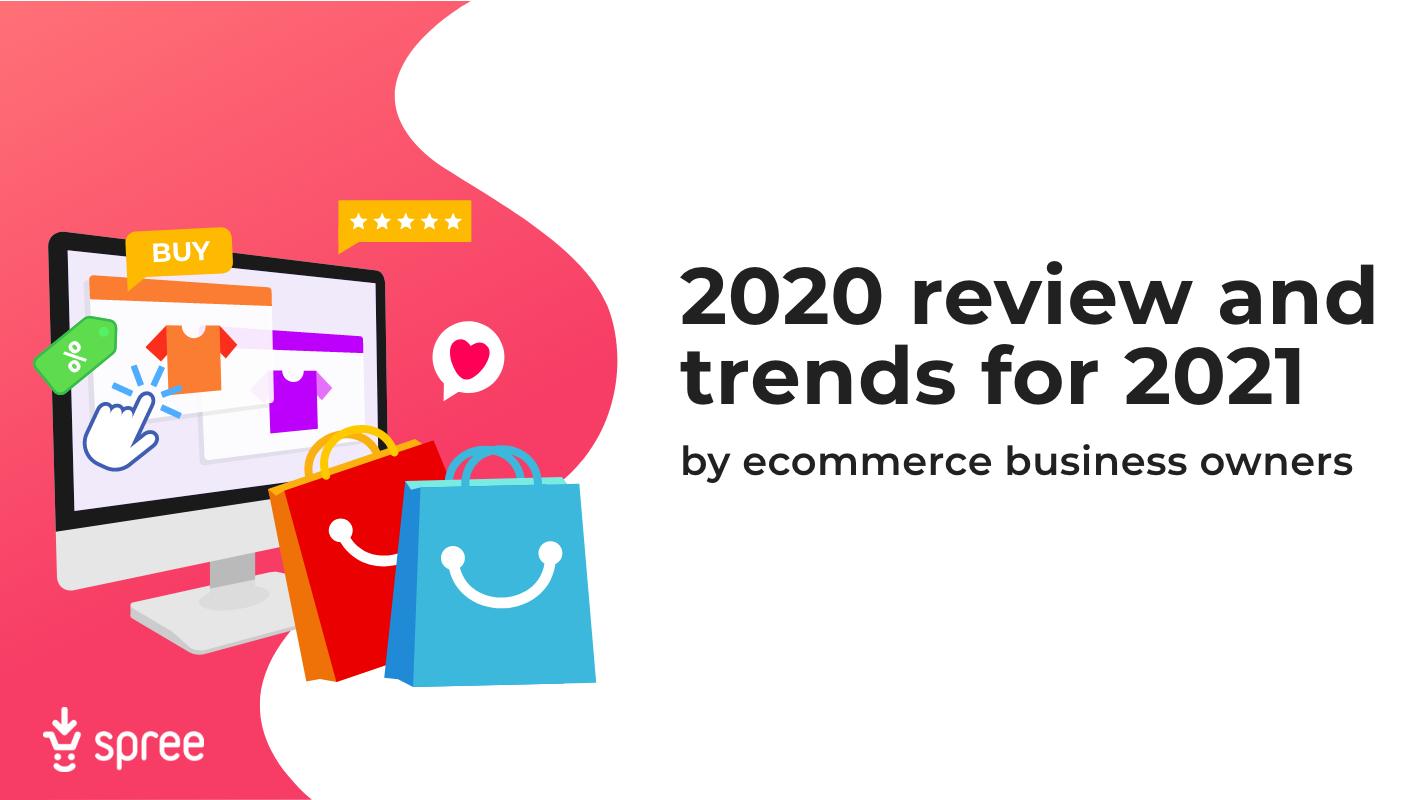 A lot has happened in the past year that has affected retailers and ecommerce businesses worldwide. The global pandemic and following lockdowns changed consumer habits and accelerated the digital transformation in many industries. Besides Covid-19, however, there have been many other events shaping the new ecommerce reality like Brexit, the California Consumer Privacy Act, Magento 1 end of life, Google switching to mobile-first indexing, Strong Customer Authentication implementation deadline in the EU, etc. 
Vendo marketplace builder frees you from the burden of self-hosting and maintenance. Contact us now for a demo and launch an eCommerce platform at a fraction of a typical cost and within weeks instead of months.
All in all, 2020 has been a good year for ecommerce. Over 90% of US consumers reported that their online shopping frequency has increased due to Covid-19. And this Q4 was record-breaking with $34.4 billion spent online during Cyber Week – representing a 21% YoY increase.
At Spree Commerce we have noticed an increased interest in sophisticated ecommerce solutions since the beginning of the pandemic. Big corporations started considering launching multi-store and multi-vendor marketplace projects either for small and medium businesses getting sidelined and suffering supply chain difficulties or for their reseller and distribution networks unable to reach the end-customer otherwise than online.
As 2020 is drawing to an end, the Internet is teeming with reports and trend predictions by ecommerce experts, journalists, bloggers, etc. In turn, we have asked ecommerce business owners and practitioners to share their experiences from this past year and thoughts on the challenges to be faced in 2021. 
SALES BOOST 
Houtan Fanisalek, CTO,
Felix Gray
ecommerce eyewear company from NYC, US
2020 was a great year for e-commerce across the board. The mandatory closures from the pandemic moved customers to explore online options. However, this also created more competition since you can create a Shopify site in minutes. This leads to people selling below average quality products at a fraction of the price. I believe the stores with the best experience and customer support will be the true winners.
I believe the biggest challenge will be determining if this is the new normal or will we shift back to the old ways. As more and more people start shopping online we will see bottlenecks continue to get worse in shipping and logistics.
Interview with Houtan Fanisalek: A multi-million dollar Black Friday & Q4 success comes from all year's work and preparation
luxury fashion marketplace, US
The 1st quarter of this year presented a markedly new set of challenges. It's been an interesting year, to say the least. In March, the market bottom fell out and everyone in our industry was wondering what next? Since then, we have seen a gradual transition towards a "new normal" and a sales boost.
In terms of what has changed compared to previous years, we quickly realized that we needed to communicate better with our customers so that they felt confident to buy again. During the early months of 2020 for example, customers were wondering whether they should be ordering packages to their home at all… This new environment created an opportunity for us to provide more information to our shoppers, for instance, telling them that our packages were being delivered in a safe manner and in environmentally friendly packaging…
Challenges today are many. Now that we know more about this post-Covid environment, it's about painting a clear picture for the customer so that they can make informed decisions. We also know their time is valuable and they choose to spend it with us. Since Stylemyle works with boutique partners all over the world and we are supporting them even when they close, it's possible for a shopper to order from a boutique that is under lockdown. Thankfully, it's usually only on a weekend or for a few days. We immediately inform the shopper they may receive the item a few days late and they are pleased to know beforehand.
As far as opportunities, the Covid situation has pushed millions of new shoppers to get online faster than ever before. It's an opportunity for us to showcase to them what we do. They may not be customers today but we can do our best to educate them so that they become a customer tomorrow…
The biggest challenge in our industry is returns. In particular "bracketing" ordering the same item in multiple sizes to return what doesn't fit.Its costly but an unavoidable issue because flexible returns are one of the most pressing issues. Retailers in Europe and the U.S offer at least 14-day returns while in China 7 days is the norm. Again, communication is key. At Stylemyle we make sure our customers know that they have 14 days to return an item back to one of our boutique partners from the moment they receive it. Companies need to be realistic, balancing customer demands for flexibility, environmental concerns as well as financial aspects to ensure a well-balanced approach that creates a win-win situation for all parties.
Teigan Margetts, Co-Founder,
Ethicool Books
children's book online store, Australia
Ecommerce grows year on year, but honestly, 2020 has been a boom year. With COVID, more people than ever are shopping online and we've seen a 667% increase in sales. The fact that families have also been separated has meant that more people than ever are buying gifts online and sending them, which has fueled further growth. 
In terms of challenges, immense supply chain disruptions and issues with mail processing have been disruptive. Although customers are usually understanding, often they do blame you so we've definitely had to process more refunds this year for these issues. 
The biggest challenge for us will be to keep the momentum going when life returns to normal. I think there will be a phase where people move in droves back to face-to-face stores because they've missed the interaction, and this may create a temporary backlash for ecommerce. 
Simon Elkjær, CMO,
avXperten
electronics ecommerce, Denmark
This year definitely caught us off guard and forced us to further strengthen our strategies. With the pandemic forcing everyone at home, online shops have become an even more vital source of goods and products. We saw this as both an opportunity and a challenge. Having more customers than usual, we're challenged to further improve our marketing, sales, and overall strategies to cater to their needs while still maintaining the same quality service. These new customers have definitely given us more chances of further strengthening our brand.
With more customers also come more competition and that's definitely the biggest challenge we're facing as we reach 2021. As new ecommerce shops are constantly being established, our company and other members of the industry in general now have to 'up' their game more than ever to stand out amongst our competitors. We'll definitely have to learn more about social media marketing strategies, which is a great adventure waiting to happen.
tween fashion ecommerce from LA, US
When the year started and all this madness kicked off, I was sure it would be an awful year, all the predictions were extremely somber. When you think about it, we're selling tween clothes, not exactly an essential business or product, right? There was something major going on and they were predicting a recession. But all our expectations were blown away. With some tweaks, more time and money invested in marketing, and some cleverly timed sales, we were able to meet all our normal projections for this year, and we even exceeded them at times. Turns out that people still shop, and since our store is 100% online, we didn't have any of the problems brick and mortar companies have. I know everyone else is looking to switch to online, and I can only predict that moving forward, we're going to see a lot more of that. 
The biggest challenge now is getting back to normal, after a year of…whatever this was. Do we still know how? What will fashion even look like anymore? The lockdown forced a sort of trend halt, and a lot of people regressed to wearing all day PJs or loungewear. That can mean an aggressive swing towards maximalism and a newfound love of formality in apparel, or it can mean an even deeper sink into athleisure. Separating quarantine shopping trends from real-life shopping trends is going to be difficult, especially for forecasting the next seasons. 
SUPPLY CHAIN & FULFILLMENT DISRUPTIONS
home barware store, US
2020 has been a mixed bag for us. Although 90% of business is from online sales, in the initial days, our business literally came to a standstill. We ran out of stock around late March and by then all countries were in a lockdown so we could not get our product shipped to the US from the overseas manufacturer/supplier. Once things eased up a bit in June we got our first batch of inventory back in stock. 
Since June things have been pretty good business-wise. Online sales have increased year over year. Our margins are still a bit low due to increased freight costs but overall we will probably end 2020 with a net profit close to what we had in 2019.
The main threat we have started to notice is that more and more China-based sellers are selling to US customers. Earlier this was just through Amazon but now the floodgates have been opened and now boutique eCommerce brands are being started by Chinese sellers. They usually have better pricing and now with increased sophistication around branding, they are a serious threat to existing players.
Josh Hill, owner,
Soseas
zero waste brand, UK
Overall 2020 hasn't been much different to 2019 and we certainly haven't noticed the inflection COVID has brought to many other businesses.
However, we have had to completely change our preferred shipping method, the fallout of COVID has meant air shipping is extremely expensive from the Far East. As a result, we've swapped our preferred shipping method to rail which has increased our lead times and as a result had an impact on our inventory planning. Supply chain is also tricky at the moment and things move a lot slower than pre-COVID. 
I think competition will be fierce as the new paradigm of shopping online in favor of in-person sets in. The challenge will be to remain front of mind in customers' heads as big business start to pour money into selling online.
ayurvedic body brushes brand, US
We are a 100% female-run ecommerce company in the health industry. Our fulfillment process has been in a state of flux during the pandemic. When the pandemic first hit the United States, our third-party shipping logistics provider initially indicated that they were on track to continue to fulfill orders as expected. Surprisingly, this changed a few days later when San Francisco instituted a mandatory shelter in place order. In response, our shipping provider indicated its belief that it was included in the shelter in place order and could not continue to fulfill. This was later revised, and shipping proceeded as normal. However, a few weeks later, our shipping provider then unexpectedly announced that it had been acquired by another company, although it was not clear if the sale was related to business difficulties arising as a result of the pandemic. This resulted in some short-term disruption but fortunately, our fulfillment times are generally back to normal and our customers are happy. This story certainly underscores the need to ensure that you have a solid third party shipping provider that can weather economic and social storms.
LAUNCHING A NEW ECOMMERCE BUSINESS IN 2020
Wilson Lau, Founder & CEO,
NuTraditions
Supplements brands from California, US 
2020 was a huge challenge for NuTraditions. As a new brand that was slated to go to market via the retail channel, we had to re-tool our marketing and website from an informational site that would help educate our users after they discovered it in a retail store versus selling directly.
So, our pivot was only possible because we picked to over-engineered our site because of our positive experiences with Spark Solutions. Due to this relationship, we were able to change the site on the fly and really develop the site to match our marketing needs. 
So, the biggest challenge for us currently is how to make sure, we deliver our MVP in a manner that allows us to accommodate unknown future needs. I think the threat in our food / supplement space is that everyone is rushing to pivot to ecommerce and that there will be too many brands competing for the same audience, impacting the financial assumptions made to sell through this channel.
For new brands like us, the biggest challenge in 2021 as more and more brands pivot to ecommerce is finding the right mix to drive discovery and trial in an efficient manner. How can we get people to try our wonderful Good Morning Sunshine organic coffee and feel its amazing benefits? Followed closely by having enough talent and resources to build a robust site to match the business and marketing needs to enable the aforementioned efficient trial and discovery.
Jacob Henley, owner,
FORTS
brick and mortar and online retailer and lifestyle brand in Nashville, US
Our main point of contact with our customer currently is our brick & mortar location in Nashville, but online sales have no doubt helped us survive these trying times.  
Well, we opened our doors on June 2nd, 2020 so we don't have a frame of reference for non-pandemic operations…which I suppose could be a blessing in disguise that helps us weather this storm.  Our biggest e-comm challenge currently is establishing and strengthening our google ranking and online conversion ratio.  We also sell a lot of products that the consumer can purchase directly from the brand online so we are challenged with building a brand that is trustworthy and seen as a source for the meticulous curation of a specific category of apparel, sneakers, and accessories.  As a very small team, we are also faced with the practical man-hour challenge of offering every product in our physical store to our online customers.  We sell a curated selection of vintage clothing and jewelry that requires much more effort to capture content for and offer online. I think as a new brand, opening our doors in the midst of the pandemic and presidential election, we are daily being faced with the opportunity to check the data and respond and adapt accordingly.  Being new and nimble makes "turning the ship" a lot easier.  We are currently a row-boat, not an ocean liner 🙂
The biggest challenge for 2021? Innovation, not giving up, and connecting with the consumer on a personal, interactive, meaningly level.
GOING INTERNATIONAL IN 2020
tanzanite jewelry designs & online store, US
We are a small jewelry business, but this year we started getting many emails, messages, and calls from other countries wanting to buy our goods. Because of this, we started expanding into countries where we were getting requests and where we were seeing traffic coming to our site from. This was easy to see via Google Analytics.
It has gone well so far, though we saw an increase in fraudulent orders. We had to integrate a 3rd party fraud monitoring app in order to stop the fraud from coming through. We get at least a few per week right now, but the app stops those orders from ever coming through. One less thing to worry about.
The biggest challenge going into 2021 will be with translations. We are getting a lot of requests in other languages and we would like to better serve those customers. After the holidays we plan on hiring help to translate our website into other languages to help increase sales from those visiting the website that don't speak/read English.
Filippo Decotto, Ecommerce & Marketing Director,
Ploumanac'h
Italian fashion brand based in Arenzano, Italy
2020 was a great year for the company's ecommerce business. The year started a little slow, but we already saw a pretty strong spike by mid-March. By April, we noticed the trend increasing and decided to invest heavily in advertising towards the UK, US, and German markets, and witnessed great results. The decision came as we noticed an increase in traffic and conversions from these countries, and it made sense to take a leap of faith and double down the ads.
The biggest challenge will be dealing with Brexit since that will create quite a headache for shipments and returns management. Not to mention the administrative nightmare we can't forecast yet because of the uncertainty of the deal.
The second challenge will be to sustain shipping costs that, because of the pandemic, have increased for all international carriers. (We rely on DHL).
supplement manufacturer, US
2020 had a lot of ups and downs for us. It made raising funding nearly impossible. 
We decided to expand internationally because it was something we could do to increase sales without increasing cost. We got approval to sell throughout Europe on Amazon, and we just recently got approved for Walmart Canada.
Our biggest challenge in 2021 will be advertising in the new international markets. We don't know if the PPC strategies that work in the American market will work internationally, so we'll have to go back to square one with the testing.
PIVOTS CAUSED BY THE PANDEMIC
curators of all-over print clothing and world leaders in festival fashion, US
We were in a very challenging position because we sell fashion items to attendees of music festivals. These events were being canceled or postponed all around the country and even throughout the world as COVID-19 spread. We were preparing for a potential recession for multiple years now, and thus had cash built up to withstand a huge revenue hit. But we did not plan for a health crisis on top of a financial crisis.
We pivoted in a couple of ways. First, we shifted our marketing from mostly festival clothing to focus on other uses of our clothing such as lingerie or loungewear. Second, we started designing face masks. If your business is suffering, think critically about how you can pivot in these uncertain times. The economy won't stay shut down forever, and pivoting can help you weather the storm and keep your business afloat until things return to some sense of normalcy. These pivots can turn into permanent revenue streams. Even when COVID-19 is gone, our masks will still be purchased and used by festival-goers to protect their faces from dirt, dust, wind, and sun while staying fashionable at the same.
Right now, we are running aggressive sales and free shipping promotions to encourage purchasing in an effort to recoup some of the lost revenue. There is no possible way to not lose revenue but we are trying to maximize sales given the underlying conditions. We are being more conservative in every area of our business. For example, we are not taking risks on new products and we are ordering a bit less than usual. We are also scaling our marketing spend down and being more conservative in that area.
Pooneh Ramezani, CEO,
DrBrite 
personal care products, US
At the beginning of 2020 when the pandemic started, we pivoted 180 degrees and began producing essential sanitation products for the mass market. That was a very challenging pivot as our company was an oral care company. We saw the need, and instead of procrastinating, we viewed it as a once in a lifetime opportunity and executed on it right away. We grew our business and customer base astronomically in a short period. Then we nourished the customer relationship and made it a priority to take care of each new customer we had acquired. The biggest challenges were that the supply chain had gotten affected by the pandemic, which caused a deficit of raw ingredients and packaging material for our products. Our director of procurement had to work extremely hard to source resources, and we had to pay a premium to get everything we needed in our facilities to fulfill orders. It was difficult, and at times impossible, but we did it. In 2021, we plan to continue to hold our fingers on the pulse and take every opportunity that comes our way, and execute it immediately. Our motto is don't wait, don't procrastinate. 
B2B ECOMMERCE BUSINESSES IN 2020
online retailer from Reno selling printer cartridges, US
SuppliesOutlet.com's business shifted as people went to work from home, home consumers started buying more than small businesses. It creates opportunities for us to focus on reaching this audience in a new way and follow shift with our business.
Our biggest challenge is still going to be the turbulence in the market. With our business shifting to at-home consumers, their buying power is dependent on their own personal financial situation. As cases rise and more businesses close back down, more people have less income to spend. In addition, our surveys have found that 80% of people working from home don't get reimbursed for their ink & toner costs. We're focusing on educating customers on compatible ink & toner because most people don't know the difference between brand name, remanufactured, and compatible. Compatible is in short when a company makes ink & toner compatible with printers like Brother, HP & Canon but are not part of those companies. The quality is the same but the prices are a lot lower so it helps people save money.
B2B marketplace for the gold and diamond jewelry industry, UK
2020 challenges this year meant we could not launch our sales plan as that included visiting jewelry retail shops to introduce our services and new online marketplace and make initial sales in person. In our industry, face to face sales are very important to build trust
The biggest challenge was to make sales when shops are closed! Most of them have excess stock and no need to buy more products, especially if they can't sell it with their physical stores closed and most of our customers have no online presence.
The industry is so accustomed to in-store sales as the primary way to make sales and most of them have no other way of making sales or a plan B. Retailers have realized the importance of going online and having a digital experience for customers. It is not only a great way to sell your products, it is also a way to stay in touch with your customers, build loyalty and keep them informed about the new products coming up, special offers.
SUMMARY
Many online retailers have experienced a significant sales boost since the Covid-19 pandemic began in spring. Some had to pivot and, thanks to their fast reaction to the market needs, managed to use the situation to their advantage. We have seen event photographers starting to sell prints online, stores introducing face masks and sanitizing products to their product offer, or switching from B2B to B2C business model. 2020 was also a year of international expansion, often not planned but resulting from a growing interest from foreign customers. Supply chain disruptions and shipping problems are mentioned as the most significant difficulties that needed to be overcome. 
The main challenge in the next years will be growing competition in the ecommerce market as more and more retailers decide to sell online. Great User Experience and customer service will, therefore, become even more important. Also, dynamic changes in the demand for certain products and further supply chain and delivery disruptions are listed as the most important nuts to crack. 
Ecommerce growth is not going to slow down anytime soon. US online sales are forecasted to grow from this year's expected total of $374.3 billion to $476.5 billion in 2024, a 39% increase. The trends for B2B and international ecommerce are also optimistic. US B2B ecommerce will reach $1.8 trillion and account for 17% of all B2B sales in the US by 2023. At the same time, the cross-border B2C ecommerce market is predicted to reach $4.8 billion by 2026.
In order to keep the momentum going in the years to come, ecommerce businesses will need to offer exquisite customer experience, be flexible, and ready to conquer new markets. 
Vendo marketplace builder frees you from the burden of self-hosting and maintenance. Contact us now for a demo and launch an eCommerce platform at a fraction of a typical cost and within weeks instead of months.