Spree powers a headless marketplace for digital downloads such as animation elements and GIFs
The only stock marketplace in the world created around animation assets
SPREE SUCCESS STORY
VideoPlasty is the only marketplace in the world for digital products such as Stock Animation, Stock GIFs & Motion Graphics. Users can choose from various product categories, such as character scenes or background loops, to make fantastic-looking videos without the hassle of creating graphics from scratch.
Eduard Stinga, the founder of VideoPlasty, used to make custom videos for clients (costing between $2-$5k for a video) but found it challenging to scale his business. 
"It was clear that more people wanted to make animations and couldn't afford such services. The alternative of doing it themselves meant spending hundreds of hours learning vector graphics, motion graphics, and character rigging.

So… I decided to make the world's first (and only, still) platform where people can buy pre-made stock animation elements. Ready to use, pre-animated, all they have to do is drag & drop into their projects. And from that, it was an easy conversion to GIF images as well. " – Eduard Stinga
VideoPlasty.com website
The website is eye-catching and colorful. It certainly draws the users' attention and allows them to easily browse through its massive collection of royalty-free stock assets in the following categories: 
Stock Animation – perfect for video projects, pre-animated and ready to use, all you need to do is drag & drop them in your favorite video editor.

Stock GIFs – perfect for presentations, whether it's PowerPoint, Keynote, Google Slides, etc.

Vectors – perfect for graphic design projects.
Finding the desired assets is a smooth experience, thanks to the detailed product categorization and advanced filters on the PLP (including the number of characters, their race, and gender). You can also preview the animated effects when hovering over the product on the category page (no need to go to the product page)!
On the Product Page, you can see all the necessary product information, as well as a listing of similar items. 
The Checkout process is quick and entirely skips the Shipping step, as all VideoPlasty products are digital downloads. Payments can be made with a credit/debit card or PayPal. 
Notable features on the VideoPlasty.com website: 
Search bar (with advanced features) embedded in the header

Testimonials slider with Trustpilot reviews

Stock animation tutorials
VideoPlasty and Spree Commerce
Creating the actual products was relatively straightforward for the VideoPlasty team as they were already familiar with animation and had all the required skills. Of course, there was a lot of thought process behind creating a usable product and putting themselves in the customer's shoes.
Their biggest challenge was setting up the e-commerce infrastructure to sell digital products with video previews. Setting up a Shopify store to sell some T-shirts would have been quick and easy, but they needed a solution more custom-tailored to their needs.
With limited funding to finance the design team responsible for producing the stock animation assets, it was up to Eduard to learn how to code and set up their first platform that utilized the WooCommerce plugin on WordPress. A bit of PHP, some WordPress wizardry, and a lot of coffee later, it was up and running!
The first version looked surprisingly good but had clear limitations from using a templated approach instead of a fully custom solution built from the ground up. When you're trying to compete with giants such as Shutterstock, Pixabay, Pond5, and others, that's hard to pull off.
Their current eCommerce platform was developed using Spree Commerce, an open-source developer-first solution. 
VideoPlasty relies heavily on SEO in its marketing efforts. Therefore, it was crucial for their website to be technically adequate and optimized for both SEO and performance.
Tech Stack:
Spree Commerce 

Ruby on Rails

Next.js

React Redux

Amazon Web Services
Integrations: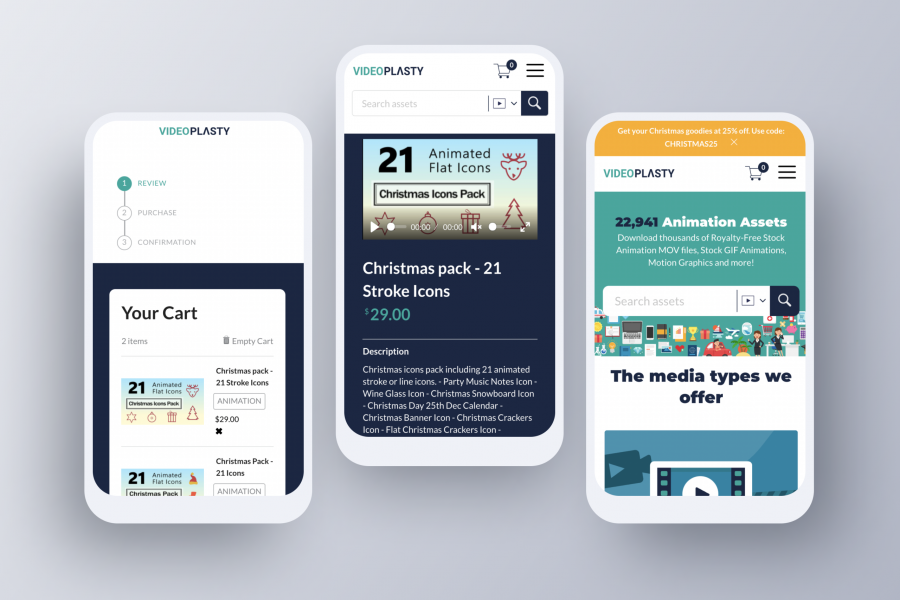 Conclusions:
SPREE SUCCESS STORY
VidePlasty's founder invented sub-niches in the stock assets industry, specifically for stock animation and commercially licensed stock GIFs. He created a one-of-a-kind digital products marketplace powered by Spree Commerce, a highly scalable and SEO-boosting ecommerce platform. 
"At the time we were doing a lot of animated explainer videos, but scaling a service-based business is a massive headache compared to a digital products-based business. More clients mean more projects, a bigger team, and more headaches. With digital products, you can sell an infinite amount of copies automatically with no extra work, so it felt like a no-brainer." – Eduard Stinga