Spree powers a Danish auto parts eCommerce with over 200K products
Spare car parts in 30 minutes
SPREE SUCCESS STORY
Refako Autodele is a Danish car parts company founded in 1975 that offers over 200K products ranging from motor vehicle supplies and accessories to tools and equipment. Besides cars, it also covers vans, trucks, trailers, and buses. The spare parts come from the same manufacturer who supply for the car factories' initial assembly. Refako is used both by professional mechanics as well as individual customers. 
Refako also has 14 physical stores throughout the whole of Denmark, where products purchased online can be collected within 30 minutes from placing the order.
Refako.dk website
At Refako Autodele, you can find and order your goods directly online – around the clock. You can either have your goods sent directly to your address or pick them up in one of the 14 stores across the country. The Clik & Collect option makes it possible to get the ordered products within 30 minutes. Users can find the nearest pick-up point in the Find a Store tab. 
The User Experience of Refako's website is simply amazing. A user only needs to enter their license plate on the Homepage to instantly view a listing of parts categories for your specific car model. They can then either click on the category they're looking for or use the filters available on the left-hand side. On the Category Page, each product displays its availability for delivery or pick-up and in which cities. If an item is out-of-stock, there will be information regarding the waiting time, usually 1-3 days.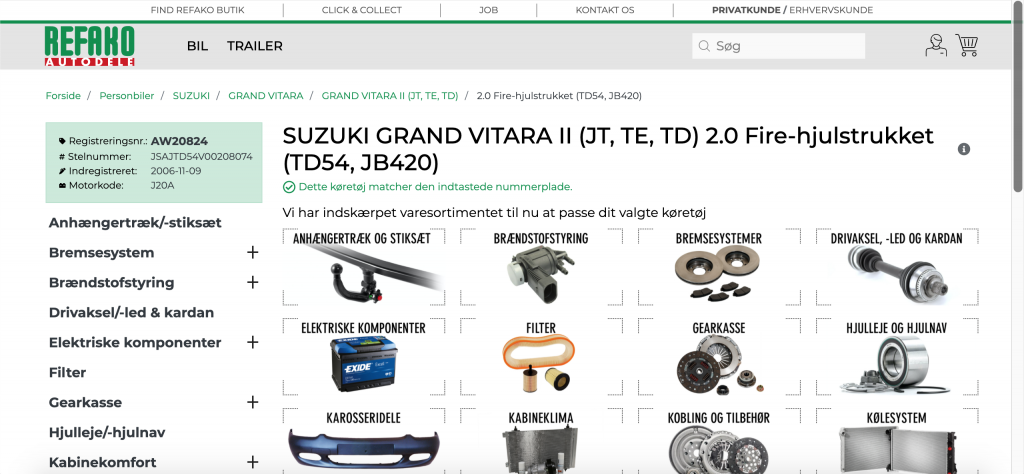 Refako and Spree Commerce
Refako uses Spree as an eCommerce solution for its platform with over 200K products. What makes this website amazing is the possibility to find matching car parts by entering the vehicle's license plate number.
Tech stack:
Spree Commerce

Ruby on Rails

Bootstrap

Stimulus
Integrations:
Google Maps

Trustpilot (reviews)

GLS (shipping)

MobilePay (payments)