Online groceries marketplace from Vermont uses Spree for its farm-to-table solution
Connecting urban families with rural farmers and food producers
SPREE SUCCESS STORY
Farmers To You provides fresh, sustainably grown vegetables, meats, and grains within its online marketplace. The platform was designed to connect farmers and consumers by delivering ingredients directly from the field to the customer's doorstep. The company follows the farm-to-table movement and fosters the partnership between families and farmers.
Founded in 2010 in Vermont, Farmers To You serves over 1,900 families, with 350+ products offered each week, with 99% of the food being produced within 200 miles of end-customer. They have facilitated a whopping $7.7 million in new sales in new sales for regional farmers and food producers in New England and Vermont.
FarmersToYou.com website
Every Friday, emails are sent to their customers informing them of the products available next week. Orders need to be placed online by Sunday at the latest so that they are received by the farms the following morning. Food is then packed on Tuesday and delivered to one of the 30+ drop-off locations in Boston and Vermont on Wednesday or Thursday.
Shopping is Easy – every week FTY selects the freshest food available from 1,900+ partner farmers.

Get What You Love – customize your order and add what you want from over 350 items.

They Do the Work – your food is harvested by FTY farmers and packed to order at their Hub in Vermont.

It's Simple – open your door or stop by a local pickup site to get your order.
Farmers To You website is nice looking and easy to use. The filtering options on PLP are advanced and besides basic categories include options such as diet type (e.g. vega or gluten-free), meal suggestions, or holidays (e.g. Valentine's Day). Other cool features include product reviews on PDP, gift cards and Donate Food option. 
Check out this video walkthrough of the FTY website
Shopping Our New Website from Farmers To You on Vimeo.
Farmers To You and Spree Commerce
Last year Farmers to You overhauled their software platform and switched from an OSCommerce-based system to a custom-built Spree Commerce solution. 
Tech Stack:
Spree Commerce 

Ruby on Rails

Basecamp

JavaScript

StimulusJS

Bootstrap

Popper
Integrations: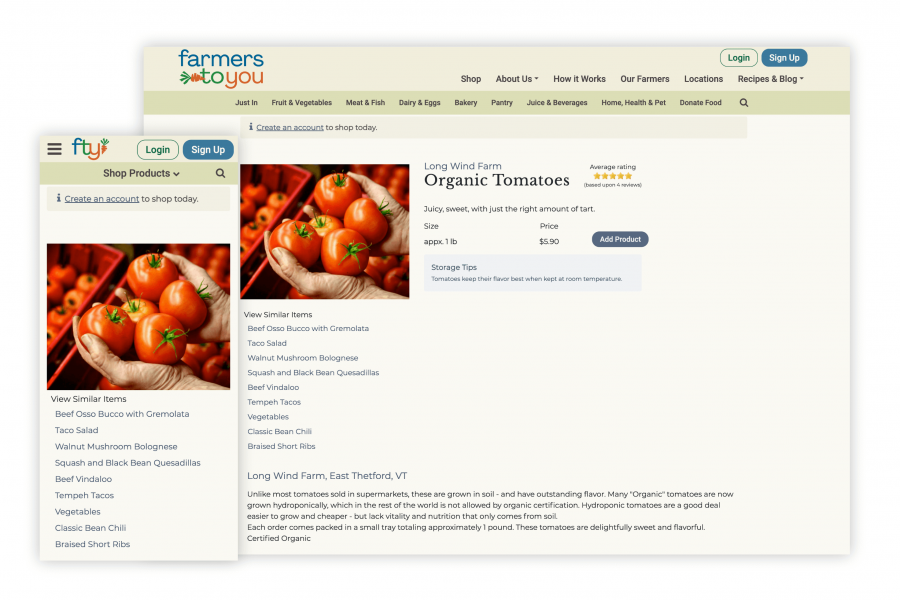 Conclusions:
SPREE SUCCESS STORY
Farmers To You enables families to be just one step away from a face-to-face relationship with their farmers. In 10 years, the company grew from 28 to over 1,900 partner families. This is in keeping with the current trend of buying food locally and directly from the producers. 

Check out other successful local delivery marketplaces built with Spree and how to launch an MVP of such a marketplace within weeks.