KFC uses Spree for its local delivery eCommerce platform in Chile
Global restaurant brand from Kentucky
SPREE SUCCESS STORY
KFC doesn't need an introduction. It is a global chicken restaurant brand that originated in Kentucky over 75 years ago. 
It all started when an entrepreneur began selling fried chicken from his roadside restaurant in Corbin, Kentucky during the Great Depression. That entrepreneur was, of course, the one and only Colonel Harland Sanders. Having identified the potential for franchising his business, Sanders opened the first "Kentucky Fried Chicken" franchise in Utah, in 1952. KFC was the brand that popularized chicken in the (at the time) hamburger-dominated fast-food industry. By branding himself as "Colonel Sanders", Harland became a prominent figure in American cultural history and his image remains widely used in KFC advertising to this day. 
KFC was among the first American fast-food chains to expand globally, opening restaurants in the UK, Canada, Mexico, and Jamaica in the 1960s. Fast forward to today, and there are now 25,000+ locations in more than 145 countries and territories around the globe.
KFC Chile website
KFC Chile's website makes it possible to make orders with delivery from the nearest restaurant to the user's home or other address. It is nicely designed using the company's branding and colors (red and white). On the homepage, there is a slider with news and the navigation menu consists of three tabs. Menu and promotions tabs will show you product listing pages with the possibility to filter by product types typical for KFC (boxes, buckets, combos, etc). Our stores (Nuestras Tiendas) tab reveals a map with KFC restaurants locations in Chile, where one can filter by city or town. Orders can only be placed during the nearest restaurant's working hours, otherwise, the checkout will not go through and the information about it will appear. On PDP there is an interesting feature – a place where users can place additional info or requests.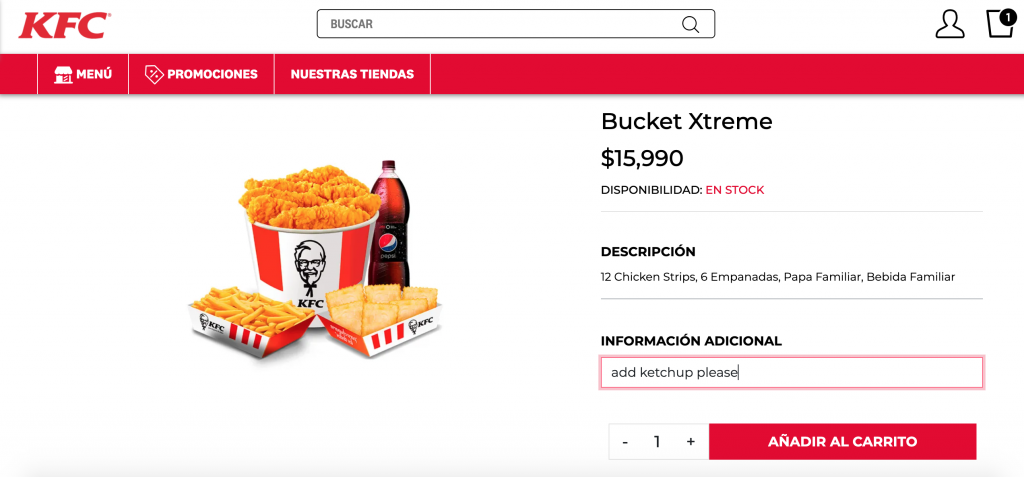 KFC Chile and Spree Commerce
The need to sell online to stay competitive reached its peak during the pandemic. Many businesses were forced to accelerate the pace of their digital transformation. In particular, retail marketplace and restaurants saw digital sales account for 85% of total sales, highlighting the importance of strengthening their digital presence. 
In all cases, whether small, medium, or large businesses, the scenario looked very similar. The first point of focus was to quickly increase sales through aggregators or marketplaces such as UberEats, and then once steady sales were established, they began to look at the alternatives such as having their own sales channels to reduce dependence on third parties, have more control of their channel, and tighten up the margins.
This is exactly what KFC Columbia decided to do – they built a website to enable customers to order their food and have it delivered to their homes, workplaces, and other addresses, without the need for a middleman.
Tech Stack:
Spree Commerce

Ruby on Rails

Bootstrap

Stimulus

Amazon Web Services

Popper

Nginx
Integrations:
Google Maps

Mercado Pago (payment)

DEUNA (checkout)