Blue Apron - the pioneer in meal-kit subscriptions uses Spree Commerce for its online platform
Pioneer in meal-kit delivery
SPREE SUCCESS STORY
Blue Apron is a New York-based start-up that is changing the way people cook at home. It's weekly subscription service delivers everything you need to make fresh meals, including shopping for its customers at wholesale and delivering all the ingredients in specific proportions, along with printed recipe cards. The model aims to emulate having your own private chef – subscribers will discover new recipes, eat fresher food, and save both time and money.
At the time of its launch in 2012, the company was one of the pioneers in the meal kit delivery business. Back in 2016, the New York Times called Blue Apron "the Starbucks of the meal-kit business."
What is more, Blue Apron is reimagining the way that food is produced, distributed, and consumed, and as a result, building a better food system that benefits consumers, food producers, and the planet. The company has developed an integrated ecosystem that enables the company to work in a direct, coordinated manner with farmers and artisans to deliver high-quality products to customers nationwide at compelling values.
Its name by was inspired by the fact that chefs around the world wear blue aprons when learning to cook, and for the brand it has become a symbol of lifelong learning.
Outstanding home-chef user experience
People's food needs come in all shapes and sizes. Blue Apron's registration flow for new users does more than lead them to purchase, it lets them personalize their meal plans in an elegant and effective UI.
Step 1 – Blue Apron's registration page

Step 2 – pick your meal plan.

Step 3 – set your dietary preferences

Step 4 – place your order

Step 5 – an upsell. Want wine with that?
Why this is really good UX:
The progress bar at the top sets expectation – it starts at 50% can help build momentum

The imagery of the box, the happy couple, the family, and the wine box are all beautifully shot and portray a quality product

The discount the user has signed up with is displayed in the top right of the onboarding flow; it then shows up as a big purple bar on the checkout page

Towards the bottom of each screen there are reassuring facts about menus, delivery, and dietary preferences that help answer common objections a user might have before buying

The upsell option after a first completed purchase is excellent. It's likely that the first time Blue Apron users might enjoy this, and even if they don't buy it this time, they're introduced to the upgrade early.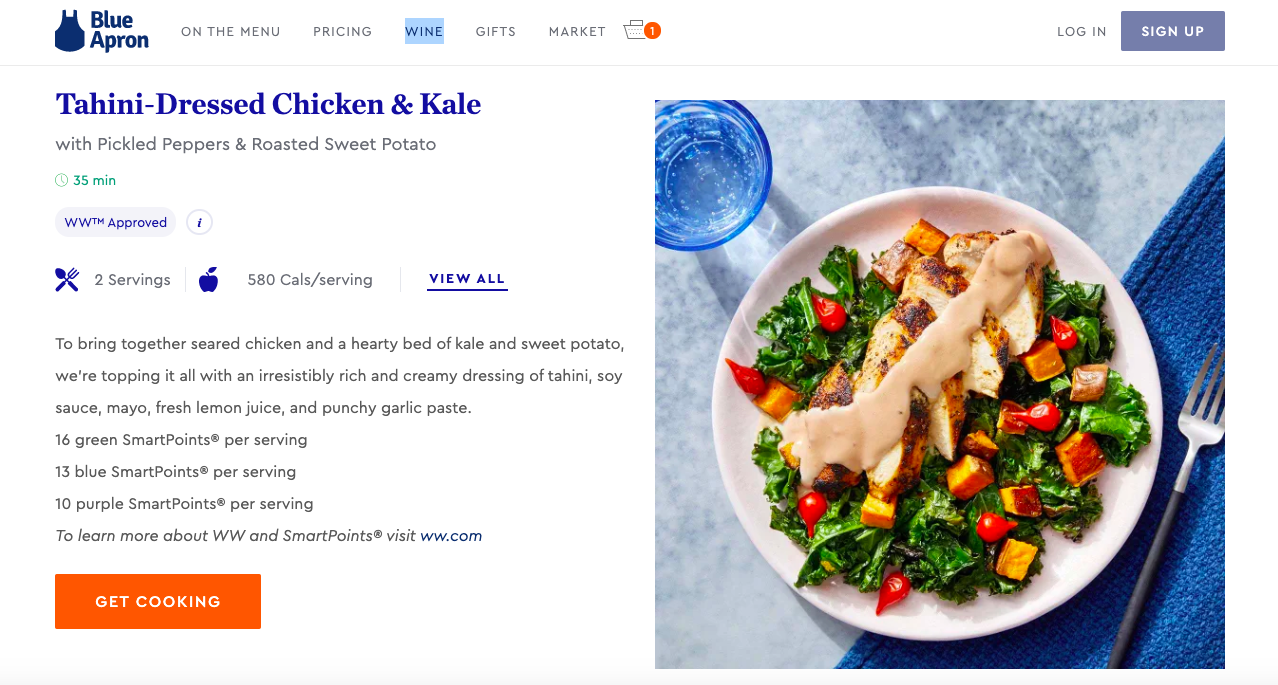 Blue Apron and Spree Commerce
Blue Apron's website and app design are strategically laid out and are aimed to be easy to use, effortless to interact with, pleasing to view, and compliant to their target market.
Blue Apron's core product is a meal experience that customers create with the original recipes and fresh, seasonal ingredients that are included in every box. All recipes are accompanied by printed and digital content, including how‑to instructions and stories of suppliers and specialty ingredients. Apart from the meal-kit subscription, the Blue Apron website also offers upselling options with the Market and Wine sections, as well as, customized Gift Cards for either meal or wine. 
Blue Apron Market offers a curated experience, selling mostly kitchen tools, accessories, etc. This way, Blue Apron loyalists can cook with the exact tools that Blue Apron chefs use in the test kitchens. These products are browsable on the Blue Apron website, and are also featured or recommended in various recipes across the website in which they'll be useful.
Blue Apron Wine is a direct-to-consumer wine delivery service that sends customers six 500ml bottles per month. The wines, made specifically for Blue Apron, are purchased directly from vineyards and sent directly to customers.
The company's Technology team is a collection of over 50 talented engineers, analysts, designers, and product managers who have built BlueApron.com, mobile (iOS and Android) apps, a proprietary Warehouse Management System, and a demand forecasting system.
Tech Stack:
Spree Commerce
Ruby on Rails
React
Redis
Ember
Kafka

PostgreSQL

AWS
Integrations: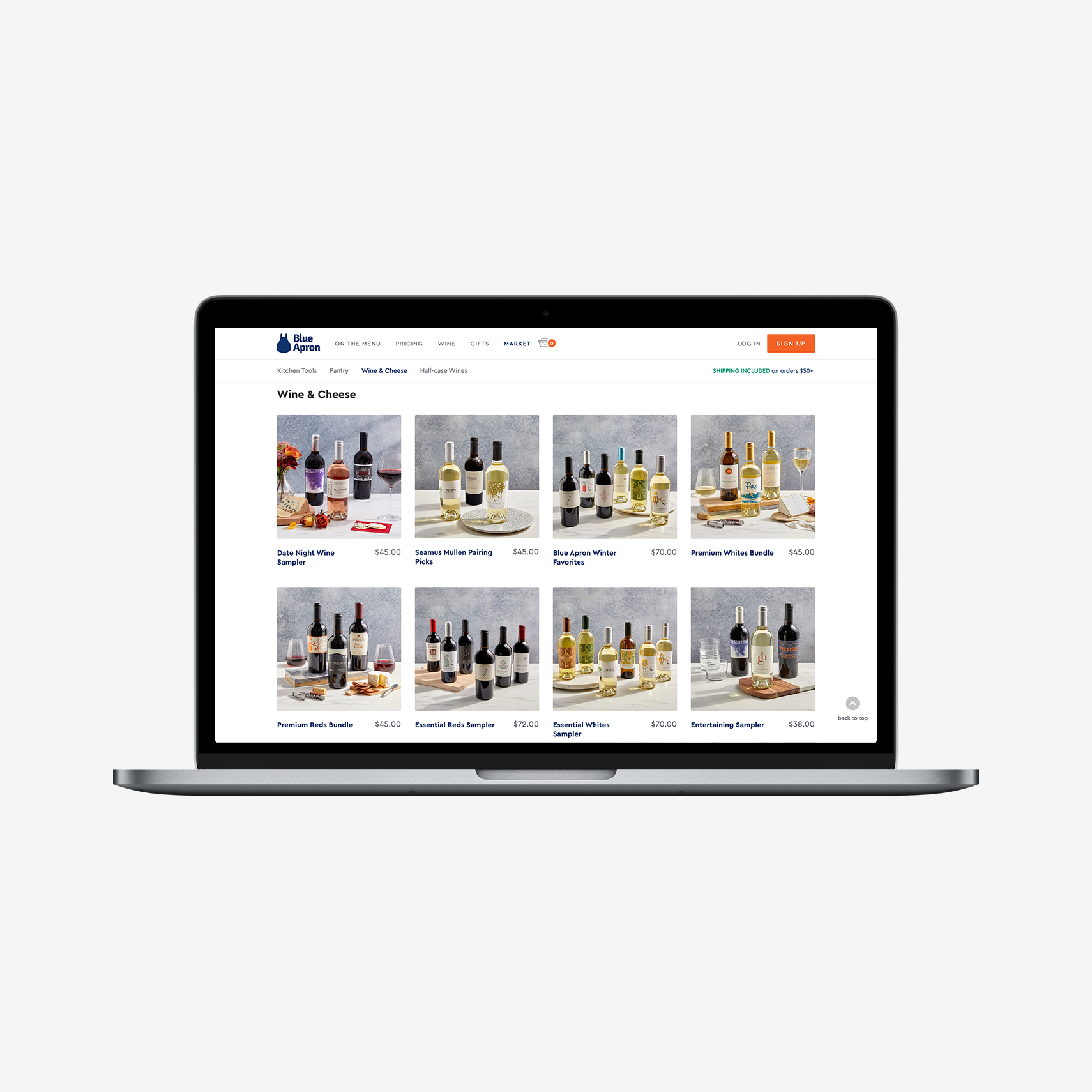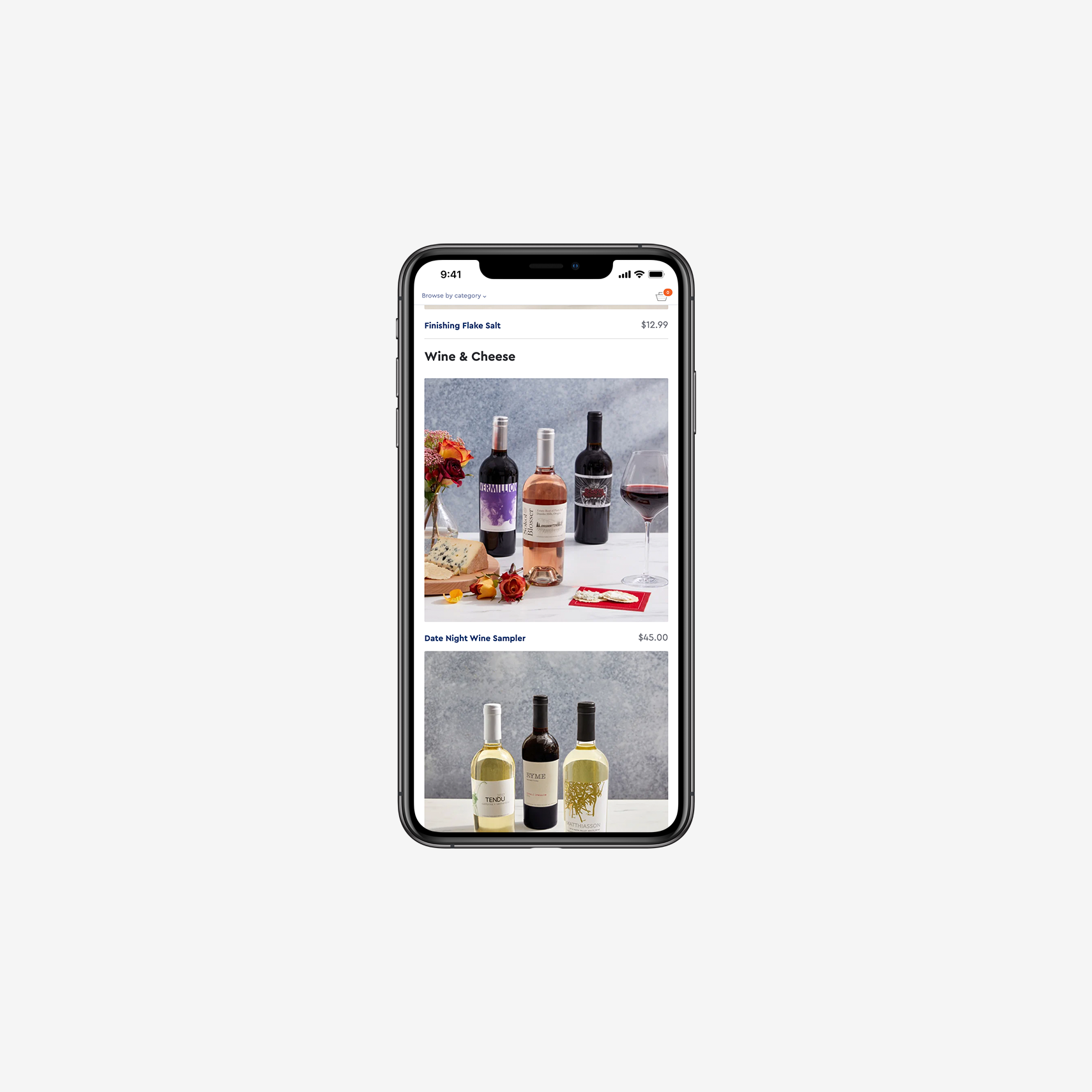 Conclusions:
SPREE SUCCESS STORY
Blue Apron offers consumers the home-chef experience by delivering the ingredients needed to cook one recipe at a time. The company's website is not only pleasing to the eye, but also offers an outstanding user experience with a step by step onboarding process. It's a higly customized e-commerce platform featuring an online market, subscription service and various upselling options. It was built using Ruby on Rails and Spree Commerce, which allow for a lot of flexibility when it comes to building custom e-commerce solutions.