Alabama Chanin - an artisan and sustainable fashion brand uses open source e-commerce solution
Made in th USA
SPREE SUCCESS STORY
Alabama Chanin is a lifestyle brand of well-designed and thoughtfully made goods for the person and the home. It celebrates and preserves unique traditions and crafting techniques, with a strong commitment to community through Made in the USA, local production. The company is rooted in the tenets of the Slow Design movement: good, clean, fair—which encourages designers, artists, and consumers to create and utilize thoughtful products in a socially and environmentally responsible way.
The brand dates back to early 2000 when its founder Natalie Chanin returned to her home in Florence, Alabama to produce a collection of 200 one-of-a-kind, up-cycled t-shirts, along with the 22-minute documentary film "Stitch" – about old-time quilting circles in her community. Project Alabama grew quickly and became a full collection fashion company, added business partners, lost business partners, all the while earning respect from editors and stores around the world.
Since 2000, Alabama Chanin has expanded to include a family of businesses: the Alabama Chanin collection, The School of Making, The Factory Store + Café, and Building 14 Design + Manufacturing Services. All facets work together to create a collaborative community and idea exchange, healthy growth, and a love of quality goods that last.
Open source fashion
Alabama Chanin, as a concept and a company, began as a DIY enterprise and today the brand continues this approach with The School of Making, that directs and innovates Alabama Chanin's learning initiatives and educational programs. This arm of the Alabama Chanin Family of Businesses oversees DIY, Host a Party, Build a Wardrobe, and workshop programming, format, and content; it acts as a researching body for new subjects and new ways of disseminating information. The School of Making is an active voice in the local community, Alabama state, and the making community, at large. While Natalie Chanin's The School of Making Book Series open sources the sewing techniques and materials. Doing so makes living arts accessible to all consumers.
In the 2000s, workshop programming was a natural outgrowth of the emerging DIY initiative growing around the company. According to the brand's experience, face-to-face and hand-to-hand contact helped its customers better understand the making processes and the importance of an organic supply chain. DIY offerings expanded, the workshop offerings became more diverse, and Alabama Chanin's Journal content added additional DIY instruction, stories, and ideas.
All in all, Alabama Chanin preserves traditions of community, design, producing, and living arts by examining work and life through the acts of storytelling, photography, education, and making.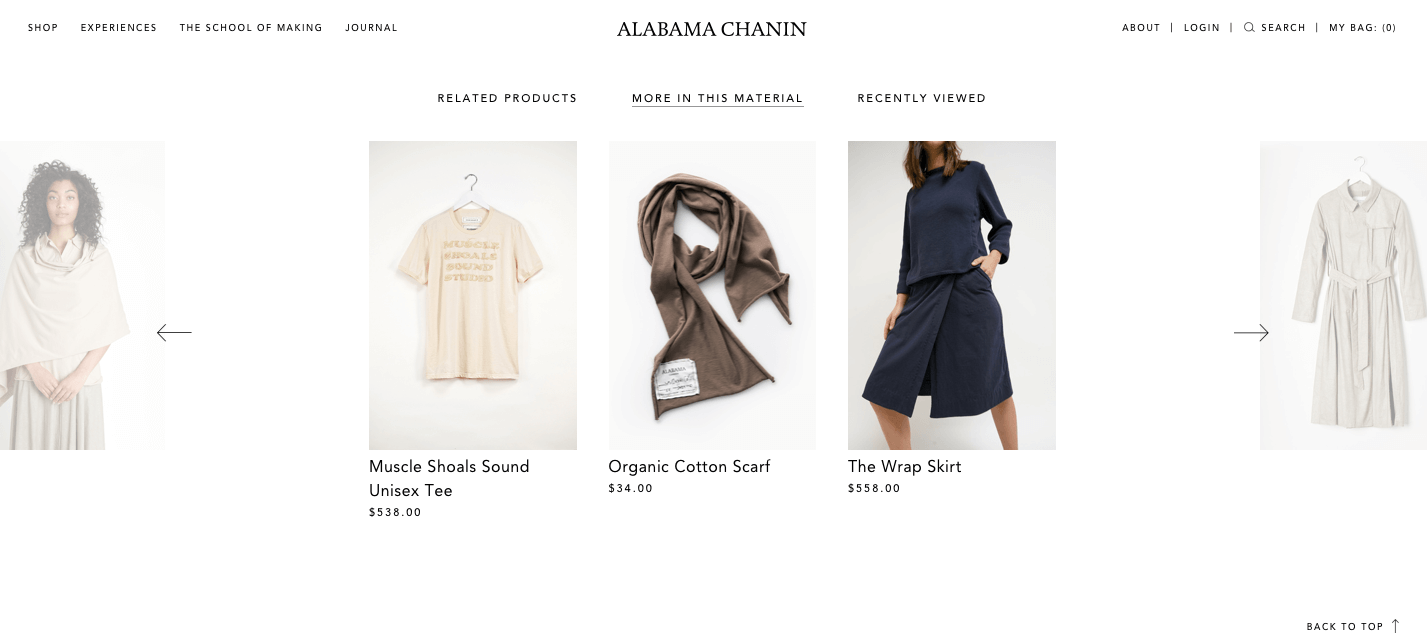 Alabama Chanin and Spree Commerce
Alabama Chanin is a leader in elevated craft due to a strong belief in tradition and dedication to locally manufactured goods. The company maintains responsible, ethical, and sustainable practices holding itself to the highest standards for quality and working to elevate and merge design, craft, and fashion. This can be spotted both in the products as well as in its online presence. Alabama's website matches the brand's unique and artisan attitude. It is built with Spree Commerce, a flexible and scalable open-source e-commerce software. Spree enables you to build beautiful online stores that are fast loading, user friendly and what's most important – you have total control over them.
On alabamachanin.com you will find some really cool features like gift cards, related products or "more items in the same material". The advanced filter options are also worth mentioning. You can search the products not only by category or size but also material and color, including shades like asphalt, wax, espresso or caramel.
Tech Stack:
Spree Commerce
Ruby on Rails
Bootstrap
Java EE
Integrations: 
Conclusions:
SPREE SUCCESS STORY
Natalie Chanin launched Alabama Chanin with a focus on sustainable, organic and local materials. The brand is mindful of manufacturing processes from seed to garment and takes pride in thoughtful design and quality that lasts. It also appreciates the open source approach by providing free access to all its designs and techniques. Alabama's stylish website reflecting all these values was built with Spree Commerce, a fully featured and market proven open source e-commerce platform.