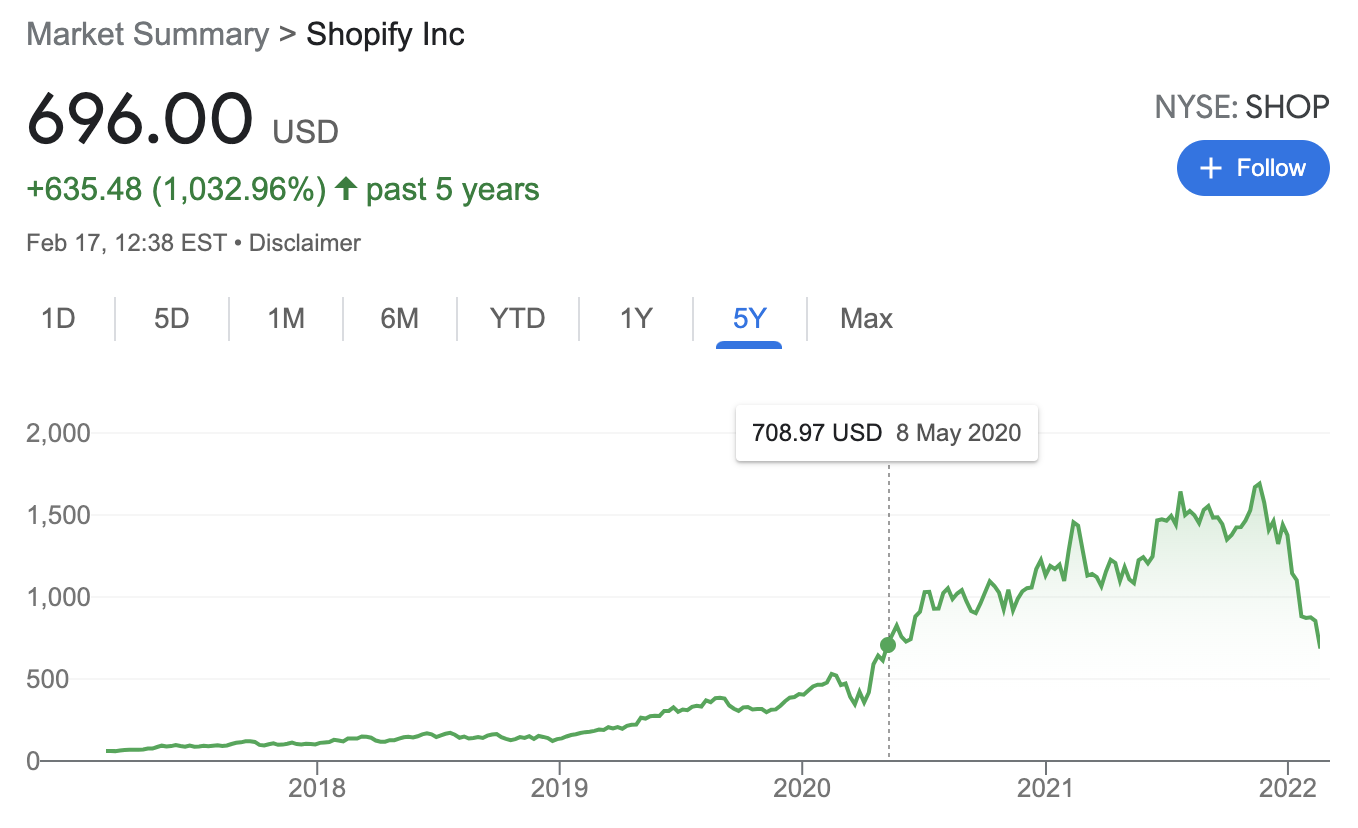 What's happening with Shopify is a health indicator of the entire independent DTC retail industry. And Shopify stock dropped 52% in the past 6 months. Long story short: hard times ahead. Google is about to introduce similar privacy changes to Apple's which killed Facebook ads as a cheap source of traffic. The times of independent DTC brands might be coming to a painful end. There has never been a better time to launch or join a multi-vendor marketplace than now. Vendo is an all-in-one platform that allows you to onboard Shopify brands to your marketplace, as vendors, easily. Or to convert a Shopify store into a marketplace.
Shopify slides 52% as its tailwind is gone
Despite strong 2021 results and numerous interesting product initiatives announced by Shopify, its stock price slid 18% in one day continuing its descent and taking us back in time to May of 2020. What wiped 52% of Shopify's valuation in the last 6 months was:
the prospect of the ending pandemic
and rising inflation affecting consumer behavior.
That tailwind might be gone but there is also some other bad news Shopify won't admit. Not counting vague disclaimers around "certain risk factors, many of which are beyond Shopify's control".
DTC marketing getting expensive
If you look at the below Facebook (excuse me, Meta) stock price chart, there is an obvious correlation with Shopify. Facebook lost 40% of its valuation in the last 6 months and we all know why.
Apple's iOS privacy changes effectively killed what was a source of cheap and well-targeted traffic. CPMs were rising year-to-year even before as competition grew and the bidding war among DTC brands escalated. But Apple neutered Facebook ads once and for all.
What Shopify isn't telling you
A Shopify merchant generates GMV ("annual revenue") of around $50k a year on average. That's around $4,000 in sales a month. Assuming 10-20% profitability it's not much to play with, is it?
Now factor in Facebook Ads, a small DTC merchant's main source of incoming traffic, getting ineffective.
"I've heard from marketers who buy ads on Facebook. In the last few months, they've had some small business clients who probably won't make it because their ads are less effective and therefore more expensive." – said Alex Heath, senior reporter, The Verge when talking to a Facebook VP. "They can't spend to reach new customers. I don't think most people understand how thin these margins can be for small businesses and how they've relied on cheap, effective ads to date." – he added.
Shopify continues to be a superior DTC platform…
For independent DTC brands in Northern America, the UK, and Australia for sure. Shopify has been extremely successful with "its mission of making commerce better for everyone" that can afford to spend some marketing dollars. It's a fully-featured and well-integrated DTC eCommerce platform at your fingertips for a few hundred dollars a month. What's not to like?
But Shopify, as a commerce enablement platform, doesn't exist in a void but rather co-exists with traffic generation platforms, mainly Facebook and Google.
Sure, Shopify introduced a number of awesome product initiatives that potentially increase their merchants' audience reach and make life easier, including:
TikTok Shopping – if you know how to talk to that young audience and have the resources to keep generating the content,
enabled artist-entrepreneurs on Spotify to connect their Spotify for Artists accounts with their Shopify online stores,
their new integrated retail hardware with POS payments in a number of countries,
tighter integration with Facebook and Instagram, and more importantly with Buy on Google,
rolled out Shop Pay Installments to all merchants in the U.S.,
introduced Shopify Markets, making cross-border commerce easier,
continued to build the foundational features for Shopify Fulfillment Network,
launched the Shopify Global ERP Program,
and last but not least, Shopify launched the JD Marketplace sales channel – so that the Chinese may buy from the Americans for a change and not the other way around.
None of these features address the burning question of how the independent DTC brands are supposed to generate inexpensive incoming traffic of new users with an intent to buy their products. Shopify is not a marketing platform, it relies on others.
…but it's the sales funnel that makes or breaks DTC
Even if you have the greatest eCommerce platform but you're unable to generate interest, traffic, and orders, it's not going to go well for you. To convert users into buyers, at which Shopify is very effective, you first need to have users.
As many independent DTC brand owners and managers have noticed recently, the eCommerce tools are getting better, more sophisticated, and more impressive each year. It's just that selling their products is getting harder.
Google to follow Apple with privacy settings
Apple's privacy settings wiped $230 billion off Facebook's market cap by neutering Facebook ads and many other services, and now reportedly Google is next.
Google just announced that "it's adopting new privacy restrictions that will cut tracking across apps on its Android devices." According to CNBC, the company is developing new privacy-focused replacements for its advertising ID, a unique string of characters that identifies the user's device which follows a similar move made by Apple last year that seemingly upended advertising practices.
Wait, don't go away just yet. That's not all bad news for independent DTC retailers. Use of Google Analytics has been found to breach European Union privacy laws in France after a similar decision was announced in Austria a month before. In the meantime, the IAB Europe's Transparency & Consent Framework (TCF), the online advertising industry's mechanism for conveying a person's consent status to use data for advertising, has been deemed illegal under GDPR.
What that means, is that small independent DTC retailers' future, in Northern America and Europe, is looking rather bleak unless they find other means of acquiring new users.
It also means further drops in Facebook and Shopify stock prices. Even Google might take a hit. Diamond hands, everyone!
Guess what eCommerce platform remains completely unaffected by the privacy-induced industry turmoil. If you guessed Amazon, you are correct! Merchants big and small have long relied on Amazon for revenue generation and fulfillment. If you're willing to compete with price only and share the spoils then Amazon is great.
It's not ideal for DTC brands unwilling to give up their brand identity, customer relationships, or take part in an all-out price war degrading their margins and business model, however.
That's where specialized dropship marketplace platforms come in. Independent DTC brands or any other vendors may count on marketplace platforms matchmaking their existing buyers with sellers. Since such marketplaces are offering a wide selection of products, they attract users with an intention to buy and are successful in building communities no independent DTC brand may ever dream of.
Marketplaces are becoming an important sales channel at a cost of sales commission. But no upfront advertising investment or creative work is required for the DTC brands.
Online marketplace platforms have long been considered the sexiest business model out there thanks to the network effects involved – the more buyers, the more sellers, and so on.
There hasn't been a better time to launch a multi-vendor marketplace than now. The time of independent DTC brands relying solely on their own marketing efforts is slowly drawing to a painful end. Unless they invest in alternative sales channels, such as joining multiple marketplaces or transforming into a marketplace platform themselves.
Vendo is an all-in-one eCommerce platform, based on Spree open-source, that you might use to launch a marketplace business at a fraction of a typical cost & within weeks, instead of long months. It ensures an excellent end-customer experience with smooth product discovery and search, a multitude of payment methods, and optimal shipping cost calculation. It also keeps suppliers happy with easy onboarding, automated products sync using their preferred method and easy payouts. It's a low-code solution with all the SaaS advantages, such as free integrations and features, no upgrades or maintenance, and effortless scalability. No revenue sharing. It's all yours.
Onboard Shopify brands to your marketplace easily
What's worth mentioning is that Vendo allows you to easily connect as many Shopify stores, as your marketplace vendors, as you'll be able to convince to join your platform. Considering what's happening in the Shopify universe of independent DTC brands, you shouldn't have too much trouble convincing them to generate some more revenue with no upfront investment.
The way it works is that a Shopify store owner authorizes your marketplace to fetch their product catalog and prices to place them into your marketplace platform. After approving these new products, they become available for purchase on your marketplace. Any orders containing this Shopify merchant's products will be split into sub-orders and the relevant sub-orders will be automatically pushed into their Shopify dashboard for fulfillment. Just as if these orders were generated natively on Shopify. Their vendor payout will be automatically pushed into their Stripe account. The only cost is a sales commission your marketplace takes. No upfront investment. A pretty sweet deal, considering.
That same Shopify sync tool may be used to migrate a single or a number of Shopify stores into Vendo in order to transform it into a multi-vendor marketplace with several other vendors joining the party as drop shippers. A much more promising business model than being an independent DTC brand in times of privacy-induced advertising crunch.
Contact us for a Vendo demo and let's discuss launching a marketplace platform at a fraction of a typical cost and within weeks instead of months.
Mike Faber is a Spree open-source evangelist and Vendo co-founder. Opinions his own.