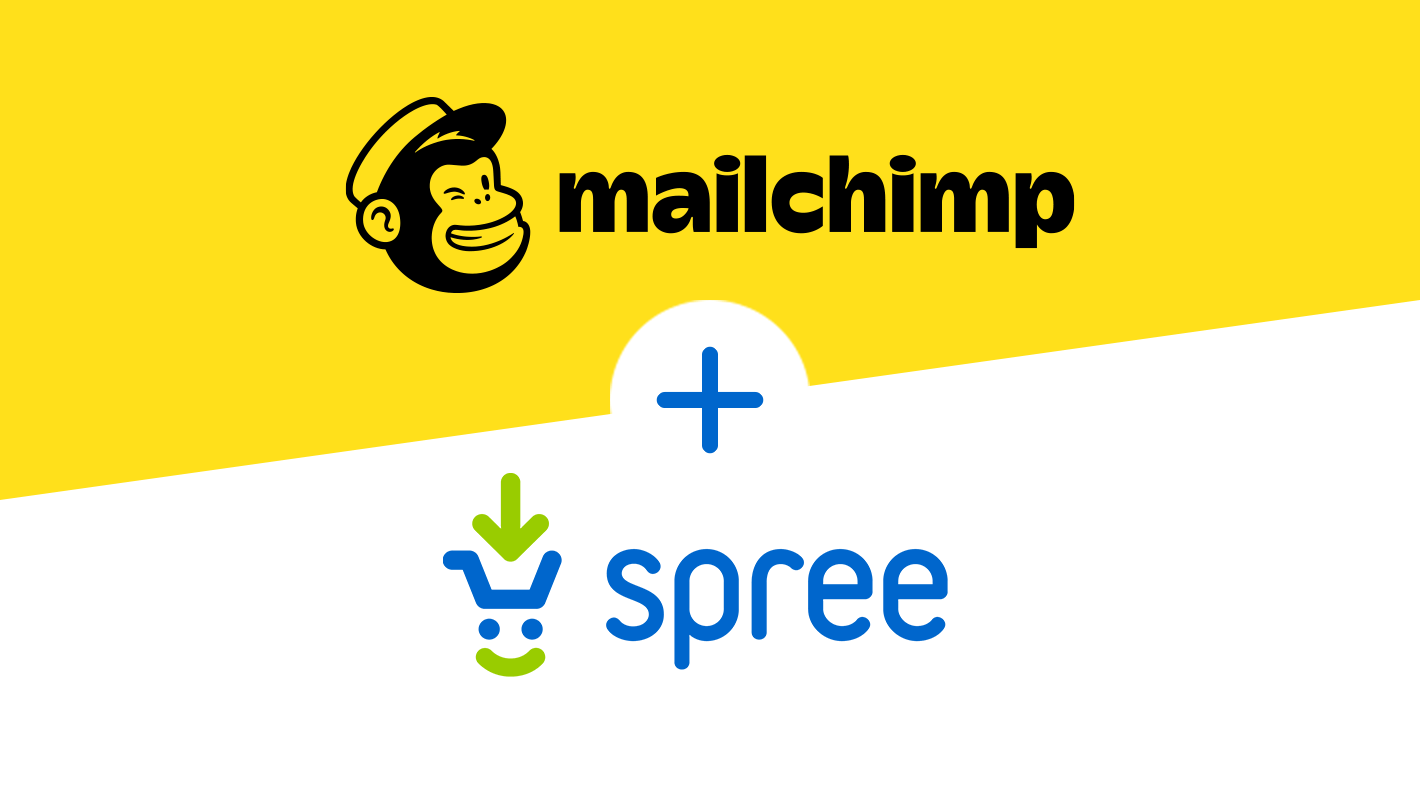 Most online stores are losing revenue by leaving orders behind. When a customer adds products to the cart but doesn't complete the checkout, that order is lost. Mailchimp Ecommerce automates sending out email reminders with the abandoned cart contents and tracks all recovered sales in a dashboard. It also comes with several other automations and email marketing tools. 
 TL;DR: It's basically free money with hardly any dev work. Just install it and watch the recovered orders roll in.
Our latest Spree-as-a-service offer frees you from the burden of self-hosting and maintenance. Contact us now for a demo and launch an eCommerce platform at a fraction of a typical cost and within weeks instead of months.
"The typical shopping cart abandonment rate for online retailers varies between 60% and 80%, with an average of 67.91%."
Now, thanks to a plug-and-play Mailchimp Ecommerce integration with Spree, some of that lost revenue may be easily recovered. There are also ways to upsell on top of the original user's order. 
For developers: check out the installation guidelines and more developer relevant information here:
Mailchimp Ecommerce abandoned cart case study
In case you're wondering about how effective Mailchimp E-commerce is, why not have a look at these numbers for an example Spree-based store sending out abandoned cart reminders.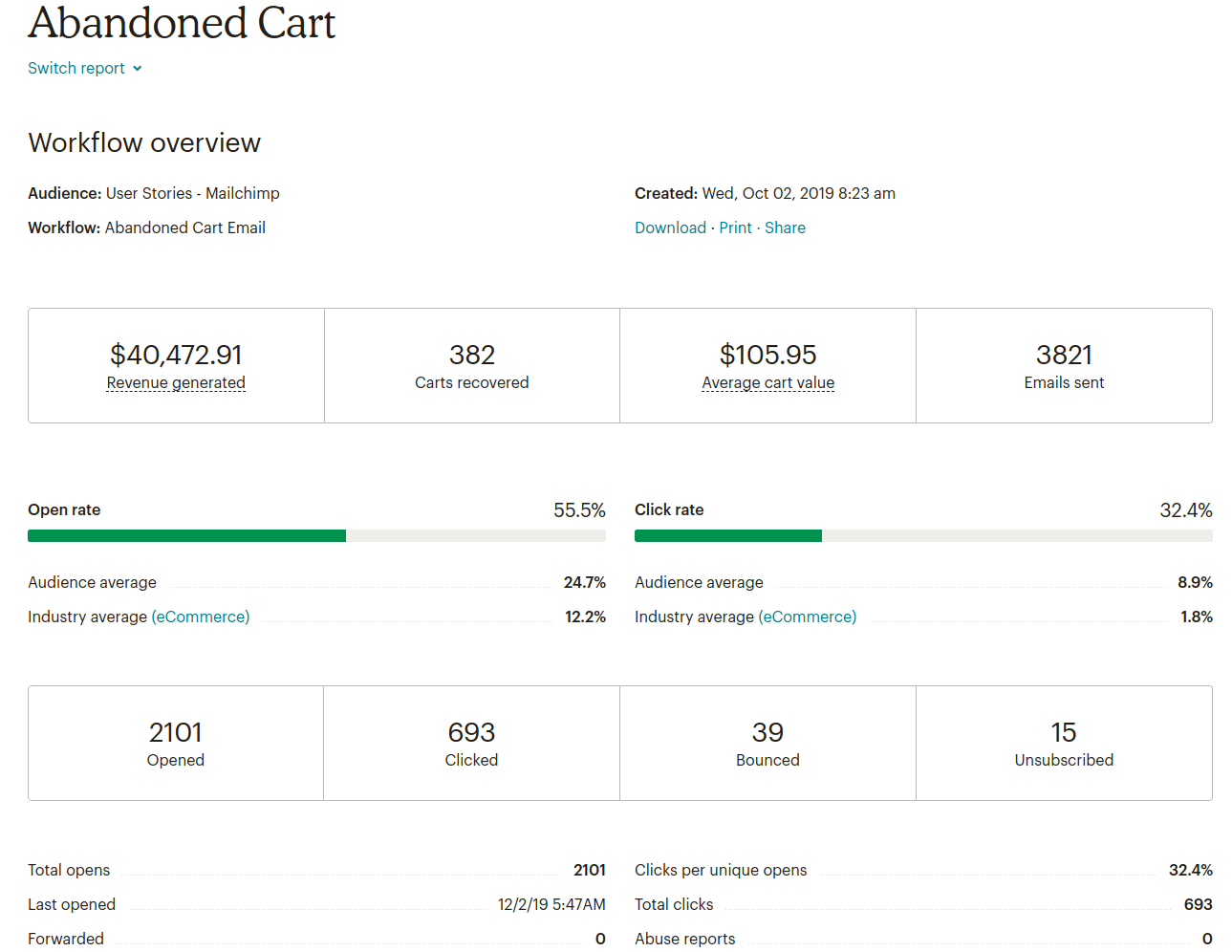 Over $40,000 in revenue recovered. Not mentioning repeat sales in the future from these returning customers. 
Abandoned Cart emails
For every abandoned cart on your website, there will be automation triggered, which will send an email to the potential customer. Here's how it works:
A customer enters the website, adds some products to cart and closes the page 

Mailchimp gathers information about the customer and their cart contents

After a specified amount of time (say 6 or 24 hours) a personalized email is sent out to the customer 

the email contains that customers cart contents and a call to action to complete the purchase

the email may be styled and customized in the Mailchimp dashboard according to your branding guidelines

Once the customer completes the purchase the resulting revenue is being tracked by Mailchimp 

Sales results and other stats from those email reminders are available in the Mailchimp dashboard
This is how an example reminder email looks like: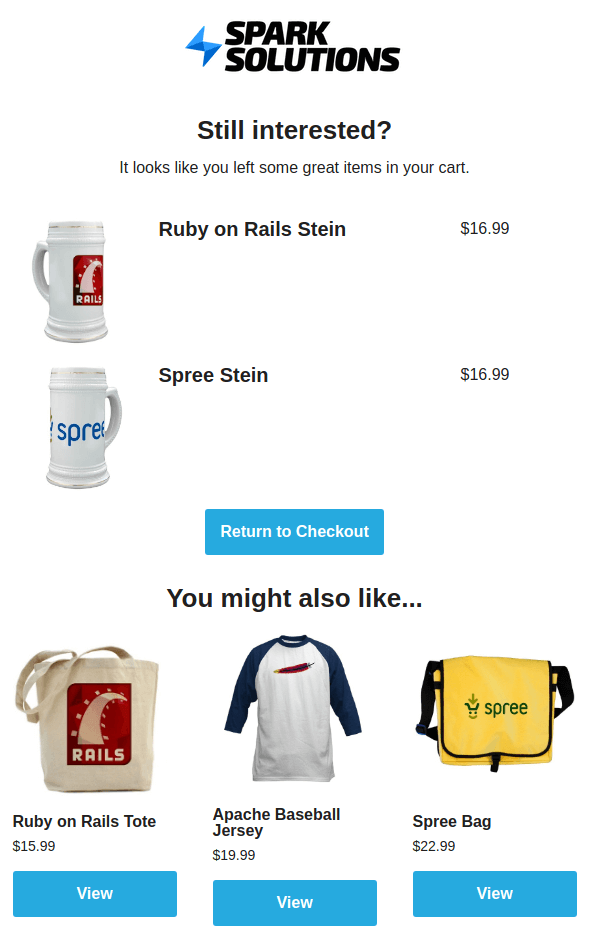 Product Recommendations in your emails
For all of the email marketing automation you set up (including the Abandoned Cart automation), you may want to add a product recommendations block with personalized suggestions on what a customer could buy. 
Just drag and drop that block in the email creation wizard in the Mailchimp integration. "You may also like…" product block will appear in your emails containing recommended products from your store's product catalog.
Order Notification emails
Although Spree has a built-in mailer, you may want to switch to the Mailchimp Order Notifications (Order Confirmation, Shipping Confirmation, Order Invoice, Order Cancellation, Refund Confirmation).
Not only you'll be able to use the Mailchimp Wizard editor to easily customize your email templates but you'll be also able to track all the new revenue coming from those emails. Whenever a user clicks on a link in a notification email it will be tracked by Mailchimp.

Pop-up Form for gathering an email database
Every online store should be capturing visitors' email addresses to stimulate sales. With Mailchimp Ecommerce you're able to easily set up a Pop-up Form that will appear on your page after certain configurable conditions are met. For example: 
Immediately upon entering the page

After 5 seconds

After 20 seconds

After scrolling to the middle of the page

After scrolling to the bottom of the page

On exit from the page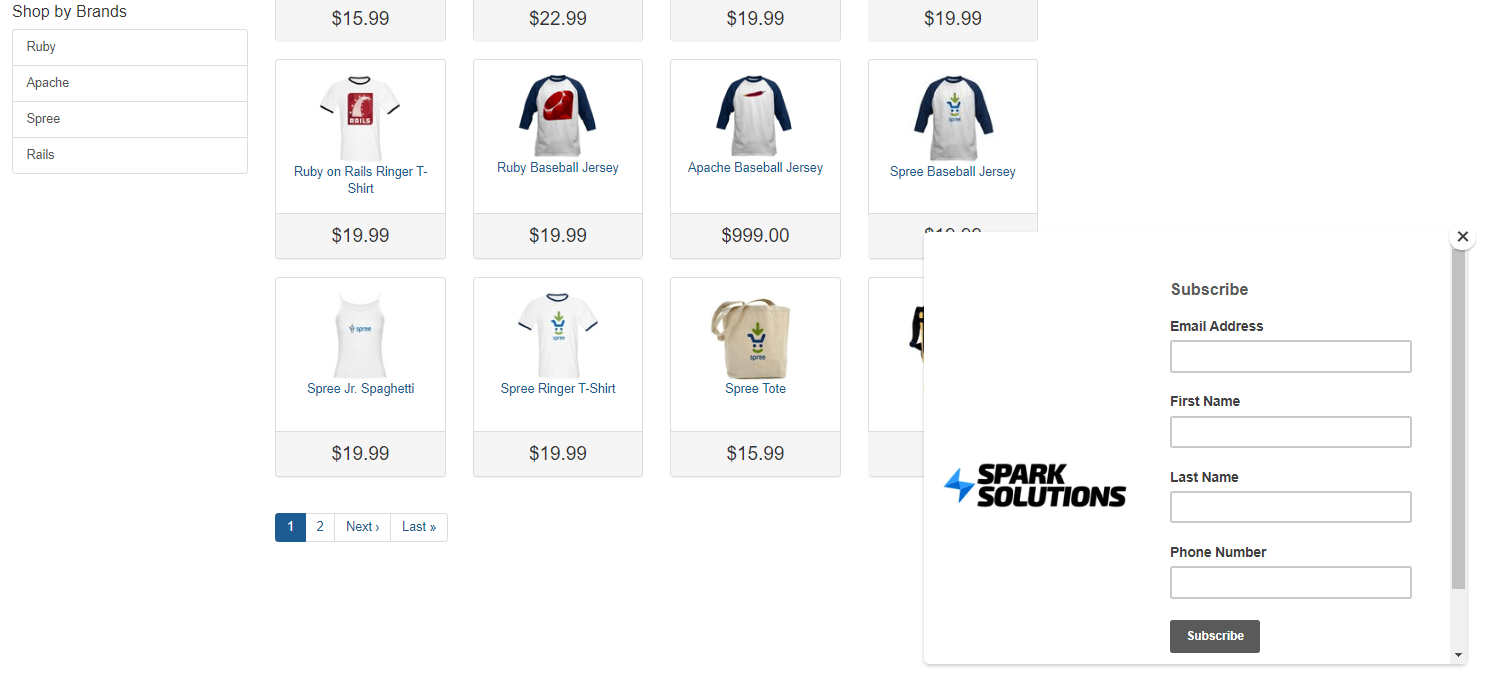 The pop-up look & feel is easily editable with the Mailchimp Wizard editor and can be customized to meet all your needs. Example data types you'd be able to collect:
E-mail address

Birthday

First and Last name 

Address

Phone number
After acquiring enough users as subscribers you'll be able to configure and send campaigns to specific user segments. 
Promotion Codes synchronization
The latest Mailchimp E-commerce integration allows you to synchronize Promotion Codes between Spree and Mailchimp which in turn lets you track your online and offline mailing campaign effectiveness and return on investment. 
With Mailchimp, you can send paper Postcards with a promo code to your customers' shipping addresses. The same applies to all e-mail campaigns which may include a promo code. 
Please note, that the promotion codes need to have a "Start" and "End" dates in order to properly appear in the Mailchimp Editor.
Check out the installation guidelines and more developer relevant information here:
Spree as a Service comes with the same functionality as the open-source plus all the SaaS advantages, such as free integrations and features, no upgrades or maintenance, and effortless scalability. Try our free trial or request a demo.