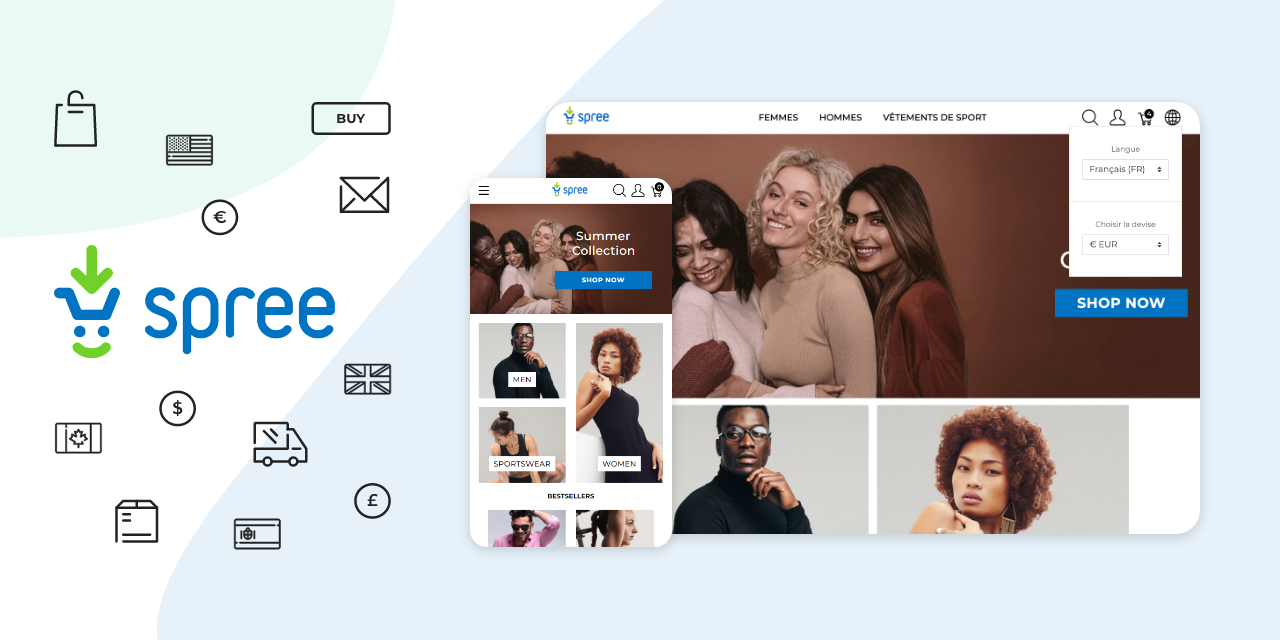 Being open-source, the community has always been a vital part of Spree Commerce's development; from feature suggestions to code commits, you have helped pave the way to make Spree Commerce the ecommerce platform it is today. 
The latest version, Spree 4.2, introduces several powerful new features – more on that below – and is the collaborative work of 34 individuals worldwide who contributed over 1700 commits since the previous version. 
Because of the fantastic support Spree continues to receive, we have decided to return the favor and boost our support of the Spree Commerce community to help build the open-source ecosystem.
How do we plan to support the Spree Commerce community?
If you're an agency that already uses or is considering using Spree Commerce, or if you're an agency that specializes in custom development using Ruby on Rails, we would like to offer you our free support:
a

private Slack channel

for your:

ongoing projects support and Q&A

roadmap discussions, feature requests

showcasing your projects

in the Spree

marketing efforts

publishing

your Spree-related posts

on the

Spree blog

including

your Spree extensions

in the

spree_contrib

 

an

intro meeting

to the latest

Spree 4.2 release
If you already have your own Spree store or have a personal Spree project in the works, we'd like to invite you to:
join the

Spree community Slack channel
reach out

to our community support team directly

with any questions or requests

by contacting:

[email protected]
We also have plans to add a Partners section to spreecommerce.org, which will list all of the agencies with the most contributions of various kinds to the Spree open-source project. If your agency has a proven track record of implementing Spree, we would like to include you on the list – free of charge.
What's new in Spree 4.2?
For those of you that have yet to see the release notes, here are some of the new, key features included in the release:
multi-currency and multi-language support

out of the box

multi-store – host

multiple brands/stores

on one instance

responsive

admin panel

 

improved transactional emails using

Postmark templates

WCAG 2.1 AA

compliant storefront

Ruby 3.0 and Rails 6.1

support

Run

anywhere

– cloud, VPS, Docker, Kubernetes
To top it off, Spree Commerce 4.2 is now available with:
We'll go into more detail on each of these features in upcoming blog posts.
We'd like to ask the community for feedback and feature requests regarding the Spree roadmap for 2021-2022. 
You can reach out to us on the Spree slack or by email: [email protected]
Spree Commerce competitive advantages
There are many other ecommerce platforms out there that are open-source, SaaS, or PaaS. It's not always clear what the differences are between each platform. So what exactly separates Spree Commerce from the rest of them?
quick MVP launch

– ready to launch in weeks 

use any 3rd party integrations

for payments, shipping, taxes

headless-ready

– use it with any mobile app or storefront

no vendor lock-in

– you are not tied to a single vendor

you control your dev roadmap

– nobody will tell you "no"

you control your dev spending

– budget for launch & growth

no expensive license costs

– it's free forever

intellectual property is fully-owned by you

– use it or sell it 
Spree also gives you the flexibility to change. No SaaS or cloud ecommerce platform will provide you with the ability to:
customize

– you can fully adjust Spree functionality, no limits 

evolve

– you can build new features, A/B test, pick the best one

pivot

– change your business but keep your data, integrations
Spree is future-proof; it will serve your needs for many years:
omnichannel

– for web, mobile, retail, B2B orders, and returns

headless ready

– use its API to talk to other services

frontend agnostic

– use it with any frontend app or tech stack
We hope you are all as excited as we are about strengthening our community. We can't wait to hear your feedback and feature suggestions to deliver an even better, more versatile ecommerce platform with the next release.