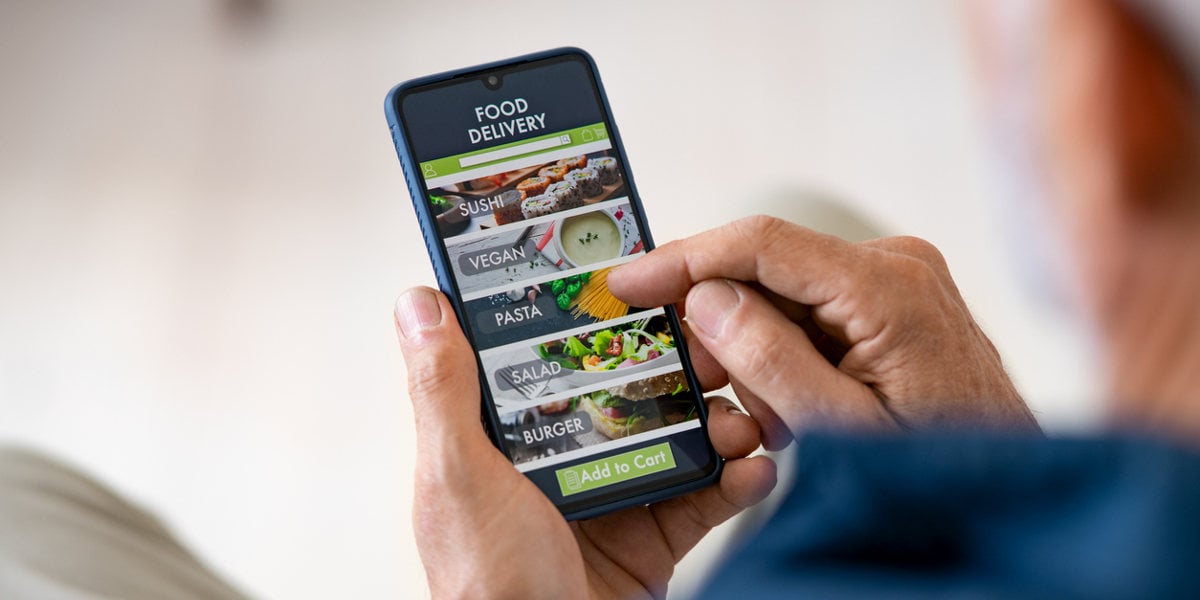 The way we think about food changed a lot since the Covid-19 pandemic outbreak. There was an increase in people using online and mobile services to order and have food or groceries delivered, with reportedly 47% doing so for the first time.
Vendo marketplace platform frees you from the burden of self-hosting and maintenance. Contact us now for a demo and launch an eCommerce platform at a fraction of a typical cost and within weeks instead of months.

Local delivery marketplaces help people socially distance themselves and be safe while at the same time supporting local businesses, both chain and family-owned, in their hour of need. Although there are many different local delivery marketplaces, we have chosen a few to look at and see how they have made an impact: Grubhub, DoorDash, UberEats, Instacart, Delivery.com, Postmates, Drizly. So if you're wondering whether there's room for one more or looking for a marketplace platform to start one yourself, you should take 5 minutes to read this blog post.
Grubhub is a food delivery service/app that like many others allows you to pick and choose what you would like to eat then bring it straight to your door in a reasonable amount of time. It is a popular service with a relatively large market share and operates in all 50 states. Where it stands out to us is its easy-to-use pay system which accepts many different payment options through their app such as Paypal and ApplePay. Their easy to use app shows you offers and discounts as well which can encourage usage.
Another food delivery app and voted the most popular according to fortune.com. One of the reasons for DoorDash's success is its consistent quality. It lacks some of the key features of some other delivery apps but it makes up for it with quality, and a large distribution across thousands of cities, so more than likely DoorDash operates in your area. In addition to this, they also offer a $10 a month subscription service which substantially decreases your delivery costs. If you order from apps regularly, this can be a big money saver. This subscription service model could be something other local delivery marketplaces use in the future.
UberEats is one of the most widely used localized delivery platforms, not just in the US but around the world. Uber is best known as a taxi service, but they are also a local delivery service. In the industry they are known for their speedy delivery time, they are usually the fastest in terms of delivery times. This of course may vary but they have a solid track record and have been around for a while. One cool feature they offer is like their taxi service, you are able to track your food as it's on its way to you. This is good if you want to continue to work up an appetite while you wait. Deutsche Bank analyst Lloyd Walmsley has endorsed buying the stock of Uber, partially due its increased revenue expectations from Ubereats.
The area where Delivery separates itself from the other local delivery marketplace is the diversity of what they offer. Delivery.com doesn't just offer food but a whole range of products from grocery stores, laundry services, flowers and even alcohol. This is amazing because as we have seen in the last year, there are some moments when you must stay home and Delivery is a great resource for those who should stay in. They don't operate in as many places as some other app services but are still fairly widely available in many cities around the US. They also offer promotion points as you use the app. 
Deliveroo
Deliveroo is a fast-growing UK based delivery platform. They are one of the largest platforms in London and have a quick delivery time there relative to the distance (and traffic). They use an innovative tech-based approach involving machine learning according to their website. Their innovation and tech-based initiatives mean they will continue to expand and be on the forefront of the local food delivery service industry, especially as it partners with new tech firms. 
Instacart is a California based company with an expansive service around the US. Key for them is their large network of partner companies. They work with everyone from Walmart to CVS. This means they have been able to really help bring much needed goods to Americans who are otherwise unable to leave their homes. They also promote season goods such as flowers on Valentine's day (a good service for forgetful men).
Postmates is another California based food delivery company but with a slight twist. Besides being in the US, Postmates also operates in Mexico City which was a further increase in its ability to generate capital. The company was early to the Food delivery game and wanted a very pro-neighborhood policy and to be less commercial than some of their competitors. The Owner even called them "the anti Amazon". Postmates was purchased by Uber in late 2020.
Drizly is a localized delivery service but instead of food, they focus on alcohol. In times of quarantines and lockdown, something to ease the stress is needed and this is where Drizly comes in. Americancraftbeer.com called them the Amazon of liquor. They use a special ID system to verify the age of those purchasing alcohol and have a unique pay system where the user doesn't pay! The fee is actually a subscription fee paid by the retailer, this is a potential model for future local delivery marketplaces.
There are many others besides these of course and many more will be created in the near future due to the rise in demand for localized delivery services. Niches seldom go unfilled and the continuing pandemic and the shift to remote work will increase demand all around.
Is there space for yet another local food delivery marketplace?
Doordash, Instacart, Postmates may have gained a substantial market share but a16z analysts are convinced there is still room for new entrants. Why? All of the local delivery marketplaces benefit from the local network effects, meaning that they reach customer snowball effect within specific metropolitan areas, not across them. So even if one of them makes it big in Detroit, it doesn't necessarily have an edge in San Diego. Such a city-by-city rollout model leads to market fragmentation and more competition in each area. Unlike in the country-wide space of apartment rentals, where Airbnb is king, in the local delivery space, winner-take-all-dynamics are nonexistent. Having a global brand, such as Uber or Bolt, helps but doesn't guarantee success. There is still space for new players in each metropolitan area.
In addition, there is little to no cost for marketplace users – both restaurants and consumers – to join a new platform. What's more, "restaurants are incentivized to join multiple platforms to tap into more potential demand, meaning no platform's supply is unique" argue a16z analysts. "When consumers can order the same meal from multiple platforms, the providers then compete on price and experience (most notably delivery time)." Or on a more basic level, online user experience.
"In the adjacent order-ahead takeout space, emergent platforms like Ritual and Snackpass are acquiring large swaths of urban professionals and college students with clever social features like food-gifting and group ordering" reads the Marketplace 100 report by a16z.
If you're thinking about launching a local delivery marketplace, this would be the time. Get in touch with us to start one yourself.
Vendo marketplace platform frees you from the burden of self-hosting and maintenance. Contact us now for a demo and launch an eCommerce platform at a fraction of a typical cost and within weeks instead of months.