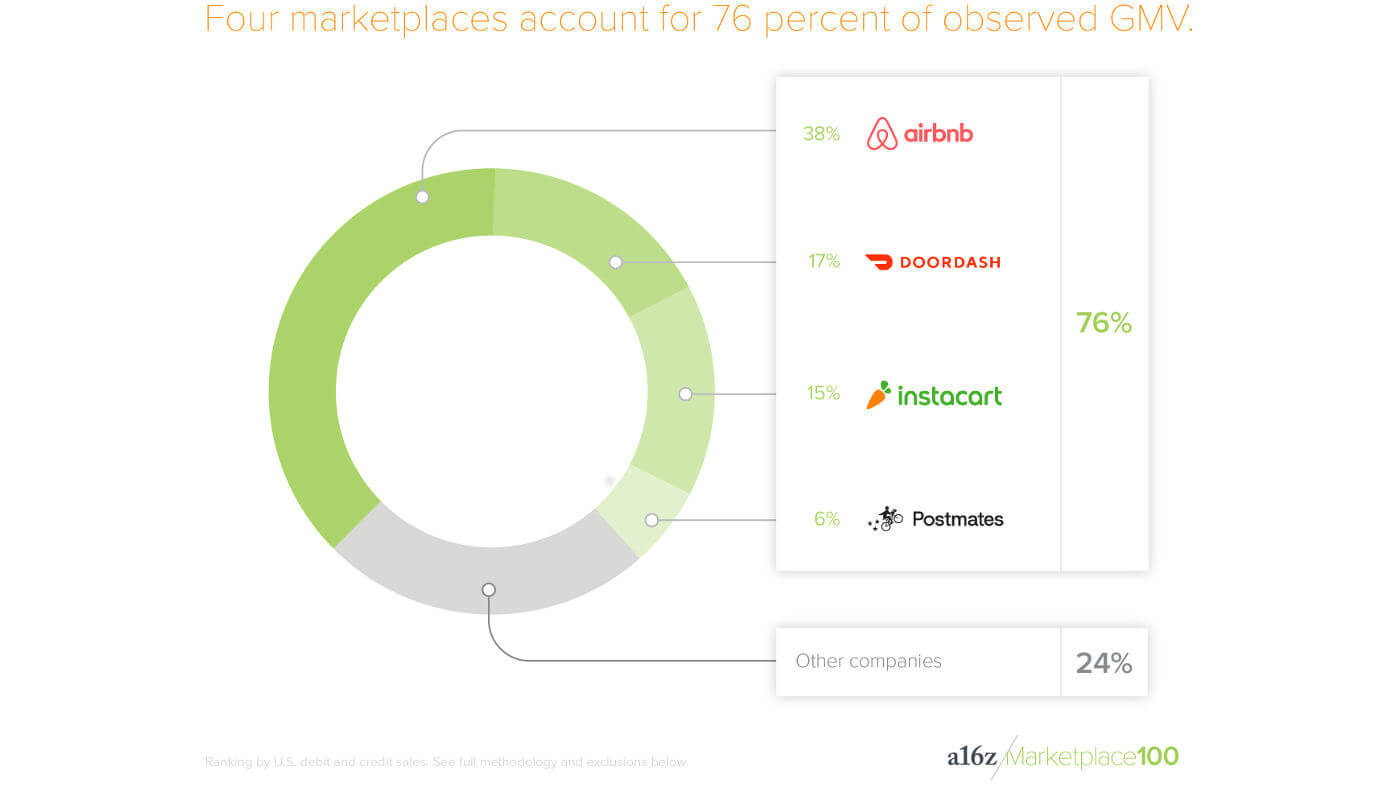 4 Ruby on Rails powered marketplace businesses – Airbnb, Doordash, Instacart, Postmates – gross 76% of all merchandise sold (GMV) by all top 100 marketplace platforms on the Andreessen Horowitz "Marketplace 100", a ranking of the largest and fastest-growing consumer-facing multi-vendor marketplace E-Commerce websites.
2 out of 10 fastest-growing marketplace platforms in the Andreessen Horowitz Marketplace 100 ranking were built using Ruby on Rails.
The most popular JavaScript framework among the top 100 marketplaces is React used for frontend app development.
Top 4 marketplaces in the world, according to Andreessen Horowitz "Marketplace 100" ranking, are all built using Ruby on Rails, which is also the underlying backend technology used by Spree Commerce. Ruby on Rails simplifies repetitive developer tasks which greatly speeds up delivery and translates into lower development and maintenance costs.
These top 4 marketplaces from the Andreessen Horowitz marketplace ranking are:
"Those biggest marketplace companies are big—really big. The top 4 companies account for 76 percent of the list's total observed Gross Merchandise Volume (GMV), even though there are 96 other marketplace companies on the list" – write Bennett Carroccio and Andrew Chen from a16z.
Another interesting Ruby on Rails powered marketplace business ranked #8 is Poshmark – a fun and simple way to buy and sell fashion. There are several other fashion marketplaces on the list categorized as streetwear, wedding, celebrities.
Travel, food, and groceries are the largest categories, by a lot. Several emerging categories are intriguing, including local indie brands, celebrity shout-outs, streetwear, fitness memberships, and even car washes.
The fastest growing categories exemplify why marketplaces can be so powerful for consumers and suppliers: they create new channels in markets with pent-up demand, unlocking new transaction behaviors.
2 out of 10 fastest-growing marketplace platforms are powered by Ruby on Rails apps:
Resortpass – Book a Day Pass to a Hotel or Resort starting at $25
Drizly – Your Online Liquor Store – Buy Beer, Wine & Liquor
Marketplace startups represent a wide cross-section of emerging consumer behavior, from rare streetwear to celebrity shout-outs to on-demand…everything. But beyond macro trends, the data behind the Marketplace 100 provides key benchmarks for company building, including engagement, user acquisition, and retention. In addition, the resulting analysis offers insights into the types of business models that work for different types of products. A must-read for any marketplace professional.
Source: The a16z Marketplace 100