It was just announced that Violet Grey, a luxury beauty marketplace running their store on Spree Commerce, is to be acquired by Farfetch. This is exciting news for the world of beauty and fashion. 
Violet Grey is known for its high-end selection of products and its excellent customer service. Farfetch is a platform that connects shoppers with boutiques all over the world. With this acquisition, FarFetch are looking to expand their reach into the luxury beauty market. This is a great move for both companies, and it will be interesting to see what the future holds for them. 
Violet Grey was founded in 2013 by Cassandra Grey, who was looking to create a luxury beauty retailer that offered an excellent customer service experience. She wanted to provide her customers with access to products from all over the world, and she was successful in doing that. The company has since grown to become a leading player in the luxury beauty industry.
Violet Grey's eCommerce platform is built with Spree Commerce and offers a highly curated selection of the best luxury beauty products, including makeup, skincare, haircare, and nails. The website combines perusing through a magazine and online shopping with an amazing user experience.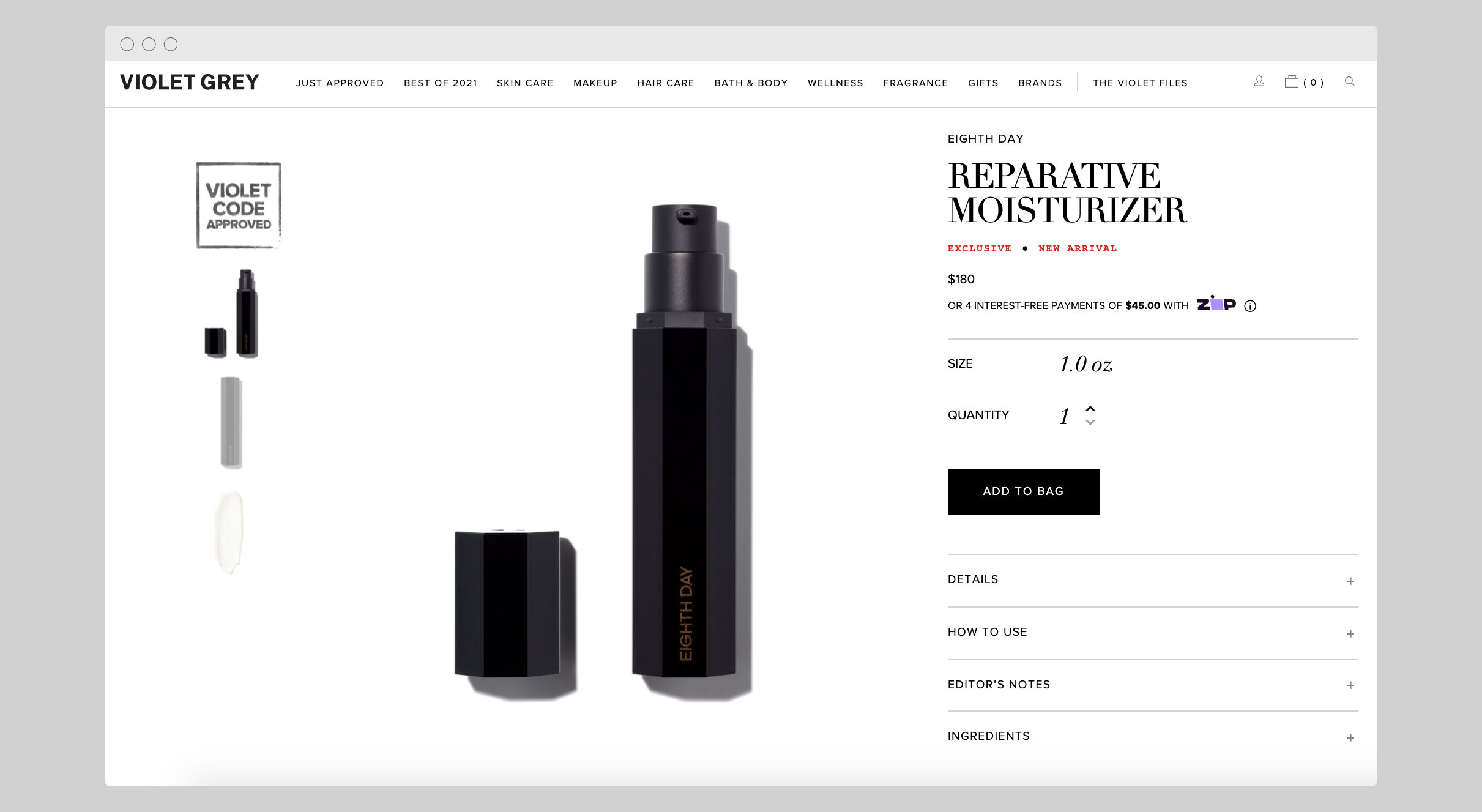 Farfetch is a platform that connects shoppers with boutiques all over the world. They were founded in 2007 by Jose Neves, and today they are one of the most prominent players in the eCommerce market. With this acquisition, they are looking to expand their reach into the luxury beauty market.
Farfetch will offer their substantial Millennial and Generation Z luxury audience a unique user experience for shopping beauty products when they launch their new platform later this year. Their customers will have access to beauty insights, the advice of experts in the field, and communities centered around the beauty industry, including the Violet Grey community. Farfetch's diversification into beauty will provide its brand partners with the opportunity to reach millions of engaged luxury consumers through cooperative branding and marketing strategies that target the global luxury beauty market. This market is estimated to be roughly 69 billion USD, falling in second place behind leather goods within the global personal luxury market.
Why is this exciting news for both companies? Violet Grey is looking to expand its reach, and Farfetch wants to enter the luxury beauty marketplace. We expect big things from this partnership.
"The acquisition of Violet Grey brings industry expertise as well as a curated selection of products to be offered on the FARFETCH Marketplace and expands the beauty curator's reach to extend to FARFETCH's global customer base. Violet Grey will also leverage Farfetch Platform Solutions' expertise in technology, global logistics, and operations in continuing to drive its standalone business, comprised of VioletGrey.com and its Los Angeles retail store. Upon completion, Violet Grey founder, Cassandra Grey, will become a global advisor for Beauty on the FARFETCH Marketplace and Co-founder of NGG Beauty where she will work to incubate and accelerate new brands. Grey will also be Chair of Violet Grey, providing overall strategic and creative direction and continuing to build the community that Violet Grey is known for." – FarFetch press release

Spree as a Service comes with the same functionality as the open-source plus all the SaaS advantages, such as free integrations and features, no upgrades or maintenance, and effortless scalability. Try our free trial or request a demo.