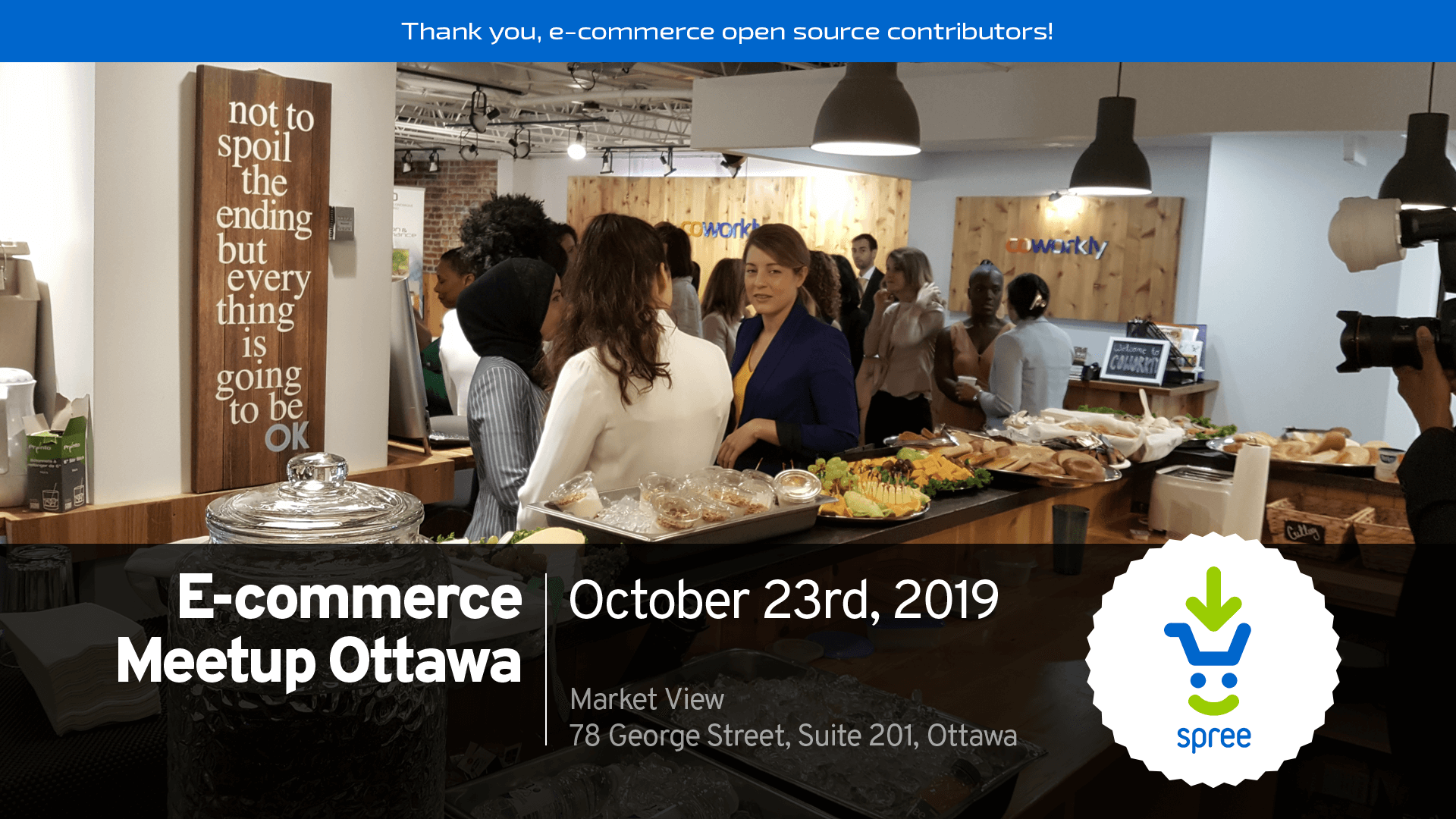 Spree Commerce proudly presents a partner event:
What is it?
E-commerce Meetup Ottawa is a part of E-commerce Meetup Network hosted by Spree Commerce around the world to connect E-commerce and digital marketing professionals.
We believe that staying on top of E-commerce trends and expanding your network of business friends can really make a difference in your professional life and boost your business results.
We are very excited to host our event: Thank you, E-Commerce open source contributors! on October 23rd and meet up with E-commerce experts from Ottawa or visiting.
Find time to talk to other E-commerce experts, broaden your network and have some quality time enjoying drinks and food in a casual yet results-oriented atmosphere!
Thank you, E-Commerce open source contributors!
Every E-Commerce developer owes a lot to those contributing to the open source ecosystem. The Internet is built on open source solutions. It seems only fair to contribute back to the community.
Let's talk about building a better ecosystem for:
– empowering the E-Commerce open source community
– accelerated checkouts with Apple Pay, Google Pay, Amazon Pay
– fraud prevention efforts on an industry-wide scale
– tax calculation with address validation in real time
– healthy order fulfillment and shipping integrations
– enabling 3rd party development with robust APIs
– enabling CBD and other high-risk merchants
Open source is exciting when ideas collide and take shape. Let's put our heads together!
AGENDA:
5:30 PM – Doors open
6:00 – 6:30 Meet & greet
6:30 – 6:35 Welcome & intro
6:35 – 7:00 Fireplace chat with the gathered open source enthusiasts
7:00 – 9:00 Networking, drinks & snacks
WHEN
Wednesday, October 23, 2019
6:00PM – 9:00PM EST
WHERE
Market View
78 George St, Suite 201
Ottawa
How to participate?
You can register on:
Eventbrite or on Meetup
Free admission, number of places limited.
Join us on Meetup & stay up to date!
This event is hosted by Spree Commerce – an open source E-commerce solution built with Ruby on Rails and integrated with a smooth React.js or Vue.js storefronts. Spree is also a global community of developers and E-commerce professionals in businesses large and small. Read the Success Stories of awesome brands using Spree Commerce and join us at Spree Slack Channel.
Sponsoring opportunities
Interested in becoming a sponsor of this event? Reach out to [email protected] for our sponsorship offer.