One admin dashboard, multiple stores, each with its own settings
For example Home, Fashion and Hobby
Multi-tenant ecommerce functionality:
one platform to host all stores
single admin dashboard for all
each separate store with its own

domain
layout template
product catalog
currency and prices 
shipping and taxes
SEO and more
One dashboard to manage all the stores
Manage all stores from a single Spree dashboard. Enable your tenants to manage only their own store.
REQUEST DASHBOARD ACCESS
Spree multi tenant success stories
Review successful multi-tenant ecommerce case studies
A new business opportunity for brick and mortar shopping malls owners.
Create more value to individual stores in the mall:
enable your tenants to sell online within minutes
reach more customers in the age of social distancing
enable local delivery from favorite stores
own the online channel just as you own the brick-and-mortar one
Create more value to the consumers with a one-stop shopping experience:
no need to search for products on numerous websites
no need to track several orders and deliveries
faster delivery when shopping locally
A new business opportunity for brands that sell through distribution networks of brick and mortar stores.
Manufacturer:
enable your resellers to sell your products online
each reseller has the same product catalog
each reseller may service their local customers
customers may pick up orders in-store or get it delivered locally
own the payments processing and cashflow
incentivize the most efficient resellers
Resellers:
don't have to invest in their online presence
have a ready to use online store in minutes
don't have to worry about capturing payments
get their sales commission from the manufacturer
Spree Customization Guides
Feel free to customize the overall styling, header, footer, placeholder images, and text, as well as SEO settings. Read documentation
Amazing performance
Google Lighthouse ranks the latest Spree UX demo very highly in all important aspects of web presence quality: performance, accessibility, web best practices, SEO. Test your own website to see if there's room for improvement.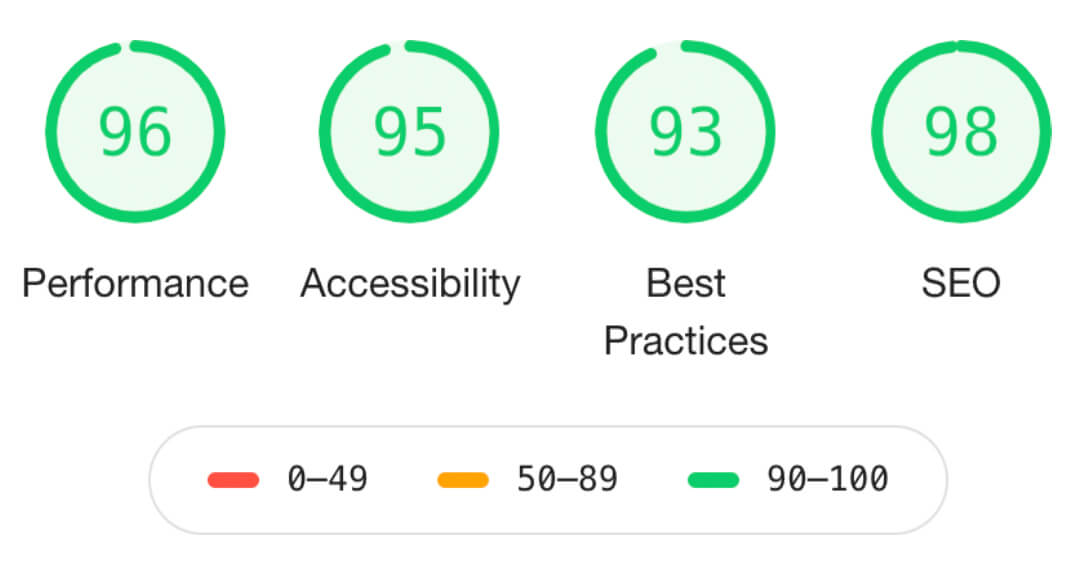 Upselling features
Customer journey touchpoints that drive conversions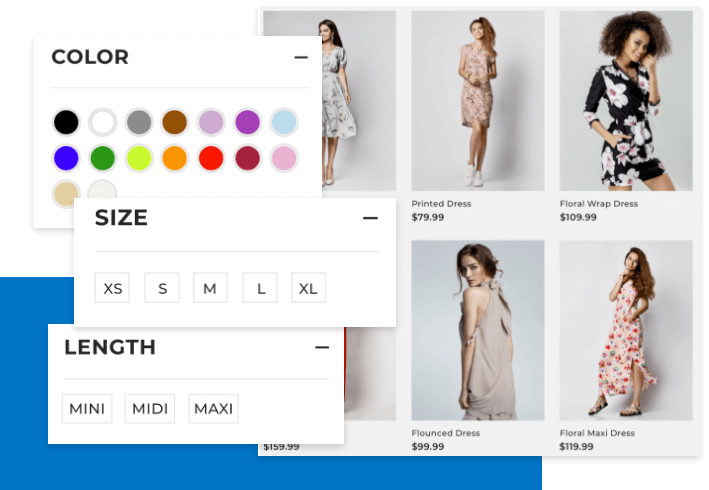 Product filters
Product discovery meets guided selling
with customizable product filters
for easy product listing browsing.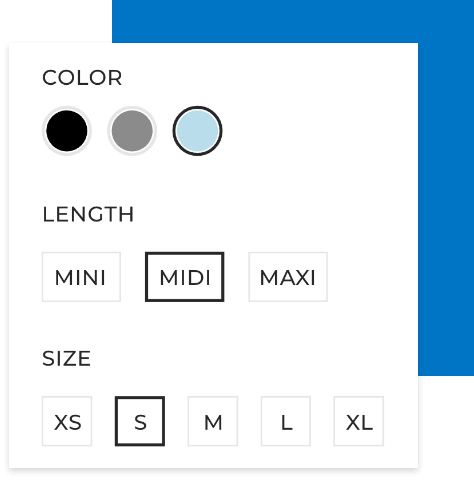 Color and size swatches
Product variant swatches
with corresponding photo preview
for informed buying decisions.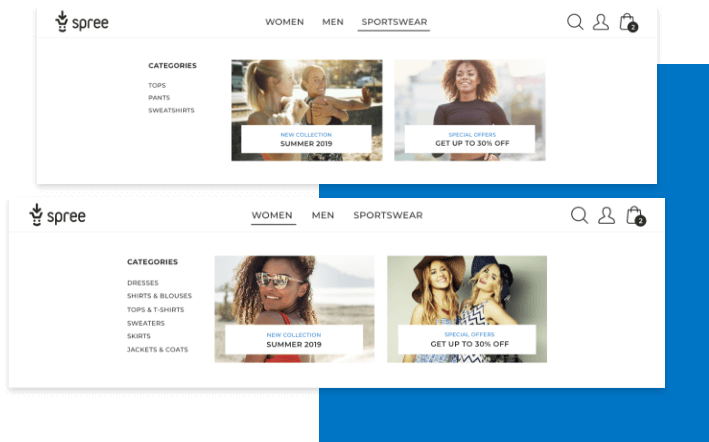 Advanced megamenu
Product category navigation
accessible from the top menu
with contextual promo banners.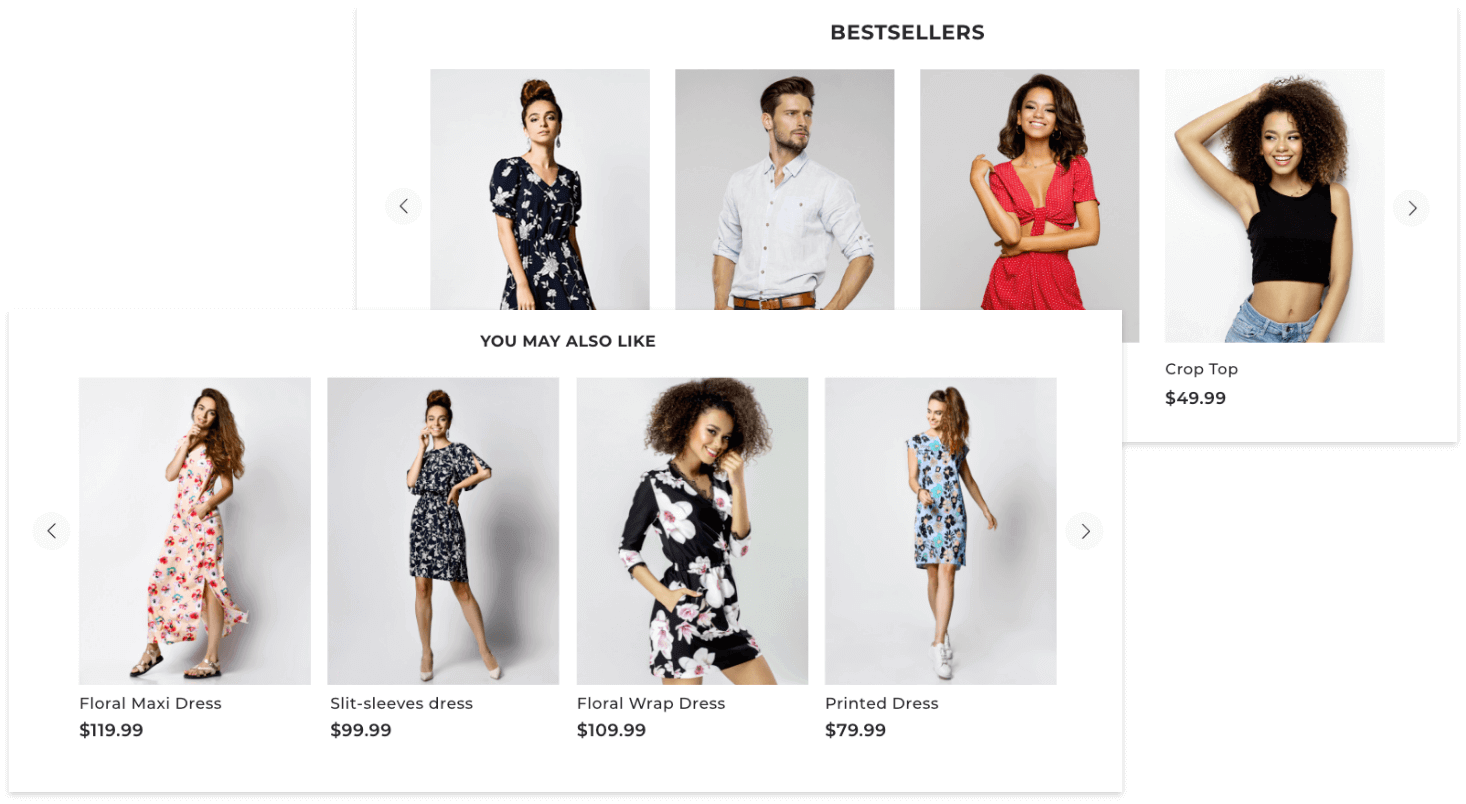 Product
recommendations
Use mobile-friendly product sliders
to showcase bestsellers or
to suggest related items
below a product page.
Business stakeholders can expect
improved KPIs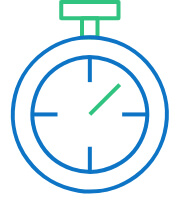 Faster loading pages
With impressive Google Lighthouse
performance scores your Spree website
will load faster than any competitor.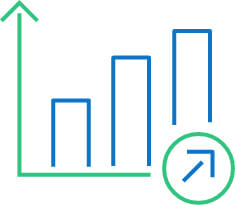 Higher Google rankings
Faster page load and mobile-first UX
will translate into higher Google rankings
and easier Google search discovery.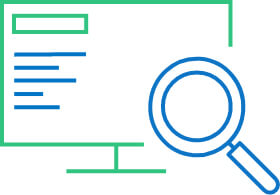 More search traffic
Higher Google rankings will generate
more organic search traffic
and more customers.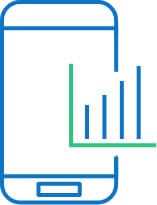 Improved mobile conversions
The Spree mobile-first user interface improves
conversion rates on hand-held devices,
boosting mobile sales.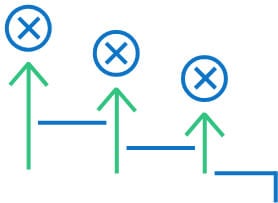 Reduced bounce rates
Shorter wait times and the mobile-friendly
UX of Spree lead to fewer exits
and improved KPIs.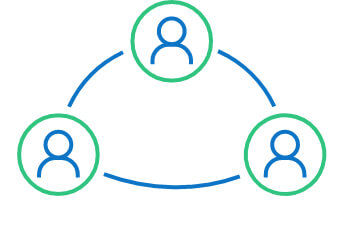 Better social sharing
Spree uses the Open Graph protocol
to improve how products are shared on social media
channels like Facebook, Twitter, Instagram, and LinkedIn.
Developers save time with
highly optimized UX