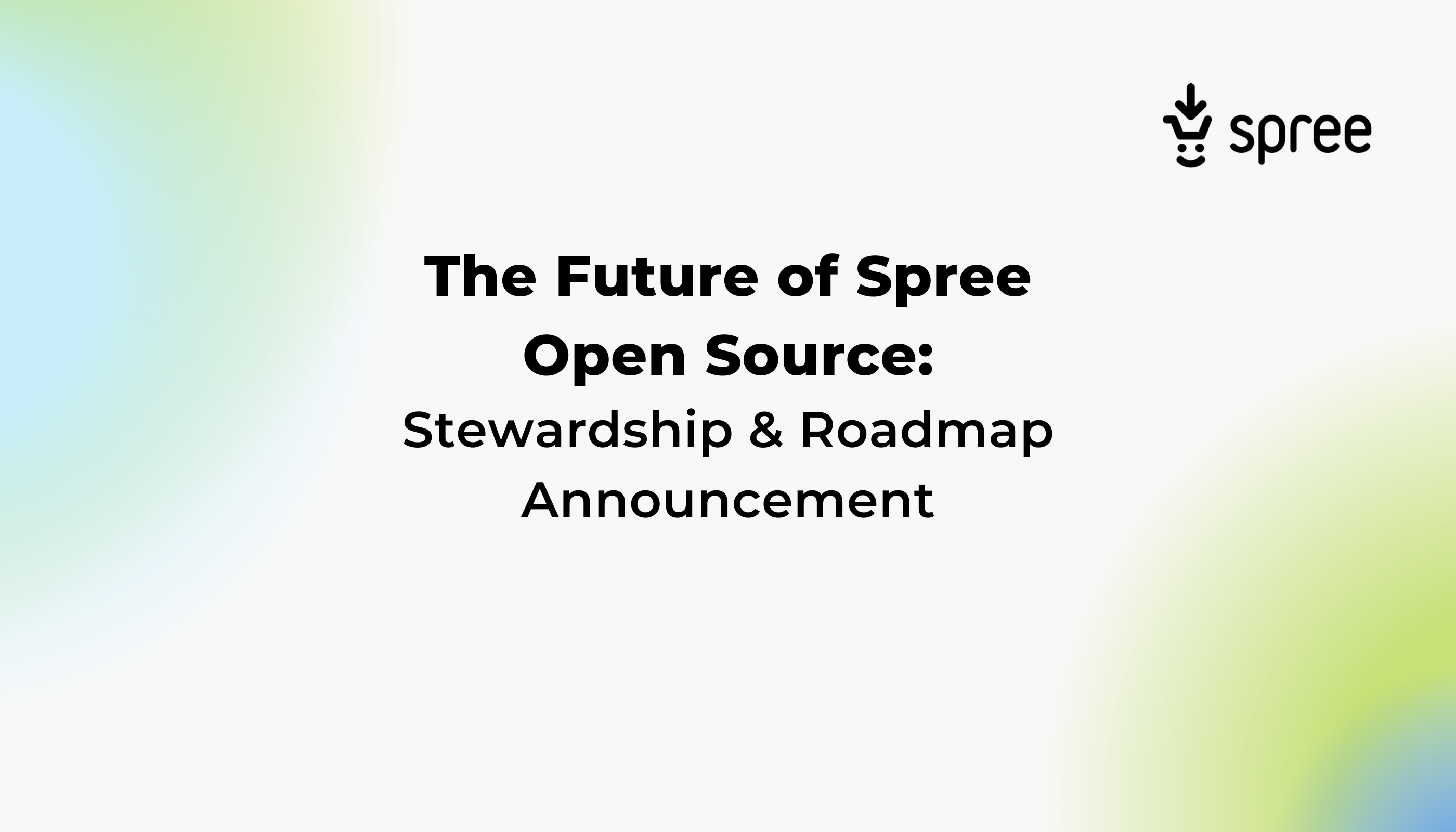 Spree Commerce gives you more ownership, more omnichannel, and more internationalization options than ever before
Spree Commerce, the leading headless open-source eCommerce platform for Ruby developers, with nearly 1.9 million downloads and 12 thousand GitHub stars to date, is attracting new investment from yet another partner agency aiming to deliver more customizability, more ownership, more omnichannel sales, and internationalization options to growing eCommerce businesses limited by SaaS platforms such as Shopify or BigCommerce.
Changes in Spree Open Source Stewardship
Upside, a Berlin and Cracow-based eCommerce consultancy, is joining the Spree Commerce core team as its main steward, alongside Vendo and Spark Solutions, with the goal of further accelerating Spree product development, improving developer and user experience, and delivering new integrations to the Spree open-source community. As Spree user base grows, so do the community needs and the number of unique use cases.  
For the last couple of years, Upside has been an active Spree community member, actively contributing to the development of the platform and helping to elevate Spree to the number #3 position in the Github star ranking for all eCommerce solutions. Now, Upside will continue this momentum by driving the roadmap and development of the open source platform.
Strengthening Spree positioning as a leading open-source eCommerce tool
Growing in popularity over the past decade, Spree has become a gold standard for eCommerce custom development by allowing developers to deliver complex eCommerce projects that require a significant degree of customization within timelines much shorter than any other open-source solution. With the new stewardship, Upside is aiming to continue improving the Spree developer experience, as well as to introduce features and integrations that will make it easier to cater to modern eCommerce business needs, such as omnichannel sales and internationalization.
With the rapidly changing eCommerce market, staying on top of the open-source community needs is what drives product adaptation. The core team has decided to pursue the following goals in the upcoming months:
Preparation and execution of the roadmap

Revamping Documentation

Nurturing the Community
Goal 1: Preparation and execution of the roadmap
We're currently finalizing the roadmap and we will present a detailed version during the community update (more on that later on). Here's an overview of the upcoming versions:
Spree 4.5 – Technology update
With this release, we're aiming to make Spree more accessible to new developers, as well as make it easier to integrate with a variety of available storefront options.
Major features include:
Rails 7 compatibility

Updated Spree Starter + CLI for bootstrapping Spree + VSF/Next.js/Rails Frontend projects

Updated customization docs
Spree 4.6 – Feature update
The following release will be focused on bringing features that are more and more often required by the business to operate in the current market landscape.
Major features planned:
Out-of-the-box content internationalization support – deprecating spree_globalize that is not compatible with Rails 7

Google/Facebook feeds export – to make it easy to push the product catalog through their channels
Spree 4.7 – Feature improvement update
This release will be focused on improving features that already exist in Spree:
Stripe Payment Element support – which will make it easier to introduce more payment methods (Klarna, Affirm, Apple Pay), without having to implement each of them separately.

Promo Codes/Gift Codes revamp – improvements to the advanced mechanism already built into Spree, to support modern customer loyalty scenarios.
Goal 2: Revamping Documentation and Focusing on Providing Better Developer Experience
One of the widely shared feedback comes directly from the community and developers working with Spree on a daily basis. We hear your feedback and would love to help in providing a better developer experience.
Goal 3: Nurturing the Community
Over the years, Spee gathered a very wide community around the framework – with almost 12 thousand stars on GitHub and over 6 thousand members on Slack. Growing community needs attention, and that is also something we'd like to focus on – to make sure that businesses and developers are always supported to the greatest extent.
In the following months, we will be looking for ways to provide better support for the community, including:
Providing a transparent roadmap overview

Allowing the community to directly contribute to Spree's future

Active support on Slack

Tighten collaboration with partners, building solutions on Spree
Join us on the #1 Spree Community Update in 2022!
On September 14th (Wednesday), we will be hosting the first Community Update in 2022, where we'll share more on the roadmap details and open the floor for questions. 
Join us at 5.30 PM CET / 11:30 AM EST / 8:30 AM PDT / 1:30 AM AEST! Register and add an invent to your calendar by clicking here.

We are open to hearing your feedback:
With Upside joining the Spree core team as its lead developer, we are open to hearing from you – developers, CTOs, and eCommerce Managers working with Spree on a daily basis or considering it as a solution to support modern commerce. To reach out to our team at Upside at: [email protected] 
Get to know Upside:
Upside is a technology, and consulting company focused on digital commerce. The company helps clients implement technology solutions that help increase revenue and customer loyalty. Upside's services include technology audits, solutions consulting, new feature development, and Spree Commerce upgrades.