Stripe Connect integration with Spree Commerce allows your ecommerce platform sellers to accept payments with credit and debit cards, wallets (Alipay, Apple Pay, Google Pay, Microsoft Pay, Click to Pay, WeChat Pay), bank redirects, "buy now, pay later". The question is which payment methods are supported for your target geography and which support refunds, disputes, what's the payment confirmation delay. In some cases recurring payments support matters. Here's a quick rundown of the payment methods menu.
Unsurprisingly, Stripe offers a wide range of payment methods and an excellent guide to payment methods.
Ecommerce platforms and marketplaces use Stripe Connect to accept payments and pay-out to their sellers or providers. These sellers or service providers benefit from the streamlined Stripe onboarding and (most of the time) get instant access to select payment methods. As long as they are supported in a given geography.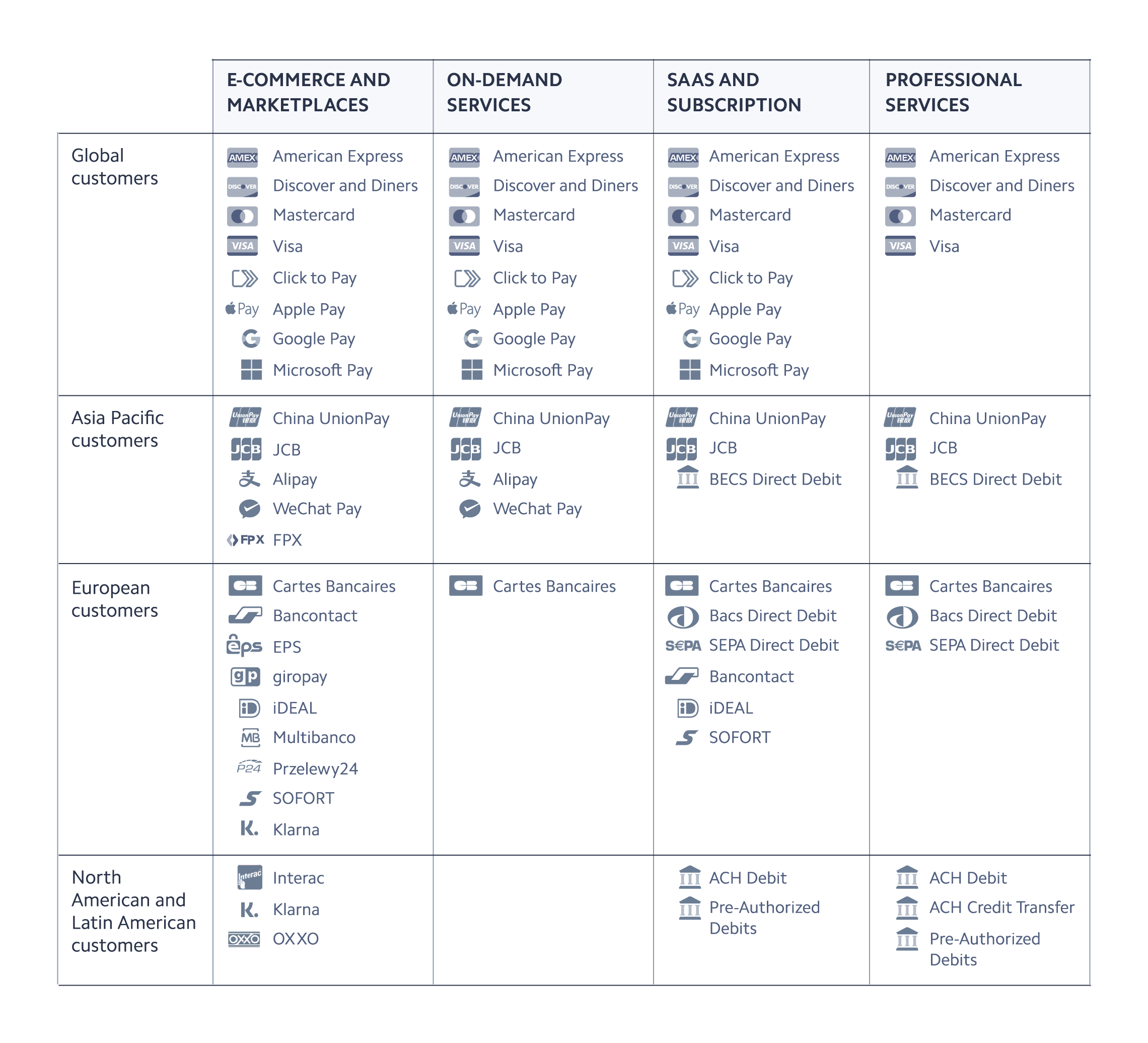 Stripe Connect use case recommendations
Here are Stripe payment method recommendations for various business models:
In some cases, a bit of tweaking is required to get new payment methods to work, depending on the charge type and account type used.
Wallet wars
What most people are excited about are Wallets such as Apple Pay or Google Pay. Since Wallets store customer payment information, they enable you to offer streamlined one-click checkout experiences that increase conversions and repeat buying.
According to Similartech stats, Apple Pay is a leading wallet solution despite Android being the most popular mobile operating system globally:
Apple Pay is leading in most countries, including United States, United Kingdom, Canada, Australia and 157 other countries
Apple Pay has better usage coverage in more website categories including: Lifestyle, Computers Electronics & Technology, Food & Drink, Sports
Apple Pay has been adopted by more than 300k websites vs. 75k using Google Pay
That being said, there probably isn't a single Apple user in the world who's not also a Youtube user. Some of them even use Chrome.
From a technical point of view, all Wallet payment solutions are linked to a card or bank account and typically require customer verification (biometrics, SMS, passcode) to complete a payment. Wallets offer immediate payment confirmation and recurring payments support as well as refunds.
Apple Pay
iPhone, iPad, or Apple Watch users will find it handy to pay with Apple Pay is a wallet that allows customers to pay using payment details stored on their device.
Apple Pay provides an easy and secure way to make payments in your iOS apps, watchOS apps, and on websites in Safari. And now, Apple Pay can also be used in Business Chat and in iMessage extensions. By using Face ID, Touch ID, or double-clicking Apple Watch, users can quickly and securely provide their payment, shipping, and contact information to check out. Customers love the simplicity of Apple Pay, and you'll love the increased conversion rates and new user adoption that come with it.
In addition to payment information, customers can also store their billing and shipping address, email, and phone number.
Google Pay
Google Pay allows its users to pay on any Android device with any payment method saved to their Google account.
Google Pay works in Android native apps and across the web. To make a payment online, customers select Google Pay as the payment method and select which payment credential they would like to use. These include credit and debit cards the customer may have used on any Google property, such as Chrome, YouTube, or the Play Store. Google Pay does not allow users to hold a balance.
In addition to payment information, you can request the customer's billing and shipping address, and contact information.
Which wallet to implement?
Both. There are two types of people in the world: Apple and Android fans. And most Apple fans use Google services.