Spree Commerce powers Jenni Kayne's ultimate California lifestyle brand
California through and through
SPREE SUCCESS STORY
Jenni Kayne is a California lifestyle brand that inspires women to live well every day. From sophisticated wardrobe essentials to all the things that make a house a home, the brand creates effortless staples without sacrificing style or comfort.
Based in Los Angeles, California, Jenni Kayne's timeless designs transcend both age and seasons with a signature sense of laid-back luxury. Collections are defined by warm, inviting neutrals and a special attention to detail. 
"We believe in simplicity, consistency and building a uniform with the pieces you can wear again and again, season after season."
What started as a traditional wholesale fashion brand has transitioned to a direct-to-consumer lifestyle brand with a variety of product categories: apparel, footwear, accessories, home décor, sneakers, and men and kids' capsule collections. The company now has 7 retail stores across the country, with plans to open 5 more stores in 2020. Jenni Kayne's business is tripling this year from $8 million to $25 million.
Laid-back yet elevated style
Devotees of fashion's current "minimalist" aesthetic know Jenni Kayne as the epitome of California cool. The L.A.-based brand produces "modern essentials" including laidback apparel, shoes and home goods that look casual but still appear in Vogue.
A neutral color palette and elegant typography were defined to compliment the brand's rich lifestyle imagery, which is carried across everything from its website, to print ads, to product packaging, to in-store signage.
 "As a brand, we have a very clear aesthetic and vision. Across clothing, shoes, accessories, home décor, apothecary and tabletop, the aesthetic of the Jenni Kayne lifestyle is cohesive. I see it as one world; a world I want to share with people. I think that what you wear and how you decorate your home are equally as important as how you set the table for dinner with friends and what you choose to put in your body. Our team works hard to bring that message to everything we do, from in store activations, to social media posts and product strategy." – Jenni Kayne
The company launched an e-commerce site and decided to double down on social media and content marketing, allowing audiences to connect with the brand in an era that values authenticity and storytelling. Jenni built a loyal following on her blog Rip & Tan, where she opened her home and interests to readers looking for inspirational content. Kayne recognized the opportunity to translate her digital content to a cohesive omni-channel strategy and now she delivers seasonal storytelling across all brand touchpoints.
Jenni Kayne and Spree Commerce
Jenni Kayne's website is intuitively designed for a exceptional user experience and seamless content and commerce integration.
"It's a reflection of our signature aesthetic: clean, natural, and effortlessly California. We set the focus on creating an intuitive shopping experience with even more ways to discover inspiring stories to build your ideal home and wardrobe."
On jennikayne.com you will find some really cool features like:
Size, color and material filters

Product reviews

We pair this with – complementary products recommendations

You may also like – substitute products recommendations

Rewards program where users can earn gift cards and enjoy exclusive member benefits
Tech Stack:
Spree Commerce
Ruby on Rails
Erlang
Modernizr
Integrations: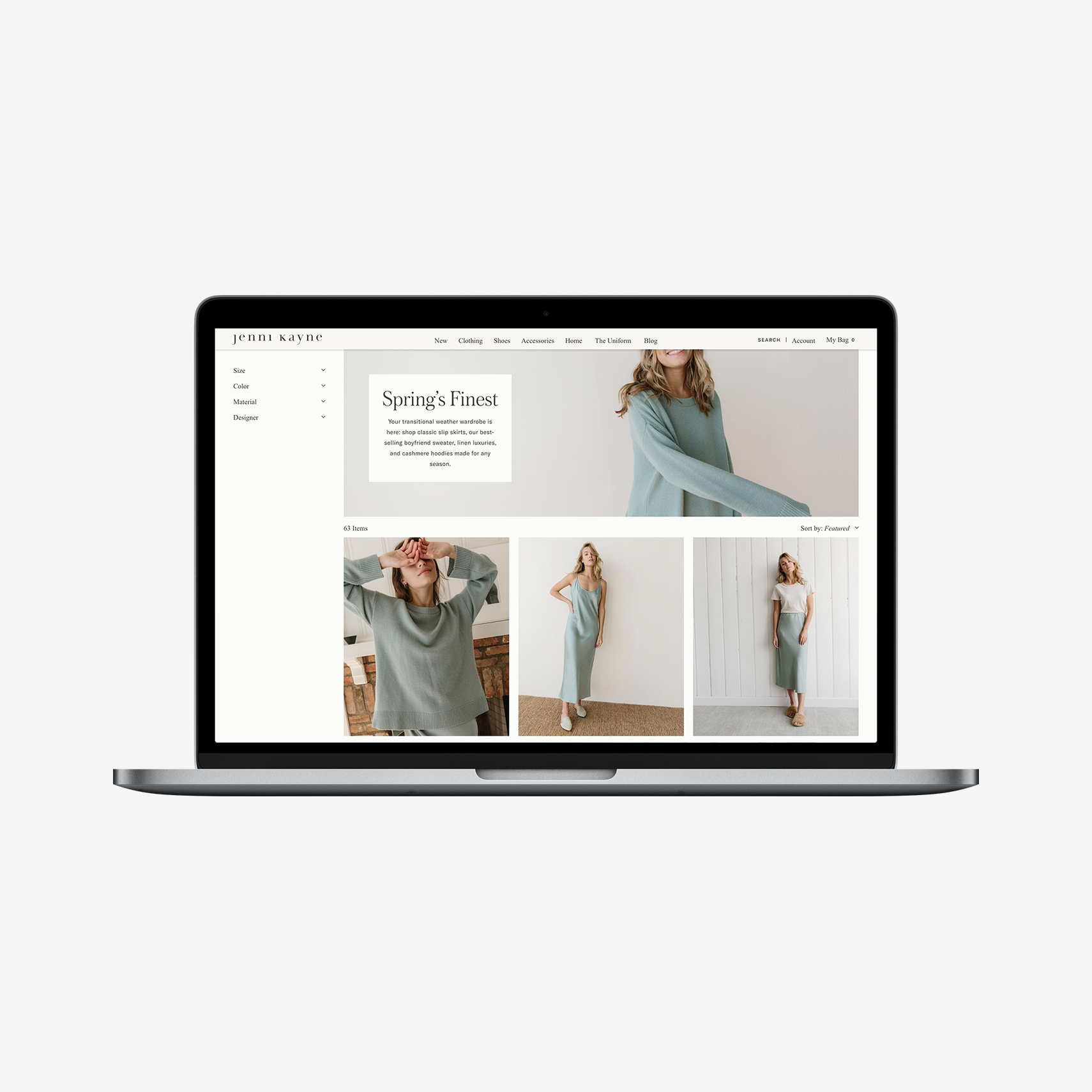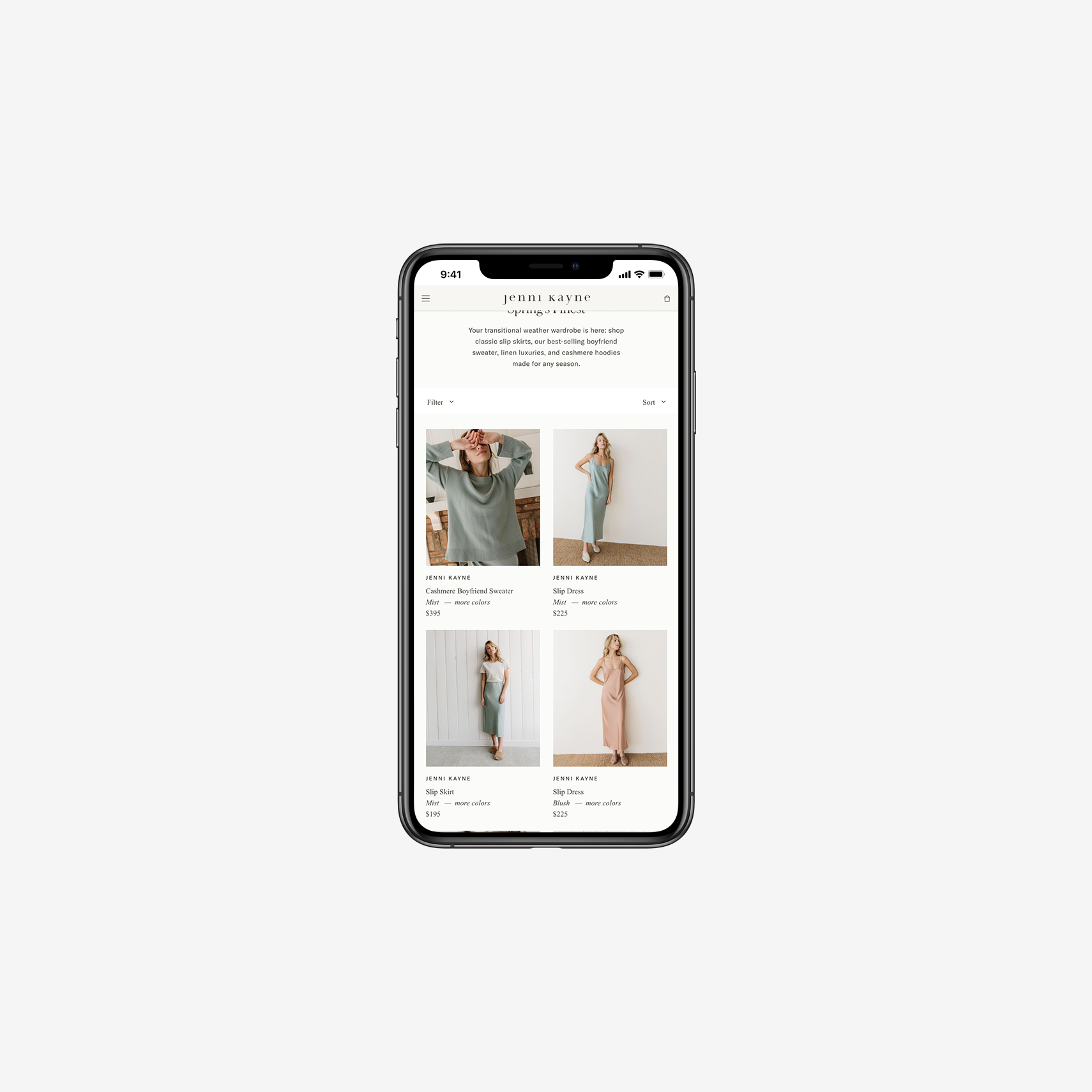 Conclusions:
SPREE SUCCESS STORY
Jenni Kayne is a refined wardrobe and home essentials retail and online store inspired by modern California lifestyle. With a focus on inviting neutrals, quality construction, and attention to detail, their pieces stand the test of time. Rooted in modern California minimalism, the brand's aesthetics is also reflected in its website. The neutral color palette and warm photography, topped with a gorgeously curated lifestyle blog Rip & Tan make you want to jump right into Jenni's world and never leave. This amazing user experience was achieved using Spree Commerce, a robust and super flexible e-commerce solution.