Spree Commerce powers 21Diamonds – leading online store offering customizable jewelry
A one stop destination for making all your jewelry buying dreams come true
SPREE SUCCESS STORY
21diamonds is a Munich based jewelry company that focuses on quality precious customizable jewelry that operates in over 13 countries worldwide.
Established in 2011, by Josef Biller and Moritz Werner, it is an online jewelry store offering the widest selection of models, jewels and precious metals. Its offer includes, among others, rings, jewelry, necklaces, earrings as well as jewelry for special occasions – Valentine's Day, First Communion, wedding and engagement.
21Diamonds lets you design your own jewelry by choosing your favorite model, jewel and metal. Furthermore, the website gives access to carefully selected collections of brand-name jewelry.
Unique jewelry shopping experience
21Diamonds's online platform offers a fine range of premium designer rings, earrings, necklaces and gemstones, enabling customers to avail unique and fully customizable pieces of jewelry.
With simple drop down navigation the website is easy to use, with categories including Rings, Earrings, Necklaces and Top Occasions as well as Bestsellers and Engagement Rings. Their About Us section also gives clear help and advice, describing the ordering process, how to create your own jewelry as well as delivery, shipping and returns.
You can take one of their recommendations based on a bestselling design or you can completely configure each piece of jewelry. Once you have decided on one of the designs, the stone, accent stone, metal, size and engraving can all be adjusted to suit you or someone you love.
The occasion section is full of gift ideas for anniversaries, birthdays and Mother's Day as well as ideas for a gift for a newborn baby and its mother.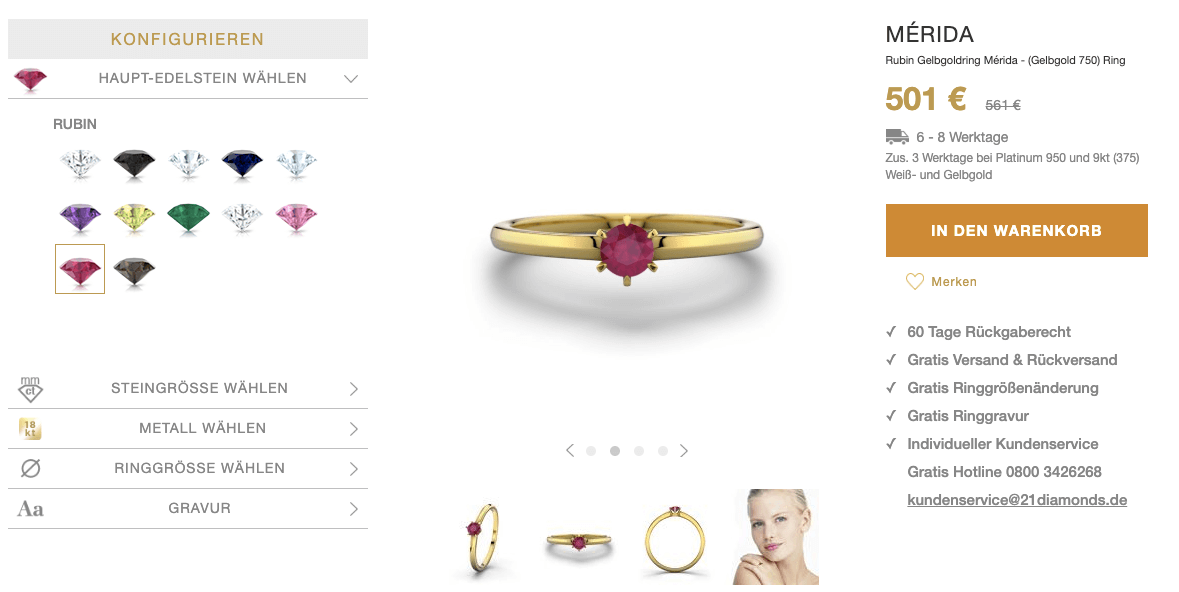 21Diamonds and Spree Commerce
21diamonds's website is built with Spree Commerce, a flexible and scalable open-source e-commerce software. Spree enables you to build beautiful online stores that are fast loading, user friendly and what's most important – you have total control over them. On 21diamonds.com you will find some really cool features like a ring size calculator and jewelry customization tool.
Tech Stack:
Spree Commerce
Ruby on Rails
React
Bootstrap
Javascript
Integrations: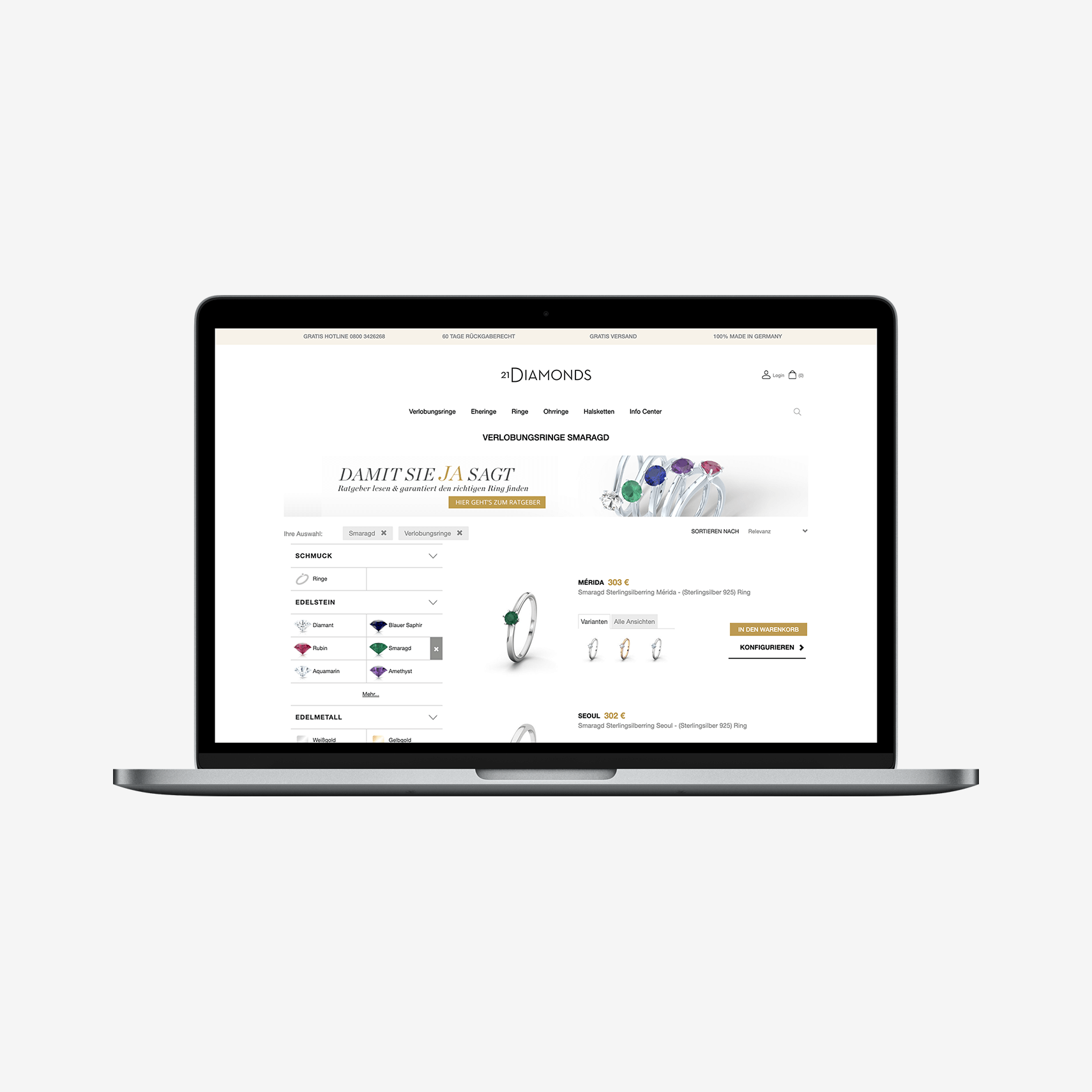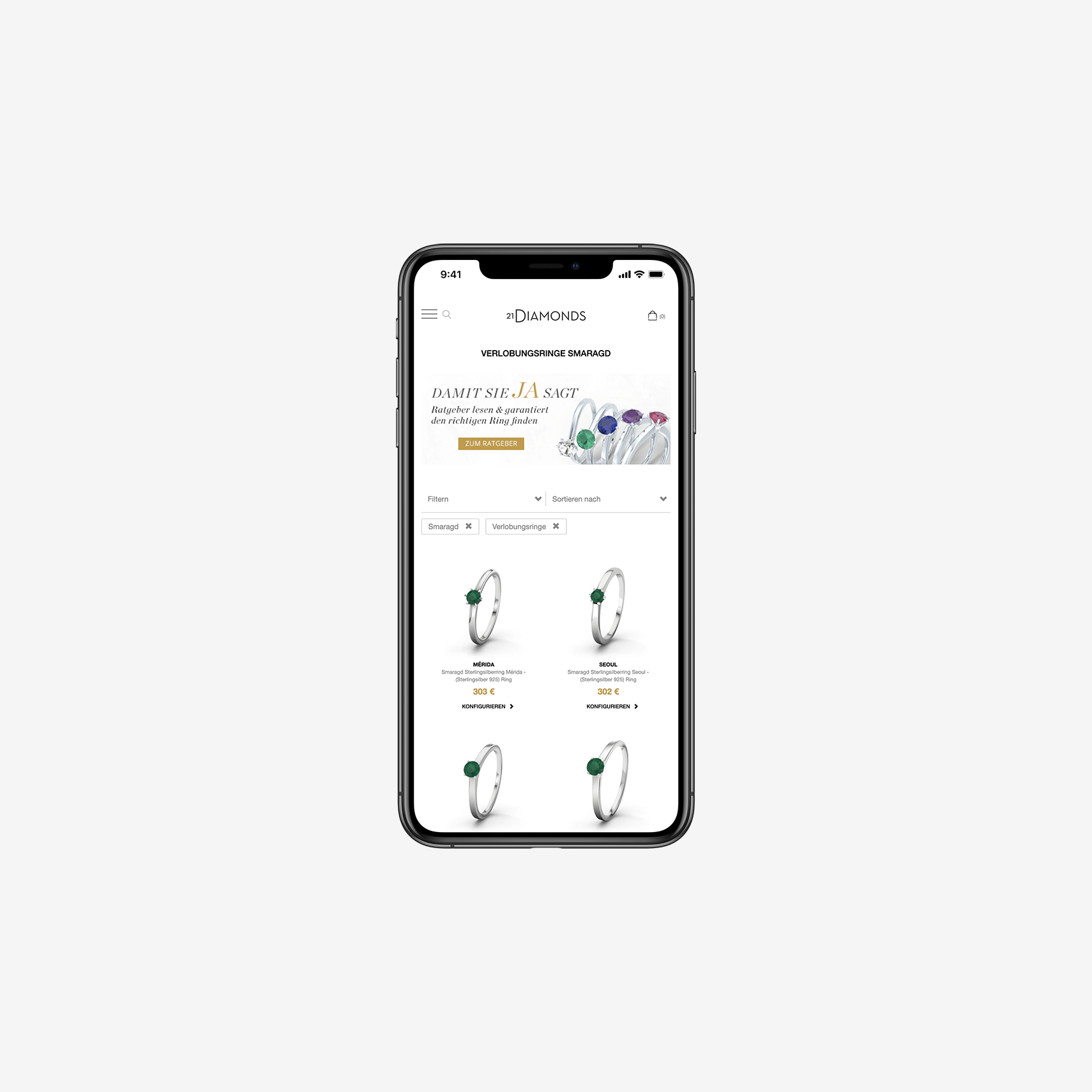 Conclusions:
SPREE SUCCESS STORY
21Diamonds is an online jewelry shopping store that offers top quality diamond, gold and silver jewelry and accessories. With its affordable prices and unique jewelry shopping experience, the company's e-commerce platform is a one-stop destination for making all your jewelry buying dreams come true. All this is delivered with the use of Spree Commerce, a fully-featured and market-proven solution that offers various customization possibilities.