Kuli Kuli uses Spree Commerce for its superfood online store with subscriptions
For-profit, for-good
SPREE SUCCESS STORY
Kuli Kuli is a superfood brand that uses proprietary technology in processing the moringa plant into bars, powders, tea and energy shots. Moringa is a leafy green more nutritious than kale. Research suggests that it may provide powerful anti-inflammatory benefits rivaling those of turmeric and potential benefits for diabetic patients. 
Kuli Kuli is one of the first – possibly the very first – company to raise both startup capital and its first round of investment through crowdfunding. This Oakland based startup raised more than $50,000 in startup capital through Indiegogo and then $4.25 million in a Series A round of funding led by the Kellogg Company's new venture arm, Eighteen94 Capital,.
"There's a lot of potential here, whether it's the nutrition or the super food angle, for moringa and Kuli Kuli to scale. We're seeing search trends that look like the trend lines around something like quinoa ten years ago." – Simon Burton, Eighteen94 Capital Managing Director
Launched onto the market in 2014, Kuli Kuli has quickly grown into a multi-million dollar social enterprise that sells moringa products in thousands of stores and supports small moringa farming communities around the world.
The market for energy and nutritional bars is pegged at more than $2 billion, and it's growing fast, with some estimates pegging growth at 7% to 9%. If Kuli Kuli can position moringa as a superfood, the market is even bigger, in the tens of billions.
Improving nutrition and livelihoods worldwide
Kuli Kuli's founder Lisa Curtis first tried moringa while serving as a Peace Corps volunteer in a small village in Niger. As a vegetarian, she was eating mostly rice and millet, a diet that left her feeling weak. When she mentioned her fatigue to women at the community health center, they pulled leaves off a nearby moringa tree and mixed them with a popular peanut snack called kuli-kuli. Lisa ate the Kuli Kuli moringa snack everyday and found her energy return. She began working with villagers to encourage them to use moringa. They asked her to help them sell the moringa leaves. Lisa founded Kuli Kuli to help women in West Africa use more moringa locally and earn a sustainable livelihood by selling a portion of each harvest to the US.
Right now, the company Curtis founded, Kuli Kuli, sells this plant – ground up and mixed with dried fruit, nuts and sweet agave – as a brightly packaged nutrition bar via its website and in over 11,00 brick and mortar stores. It connects with women who are farmers in West Africa, South America and the Caribbean, purchasing their moringa harvests at a fair price and sometimes providing additional support, through select projects, which help the farmers and their communities plant moringa trees, and learn about nutrition. To date, the company reports that it has supported 800 women farmers and helped to plant 200,000 moringa trees while Lisa has been recognized as a Forbes 30 Under 30 leader, a Udall Scholar and a "dedicated humanitarian" by the Muhammad Ali Center.
Kuli Kuli and Spree Commerce
Kuli Kuli switched their e-commerce solution to Spree Commerce, that was used out of the box together with a custom UX design maintaining a consistent branding with the main website.
View customizations were complete using deface (a standalone Rails library) to customize the templates. Changes to the look and feel were done using LESS, a CSS pre-processor.
Responsive design was implemented to ensure the best shopping experience based on the user's screensize. A grid based framework was leveraged to create a responsiveness view adjusting to different screen sizes.
For tablet view, the Order Summary vertical line was removed to maximize use of space.
For mobile view, the Order Summary sidebar was hidden to minimize the information shown. Buttons and forms were responsive to fill the complete width of the mobile screen.
Based on the research completed on checkout best practices, the following were considered and incorporated into the design:
Simplified header and footer – Excessive links were eliminated from the checkout process pages to minimize distractions.
Minimize exiting from checkout – Consideration was given to ensure that the customer was not given distractions to exit the checkout process.
Progress Indicator – Progress indicator guides the user and sets expectations of where the user is in the process.
Registration Optional – Consideration given to have registration optional to ensure minimal barriers to completing the checkout process.
Consistent Look and Feel – All text, forms, and error messages were designed to match and/or complement the look and feel established on the main website.
Kuli Kuli also offers subscriptions by choosing one or two month delivery at checkout.
Tech Stack:
Spree Commerce
Ruby on Rails
Javascript
jQuery
Integrations: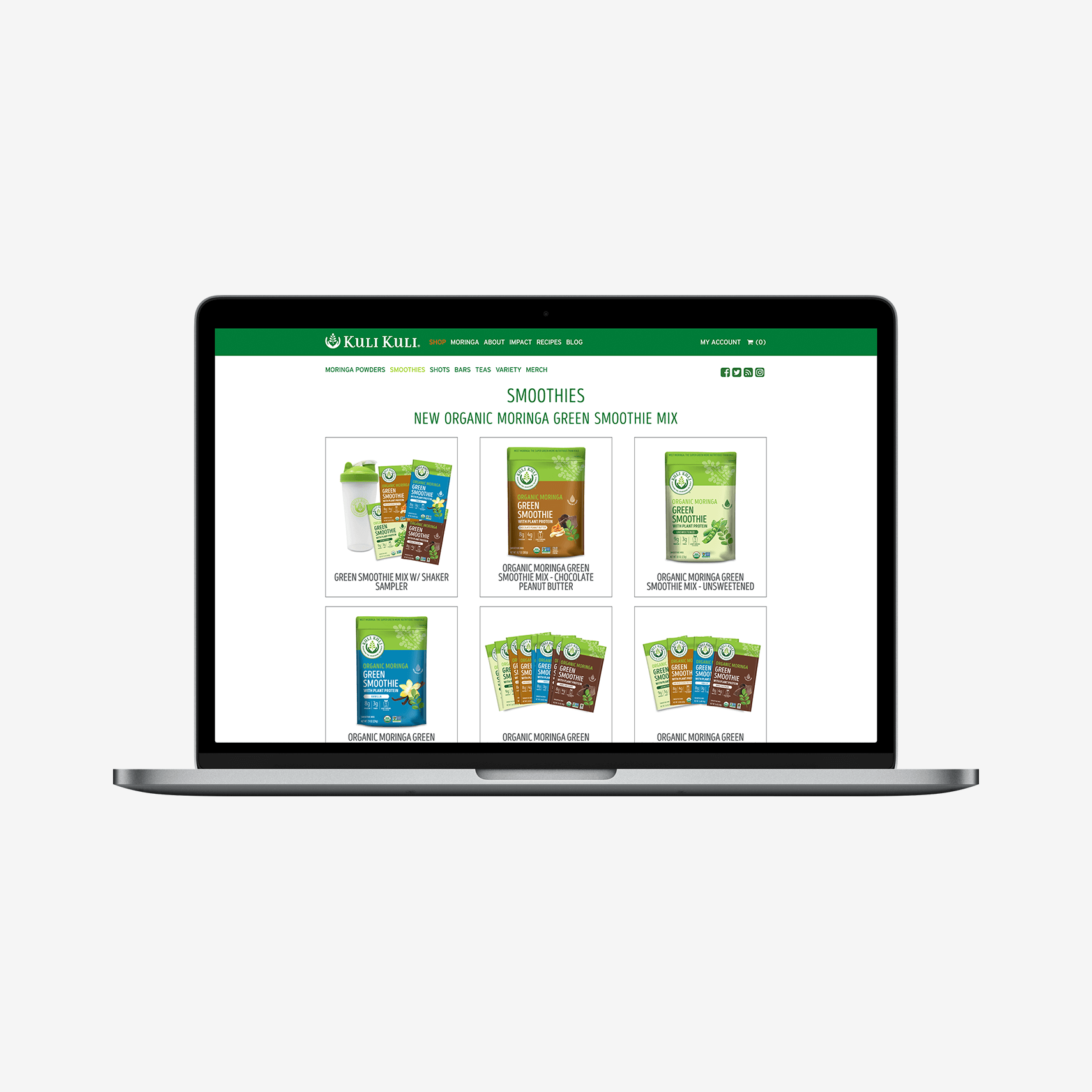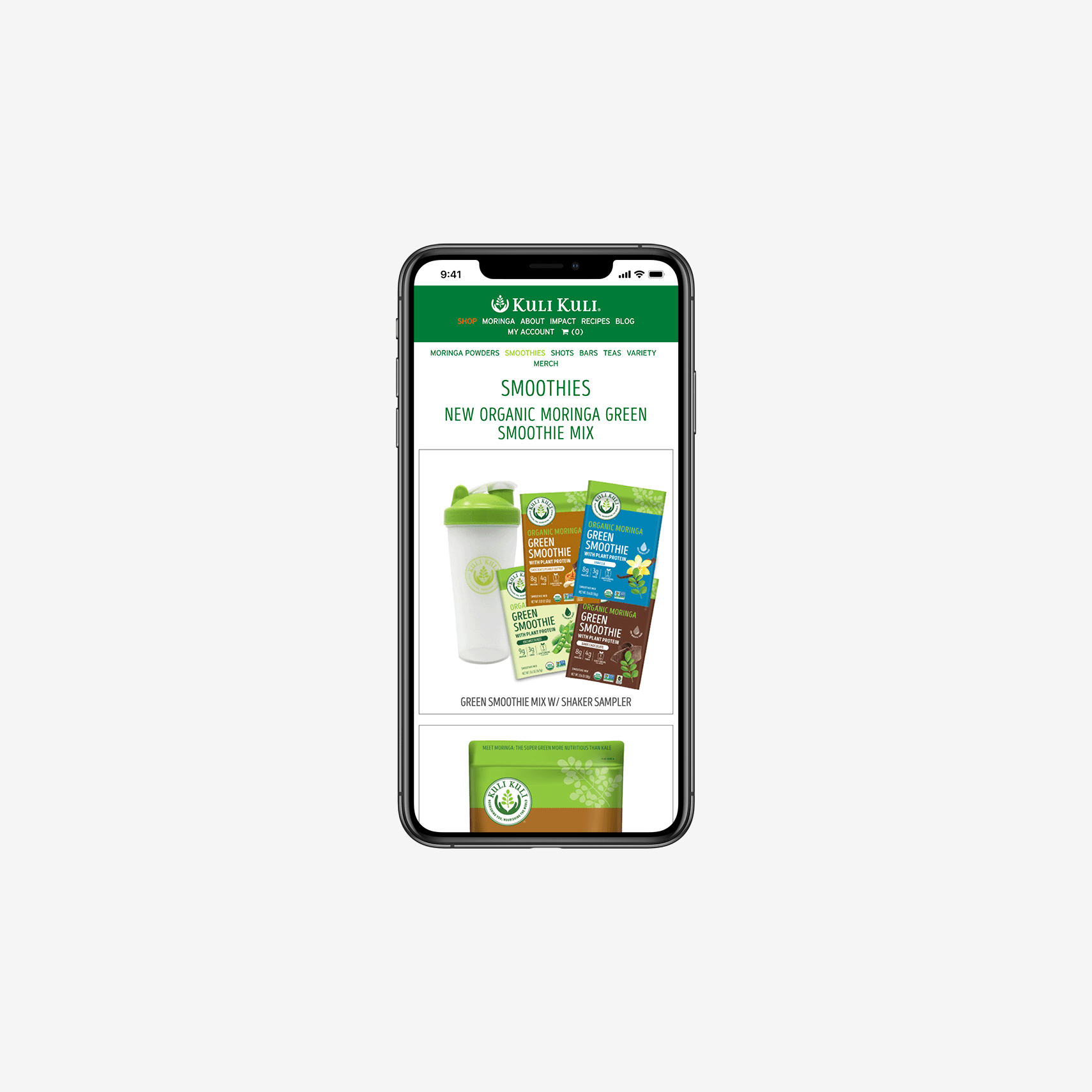 Conclusions:
SPREE SUCCESS STORY
Kuli Kuli is a food and social enterprise startup creating an international market for moringa to improve the health and livelihoods of women in West Africa. The brand's customers can enjoy a bespoke webshop with a super user friendly checkout designed based on a proprietory research on checkout best practices. The website also features an interactive store locator with over 11,000 brick and mortar stores across the country. It has all been possible out of the box thanks to Spree Commerce, an open source e-commerce solution powered by Ruby on Rails.