Best Made Co. uses Spree Commerce for its high-end camping gear store with shoppable catalogs
Empowering people to get out around the campfire
SPREE SUCCESS STORY
Founded in 2009 by Peter Buchanan-Smith, Best Made Co. provides superior-quality outdoor goods, including axes, apparel, and camping gear, with the mission to inspire and empower people to get outside and use their hands — and in doing so, to embark on a life of adventure.
The brand's signature, hand-painted $350 axes are so beautiful they've been displayed in London's Saatchi Gallery. Since its launch, Best Made Co. has established itself as a design-forward lifestyle brand for outdoorsy types.
In 2017 the company was acquired by Bolt Threads, the Bay Area biotechnology firm that uses cutting-edge technology and biology to develop new textiles and materials that raise the bar for sustainability.
Put a story behind the brand
Best Made Co. produces high-end tools and equipment for travel and the great outdoors, including a German-engineered compass, a bone-handled hunting knife, and a brass Davy lamp.
You can almost let aspirational products like these market themselves – the image and price tag alone convey everything you want your customer to know. But the company has gone several steps further and built an entire aspirational brand around their gear, fuelled by incredible digital content in the PROJECTS section on their website. 
This is a series of stunning large format photo essays, with a simple introduction to the characters followed by a dozen or so images. The photographs evoke the romanticism of life in the great outdoors, and many (but not all) feature subtle references to the company's products – axes, aprons, enamel cookware, or simply the brand's distinctive red cross logo. 
With these photo essays, Best Made Co. is able to put a story behind its brand, magnifying the aspirational element and helping consumers connect with their products on an emotional level than would never be possible on a regular Ecommerce page. They already know you want their products, now they're making you want the whole mountain-man lifestyle too.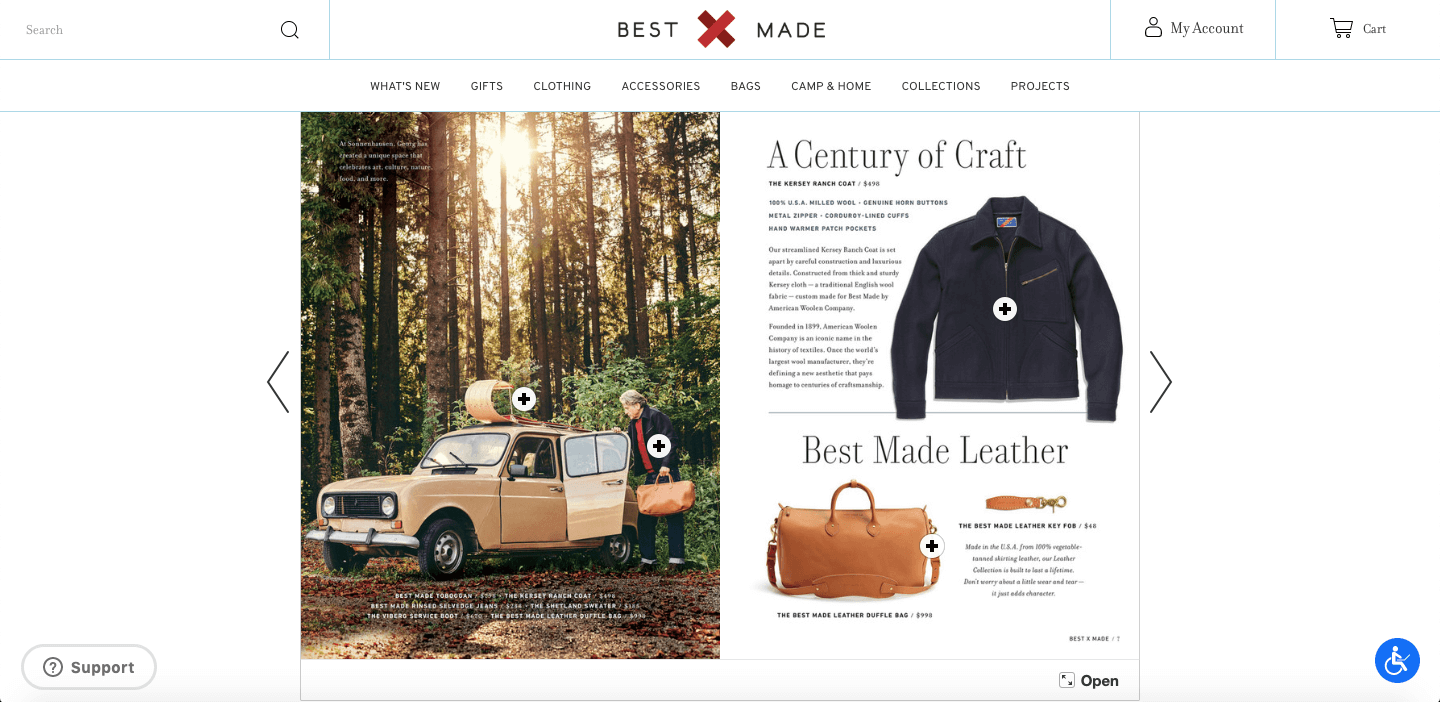 Best Made Co. and Spree Commerce
The Design
A juncture between art, commerce, utility, and luxury is made manifest on the Best Made Co. website, which showcases axes and other outdoor lifestyle products against a pristine white background and labels them as if displayed in a white-walled art gallery.
We are a brand that inspires and enables customers to get outside and embark on a life of meaningful experiences. Our origins are firmly embedded in design, and — be it the layout of our catalog or the layout of our store — we seek to constantly deliver compelling, and thoughtful brand experiences. We love to make things and, as a result, content – captivating stories of our product and our people, in the worlds where they live.
The storefront interface is simple and intuitive with a creative navigation bar on the top that makes the site easy to navigate.
Cool features
On Best Made co.'s website, you can browse and shop an online version of the brand's catalog. Just click on the product picture in the catalog and a pop up appears with the item's price and description and you can add it directly to the cart.
Tech Stack:
Spree Commerce
Ruby on Rails
Javascript
Integrations: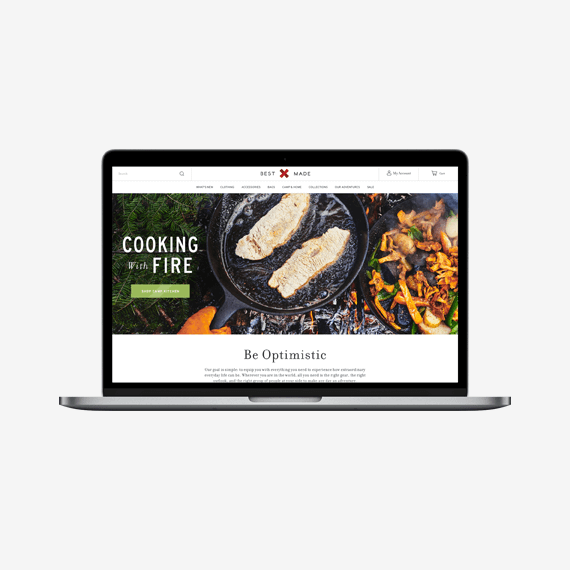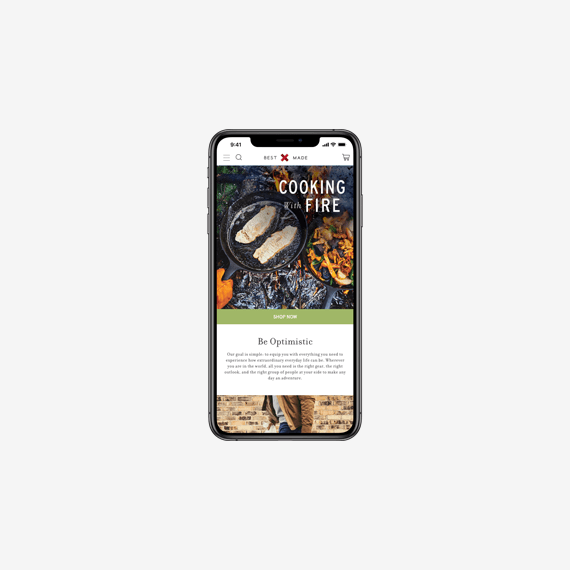 Conclusions:
SPREE SUCCESS STORY
Best Made Co.'s brand is known for its distinctive identity, beautiful approach to design, and commitment to incredible craftsmanship and quality. All this reflects perfectly on the company's website, built with Spree Commerce and delivering an unforgettable shopping experience for the brand's customers – all those makers, adventurers, tinkerers, and curiosity seekers who only want one thing: quality.