A PWA storefront for a fearless apparel brand: Vue Storefront integration story
Tested in extreme conditions
SPREE SUCCESS STORY
Fearnot is a fashion brand for adventurers seeking extreme challenges and willing to go against the elements and beyond the odds of what others consider hard, uncomfortable, or even possible. It is dedicated to surfers, wakeboarders, snowboarders, skiers, and other outdoors enthusiasts, who make a perfect target group for a PWA ecommerce solution.
Fearnot is produced ethically and locally in Europe from high-quality materials. The website is available in 2 languages (English and Polish) and currencies (USD and PLN), however, from its initial launch it ships globally. Fearnot's tops and hoodies are worn by its fans all over the world. You will find them especially in the famous surf and kitesurf spots like Tarifa in Spain or Guajiru in Brazil.
Dofearnot.com website
Fearnot's website is a mobile-first progressive web app (PWA). It has a compact and clean layout, is blazing fast, and easily navigable. Since its target group is outdoor adventurers who are constantly traveling, they mostly rely on their mobile devices and deal with poor Internet connections. For that reason, the website was thoroughly tested in all kinds of extreme conditions.
Whether full summer sun on the beach or mountain top snow-glare, a high-contrast UI is paramount. Sand-covered screens or wet hands. Freezing cold fingers that can barely operate a mobile device, let alone wait for a page to load with gloves off. With or without a strong connection, mobile users are uncompromising. Your mobile-first ecommerce experience will either work for them, or it won't. Testing your progressive web app in the confines of a lab or office, with suitable lighting and fast internet connection is simply not enough. Fearnot went to the extreme ends of the spectrum where people need PWAs the most; the mountains, the beach, in the snow, and in the pouring rain.
The Fearnot brand's marketing strategy relies heavily on social media (especially Instagram) and influencers. That is why on the homepage you can see not one but two Instagram feeds. One is the official brand's Instagram feed with a BUY IT button next to each picture showcasing a Fearnot's product. The other one is user-generated. Each time an Instagram user posts an image with the #doferanot hashtag or @dofearnot mention, Fearnot's team can see it in the Spree admin panel and choose which pictures to include in the homepage feed.  
Amazing features on dofearnot.com: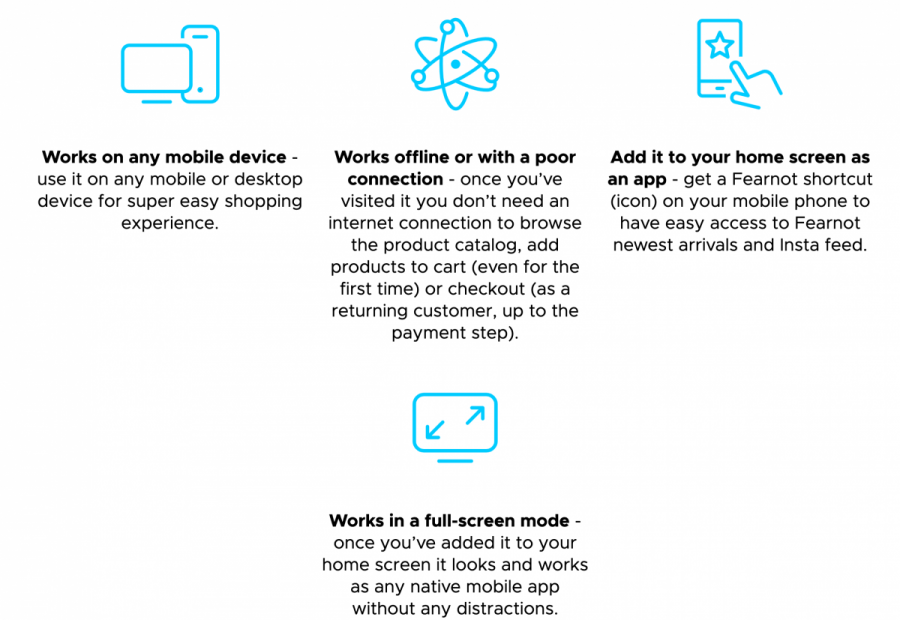 Fearnot and Spree Commerce
Fearnot is an example of a headless commerce implementation with a multi-currency payment gateway integration that uses Spree Commerce on the backend and Vue Storefront for its PWA frontend. 
Tech Stack: 
Frontend: 
Backend:
Spree Commerce headless

Ruby on Rails

Braintree for payments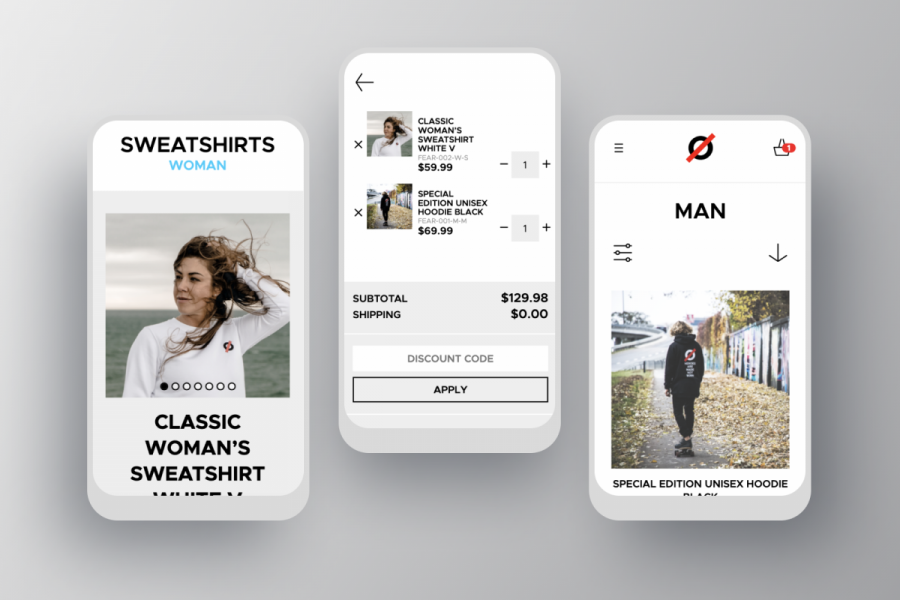 Conclusions:
SPREE SUCCESS STORY
PWA ecommerce caters to customers that are always on the move and frees them from being weighed down on their travels by a laptop or tablet device. Combined with an Instagram integration, it allows them to merge their lifestyle and ecommerce experiences. By closing the loop of the customer journey, people on the move can save their precious time and focus on adventuring.
Everyone loves the smooth UX provided by Fearnot's PWA. By fully leveraging the Instagram integration, along with a referral program for brand ambassadors, Fearnot created the perfect mobile ecommerce go-to-market strategy.