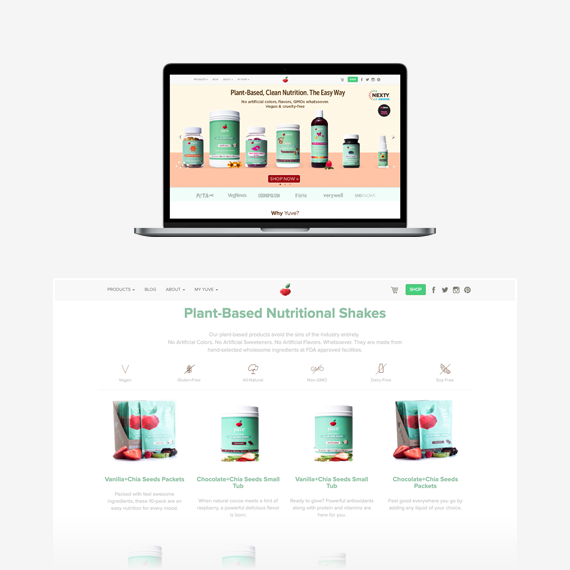 About The Author
Michal is a co-founder & COO of Spark Solutions, a Ruby on Rails & Spree Commerce software house that offers online store or marketplace development, integration, customization, migration, as well as high quality Ruby on Rails application & website development services for heavy loads and demanding users. Spark Solutions' founders are both experienced web entrepreneurs who often assist their clients in a CTO role.
Yuve chooses Spree Commerce 3.0 to help busy people maintain a complete diet without compromising on time
New York City-based Yuve, Inc. strongly believes that a combination of complete nutrition, exercise, positive thinking, and relaxation makes everyone feel and look younger. But there's so much to do and so little time! That's why the Yuve founders' goal is to help people be healthier and more confident by providing them with the best tasting vegan nutritional shake, as well as with inspiring and informative content like fitness and psychology advice or health and beauty tips.
Yuve decided to choose Spree Commerce 3.0 as a unified e-commerce solution, seamlessly integrated with WordPress as a blogging platform, for a balanced mix of storefront and content marketing ingredients. The new website was launched in just three weeks, in cooperation with Spark Solutions, Yuve's Spree Commerce & Ruby on Rails developers.
The founding story of Yuve is an inspiring tale of a determined search for the best solution to one's life challenges. Lola Sherunkova, Yuve co-founder, left her life as a Russian ballet dancer and immigrated to the United States to pursue the American Dream.
After beginning work in New York City, she realized that leaving the active lifestyle of her former dance life had left her deprived of the fitness level, energy and nutritional motivations she once enjoyed. She searched high and low for the right solution, eventually reaching out to a renowned health expert to help her come up with her own nutritional formulas. With that, Yuve was born.
The story behind Yuve's search for a technology platform to run its online retail business is a similar tale. Not willing to accept half-measures and unclean formulas, the Yuve team researched available solutions and decided to go with the open-source Spree Commerce 3.0 storefront and WordPress blogging platform.
"Choosing Spree Commerce 3.0 allowed us to develop a unified e-commerce platform in place of our old solution and we accomplished that in just three weeks. We launched our online store with a custom checkout flow for better user experience and responsive web design implementation for easy mobile shopping," explained Sam Basilio, Yuve's co-founder.
Benefits highlighted by the switch to Spree 3.0 include the ability to offer promotions to customers—such as free shipping for U.S. clients and student discounts— and were deployed quickly by Spark Solutions.
Spree Commerce and WordPress Integration
Why did Yuve decide to integrate WordPress with Spree Commerce 3.0, using the same domain getyuve.com? Because it greatly supports Google positioning efforts and enables the Yuve team to share their know-how with wider audiences.
Edutainment and content marketing are very important to Yuve's business. Nowadays, maintaining a high quality diet is a never-ending challenge. With the overwhelming amount of information regarding ingredients, sourcing, processing, and delivery, making the "right" decision can often be incredibly confusing.
Countless products are disguised as "healthy," but in reality, we're simply sabotaging our health. Lack of time due to long working hours often leaves us without breakfast or lunches, causing bad snacking habits or chronic overeating. Spark Solutions and Yuve's joint efforts help busy people around the world make better dietary choices.
GetYuve.com Integrations & FullStack
But there's more to Yuve's online retail website then meets the eye. Spark Solutions performed several useful integrations with such cloud services as:
PayPal Express Checkout
Braintree credit card payments
MailChimp for building a mailing list and building customer loyalty for repeat business
Sendgrid for email transaction notifications
Amazon S3 for all file assets storage and trusted scalable, secure backups
Amazon CloudFront content delivery network for faster page load all over the U.S. and the rest of the globe
The technology stack used by Yuve website:
Ruby on Rails with

HTTP

app caching & memcached for shorter page load times
Spree Commerce 3.0—one of the first implementations of the latest version
Twitter Bootstrap 3.3 for mobile-ready, easy-to-modify layout
ReactJS—improved checkout components such as unified login & signup form for better user experience
Haml, Sass, CoffeeScript for front-end components
PostgreSQL, Redis—back-end engine
Heroku—cloud hosting optimized for increasing traffic loads
Conclusions
Yuve is a natural solution for busy people to maintain a complete diet without compromising time. It can substitute a meal, serve as a snack, or be an addition to your favorite smoothie. You can mix it with water, juice, milk of your choice, or coconut water. This simple process does not require heating or cooking. You can easily appease your appetite in minutes.
Spree Commerce 3.0 is Yuve for e-commerce solutions—it enables rapid development and deployment of a mobile-ready, user-friendly online store. It decreases time to market and, hence, increases your ROI. It can substitute your old storefront and meet your growing customization and integration requirements.
You can mix it with PayPal, Braintree, Mailchimp, Sendgrid, Amazon and many other ingredients for a successful e-commerce business. This simple process doesn't require a lot of time and no developers are harmed due to overcomplicated codebase. You can easily appease your appetite for e-commerce growth in weeks.
You can get your Yuve shakes at GetYuve.com. You can get expert Spree Commerce advice at SparkSolutions.co. To view this blog in its original format, visit the blog of Spark Solutions.